So what's with "7 Colors 'n Counting Plus Soup 4 Foodie Friday" - well I had already planned this tablescape for today and I did want to join in again for the FABULOUS food fest for Foodie Friday, so this will do double duty. Join in over at Designs by Gollum
To actually eat from this table setting I'll have to add some Fiesta Hostess Bowls for the soup. This is one of the finer designs issued during the re-release of Fiesta over the last 23 years. At one time it was an exclusive item carried by JC Penney, but now it is available in other places.
Here it is in Juniper upside down, so you can see the detail which is also found on the Fiesta Presentation Bowl.
The soup is going to be Rick Bayless' Tortilla Soup. The BEST in my opinion, even though it comes out a little differently each time I make it, depending on what kind of peppers are on hand and what kind of chicken I use, it is ALWAYS spoon lickin' great!
I generally use grilled or roasted chicken. I cut my tortillas into thin strips for topping the soup and have extras on the side, so they stay crispy until you want to add more. Fresh limes are essential and add the finishing touch .... now I'm really hungry.
Ingredients:
1 large dried pasilla (negro) chile, stemmed and seeded
One 15-oz can diced tomatoes in juice (preferably fire-roasted)
2 tblsp vegetable or olive oil
1 medium white onion, sliced 1/4 inch thick
3 garlic cloves, peeled
2 quarts chicken broth
1 large sprig fresh epazote, if you have one
salt
4 (about 1-1/4 lbs total) boneless, skinless chicken breast halves, cut into 1/2 inch thick cubes
(Rotisserie or grilled chicken can stand in for the raw chicken breasts,add it at the last second)
1 large ripe avocado, pitted, flesh scooped from the skin and cut into 1/4 inch cubes
1-1/2 cups (6 oz) shredded Mexican melting cheese, or Monterey Jack, brick or mild cheddar
A generous 4 cups (about 6 oz) roughly broken tortilla chips
1 large lime, cut into 6 wedges, for serving
I'm cheating a little here, this was my soup last winter ..... but it always looks pretty much the same. :-)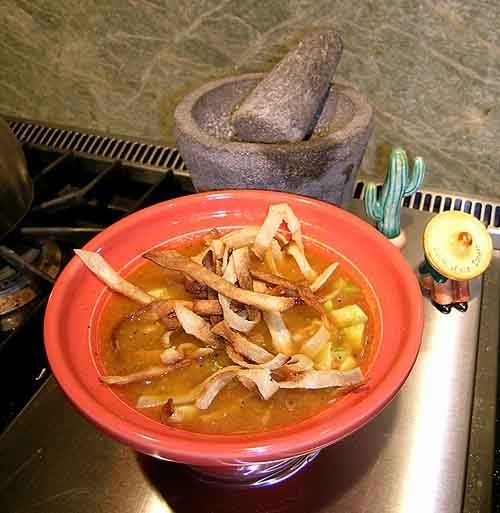 Preparation:
Quickly toast the chile by turning it an inch or two above an open flame for a few seconds, until its aroma fills the kitchen. (Lacking an open flame, toast it in a dry pan over medium heat, pressing it flat for a few seconds, then flipping it over and pressing it again.) Break the chile into pieces and put in a blender, along with the tomatoes with their juice. (A food processor will work, but it won't completely puree the chile.)
Heat the oil in a large (4 quart) saucepan over medium-high. Add the onion and garlic and cook, stirring frequently, until golden, about 7 minutes. Scoop up the onion and garlic with a slotted spoon, pressing them against the side of the pan to leave behind as much oil as possible, and transfer to the blender; set the pan aside. Process until smooth.
Return the pan to medium-high heat. When it is quite hot, add the puree and stir nearly constantly until thickened to the consistency of tomato paste, about 6 minutes. Add the broth and epazote if usiing. Reduce the heat to medium-low and simmer for 15 minutes. Taste and season with salt, usually about a generous teaspoon (depending on the saltiness of the broth).
Just before serving, add the chicken to the simmering broth. Divide the avocado, cheese and tortilla chips among the serving bowls. When the chicken is done, ususally about 5 minutes, ladle the soup into the bowls. Pass the lime separately.
So now that the soup is on its way, time to set the table!
I managed to use 7 colors of Post 86 Fiesta in this tablescape, plus Antique Gold in vintage Ironstone Fiesta, a Turquoise Harlequin Ball (Service Water) Pitcher and for good measure there are a couple of Carnival Turquoise Fruit Bowls. This is why I love this dinnerware, whatever your mood or favorite colorway ..... there are a multitude of ways to accomplish your goals.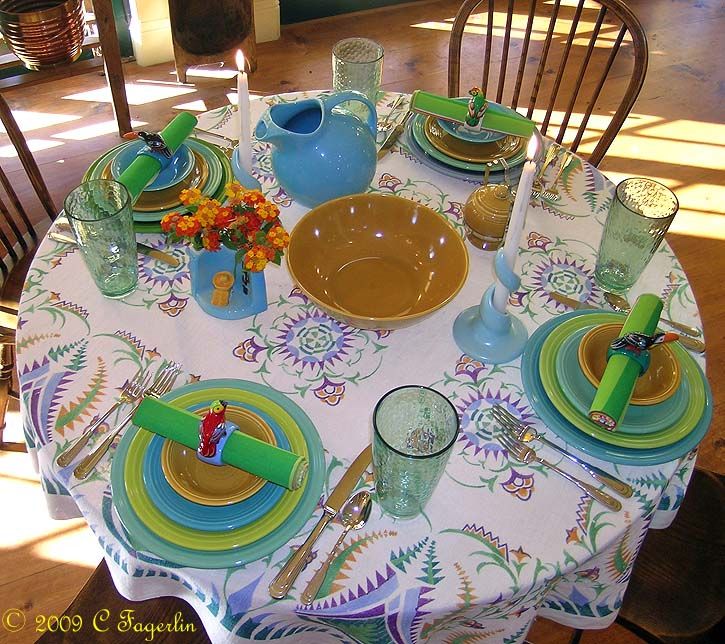 The 7 colors of contemporary Fiesta are:
Seamist, Turquoise, Chartreuse, Lemongrass, Periwinkle, Shamrock and Peacock
What I really am waiting for is the release of the Marigold place settings for the 75th Anniversary of Fiesta in 2011!
Flatware is Cityscape, glassware and napkins from Bed Bath Beyond, napkin rings were an eBay steal! Metlox Turquoise Spiral Candle Holders were a find for me by a fellow collector at this year's last Brimfield sale. The little Siesta Man Wall Pocket is vintage and it comes in many color combinations.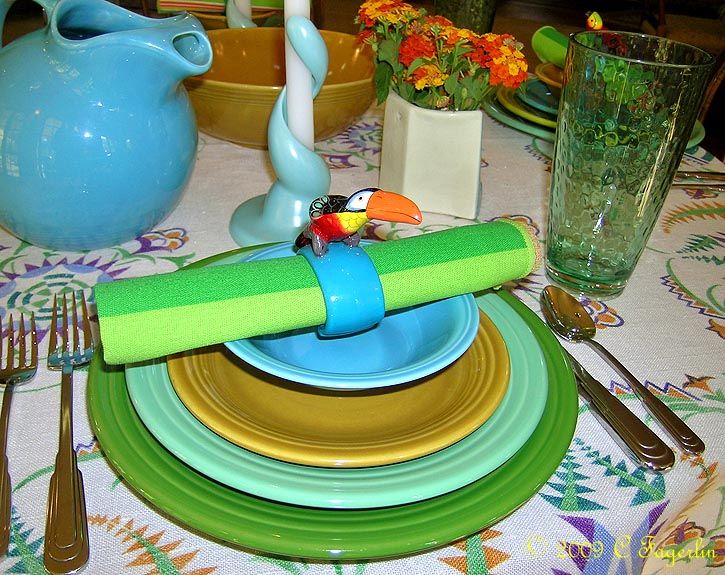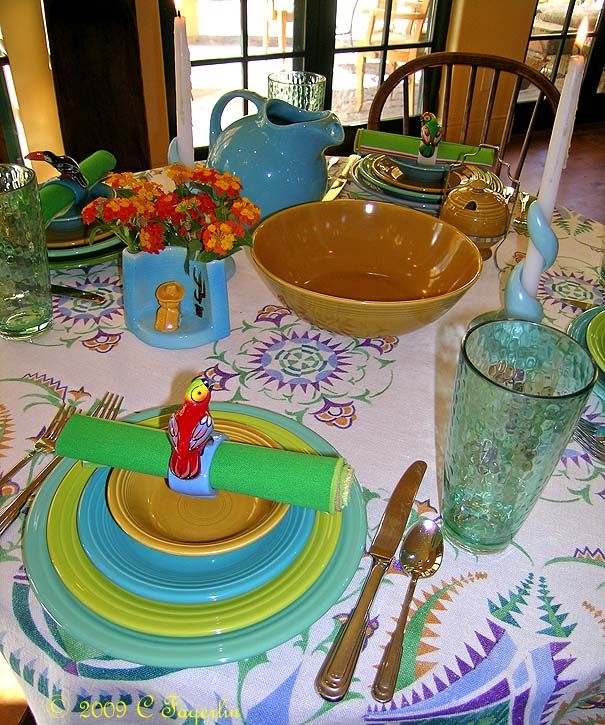 The Siesta Man is snoozing under Lantana from my garden.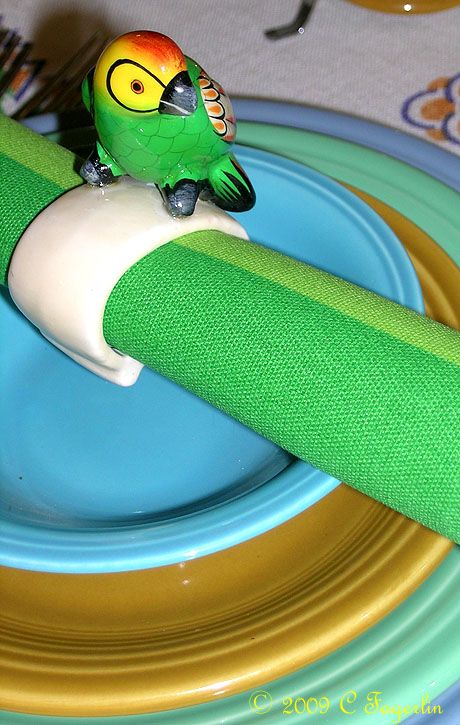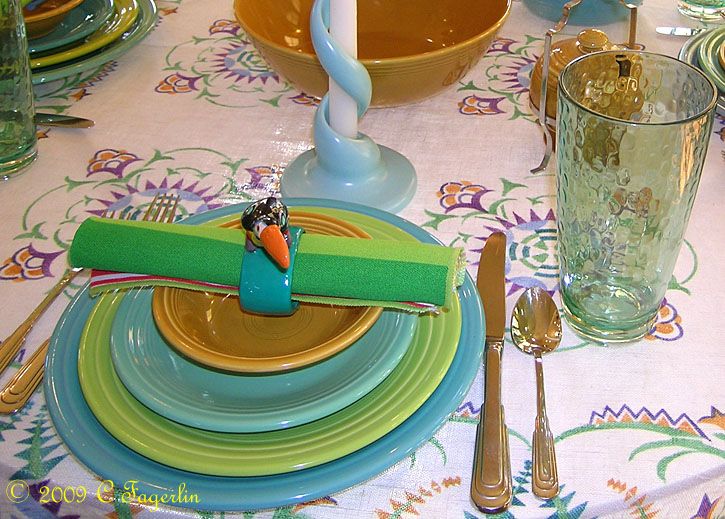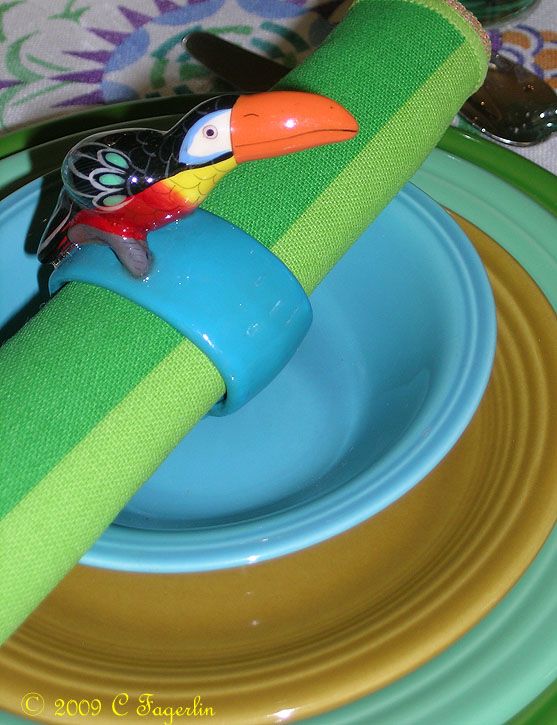 The Marmalade in Antique Gold is also vintage and is shown in the Royal Chrome holder.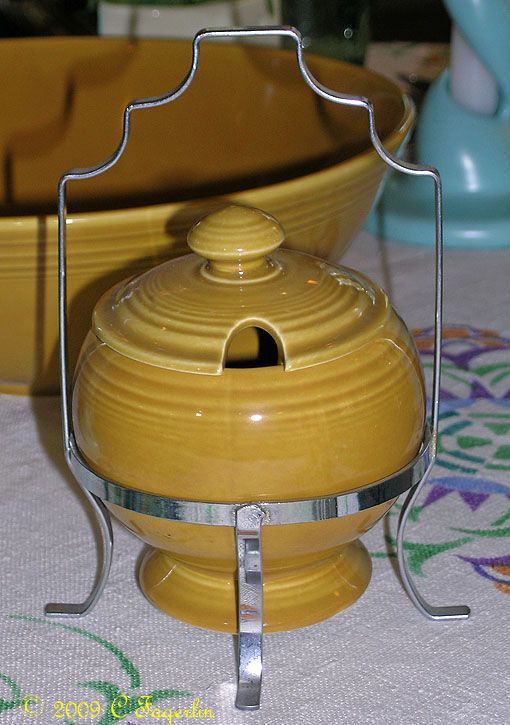 Carnival is a lesser known line of colorware from the Homer Laughlin China Company that was given away as premiums in boxes of Mother's Oats as an example.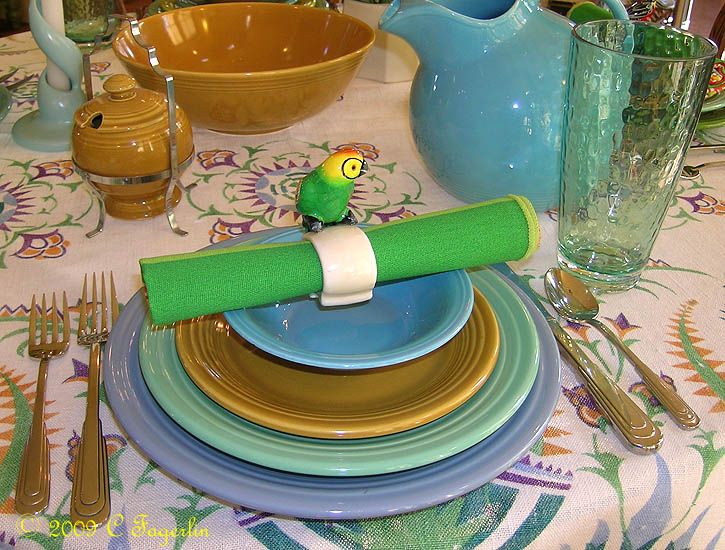 Soup's on, let's have a Fiesta!