Please join us over there for the party.
The only things missing from this table that evokes memories of breakfast at Grandma's house for me are the waffle iron (how many times did I burn the underside of my forearm on that thing???) and the toaster with the two flip down sides.
The pantry fabric used to make the tablecloth is similar to the fabric that used to hang over all the canning jars filled with wonderful treats like spiced peaches, watermelon pickles, and some sort of cucumber pickles ...... makes me salivate just to remember. In the intense heat of a Kansas summer the cellar was the place to be and more than once my cousins and I raided the spiced peaches, carefully washing the empty jar in the laundry tub and placing it on the shelf that held the "empties." Do you think she ever knew?
Ivory, Scarlet and Black Post 86 Fiesta, an official Post 86 accessory napkin holder, vintage glassware, Cityscape flatware, contemporary napkins and napkin rings. Also shown is the electric Hankscraft "Fiesta" egg cooker with ceramic poaching bowl and metal ring for making soft/medium/hard boiled eggs. The amount of water poured in by the teaspoon determined how long the eggs cooked and when the steam stopped, the power turned off and it was time to eat!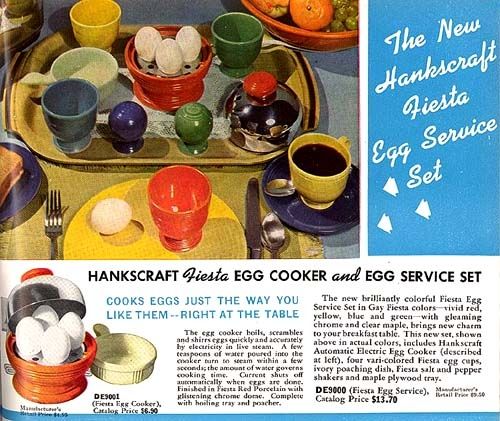 Lid on for boiled eggs.
And here the lid is on with the metal ring removed and the ceramic poaching dish inserted.
Several pieces of Universal "Cattail" made for Sears Roebuck are also shown, a cake tray, pancake set with batter and syrup jugs, and a large bowl shown with fruit in it.