Saturday, October 31, 2009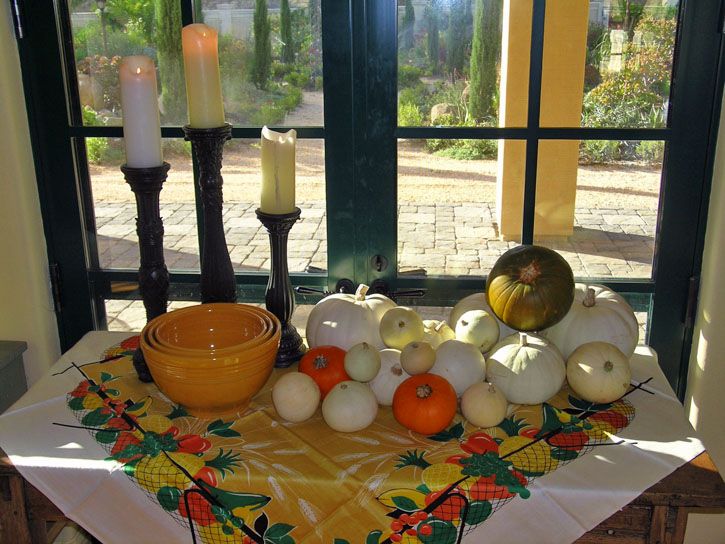 Posted by

Candy @ The Little Round Table
at 12:05 AM


Thursday, October 29, 2009
I've collected dishes of one sort or another since I was a little girl. Pitchers have always appealed to me, so I thought I would share some of them for today's Friday Show and Tell over at My Romantic Home.
I can never remember how much of the story I've told before, so here's a little intro. I was born in Kansas, moved to Colorado when I was 3 and then moved to post WWII Germany with my family when I was 4. So lots of my memories and Show and Tell stories have to do with those almost 10 years I lived in a culture that I loved from day one. Antiques, collecting, architecture and just plain "old stuff" have always appealed to me.
Back to the pitchers and steins......this is a sampling from my collection that goes way back.
Upon arriving mid-winter after a perilous 13 day crossing of the Atlantic in a converted hospital ship, we were billeted in a hotel in Bad Schwalbach. I have great memories of the few months we lived there, racing up and down the staircases, down the wide halls, and visiting the kitchen to see what there was going to be to eat. You could count on only one thing that would show up for a meal ...... cabbage. There were very few vegetables to be had in those days after the war, but cabbage was abundant. The hotel always retained the lingering aroma of cooked cabbage. It took me years and years as an adult to get past the smell and enjoy cabbage in its many iterations. The little pitcher was a gift from a favorite waiter in the hotel dining room.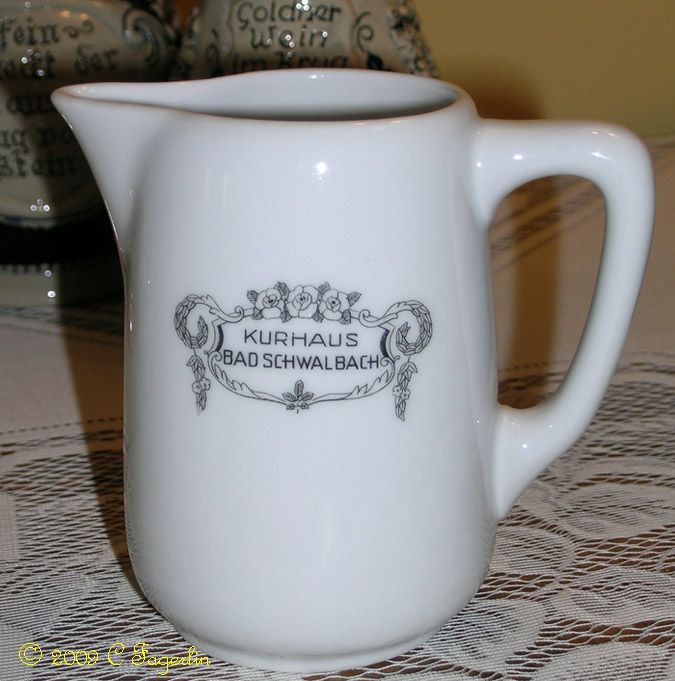 We next moved to temporary apartment housing within the compound of Frankfurt Am Main, as anti-American/occupation sentiment was running high. By that fall things had settled down and we were moved into a lovely two story house in the small town of Schwetzingen, just outside of Heidelberg.

I attended a grade school provided for the dependents of the military stationed in Heidelberg. Although my father was a civilian attached to the Army, I was still considered an Army Brat and enjoyed all the adventures we had together. Field trips were pretty regular events and one of my favorites was the ferry ride up the Neckar River, through the locks, with a stop in Neckargemund which was about 5 miles upriver and took about 90 minutes each way. The destination was the little pottery factory.

This little pitcher/vase is one of my treasures that I purchased at about age 7 from the factory. I don't remember how much it cost, probably a week's allowance of about 25 cents. Wouldn't it be nice if the exchange rate for those years would work today. The US dollar was worth 4 marks and 20 pfennigs.(This was decades prior to the introduction of the Euro in 2002.) The dollar went a long way even for a kid. The tall pitcher with the blue flowers at the back inf the first image is from the same pottery and belonged to my mother.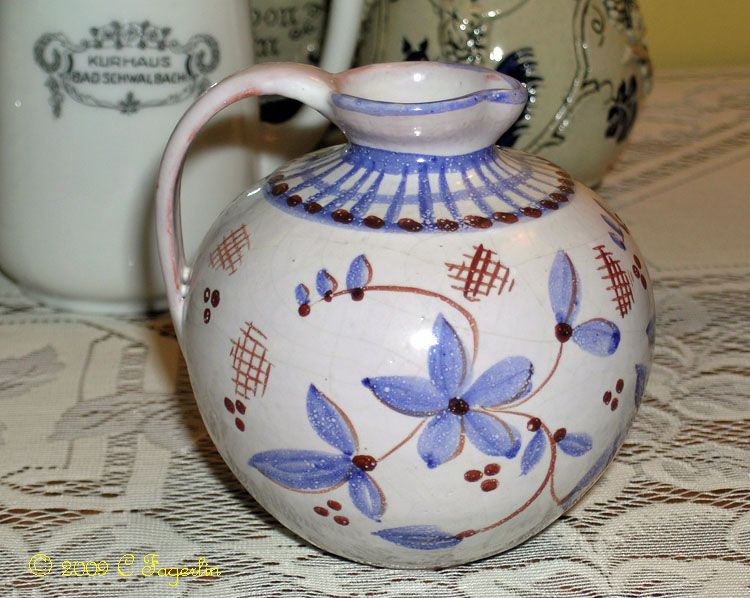 The Heidelberg stein pretty much says it all for my years living there, "I lost my heart in Heidelberg." The castle is pictured on the front, with the story of Perkeo and the great wine barrel depicted on either side. It's a great historically embellished fairy tale, but that will have to wait until another day.
Posted by

Candy @ The Little Round Table
at 8:05 PM


Today's dinner is prix fixe * and the price is ...... well perhaps you aren't willing to risk life and limb for today's gourmet delights, but should you care to join me at the table you should be prepared to risk it all for this once in a short lifetime chance to dine with our ghoulish hostess.
You could of course choose to dine in more traditional style by joining in on Foodie Friday over at Designs by Gollum.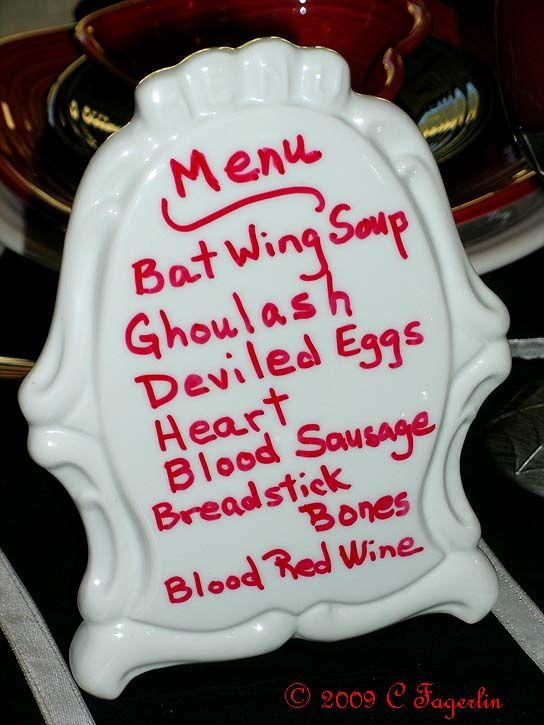 Martha Stewart's Spider Web tablecloth is decked out in Post 86 Fiesta in White, Black and Scarlet, along with Scarlet "Heart" Bowls for the gently sauteed heart listed on the menu. The new Square Fiesta in Scarlet will be used for the still pulsing Blood Sausage.....yum!!
The Black Kenilworth Carafe by Homer Laughlin China holds the Blood Red Wine right from the vein, properly "decanted" served in the exclusive Spider Web Goblinets. The wine is fresh and organically certified by the FDA, not aged for a minute and brought to tableside by your server directly from the vein. Fiesta Allspice is available for diners who like a little extra zing. The allspice provides a unique tang similar to that found in a great Bloody Mary, which is available upon request with fresh bone marrow on the side.
* Place setting knives are not supplied by the proprietor, we have found that most of our guests prefer to bring their own personal knives.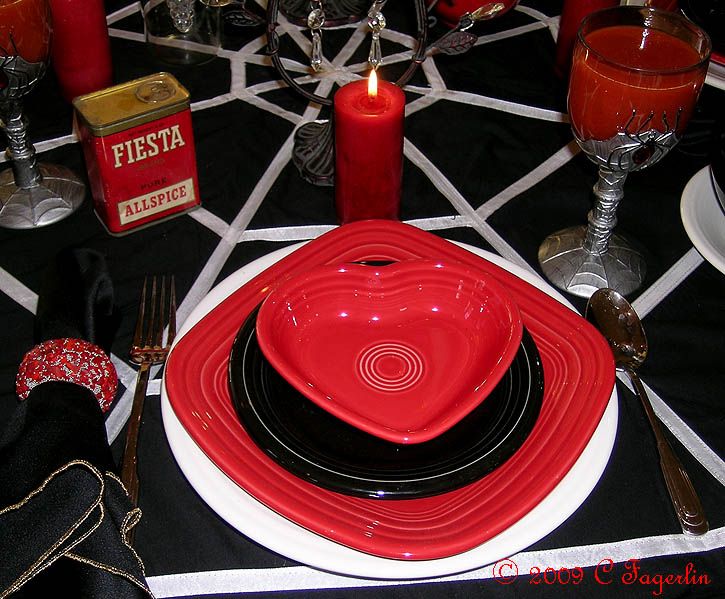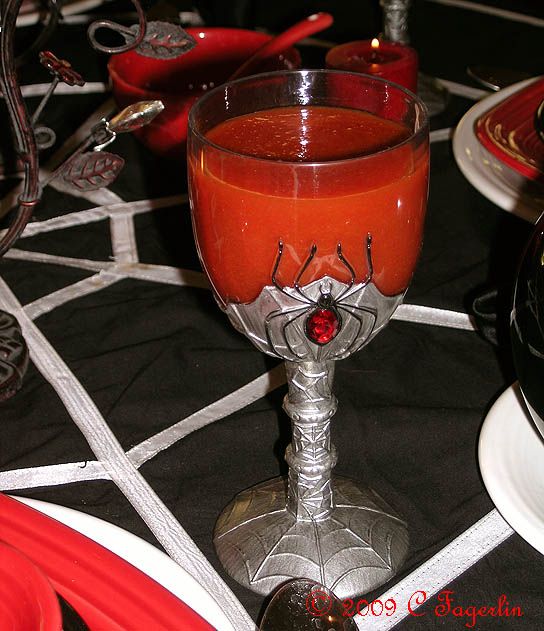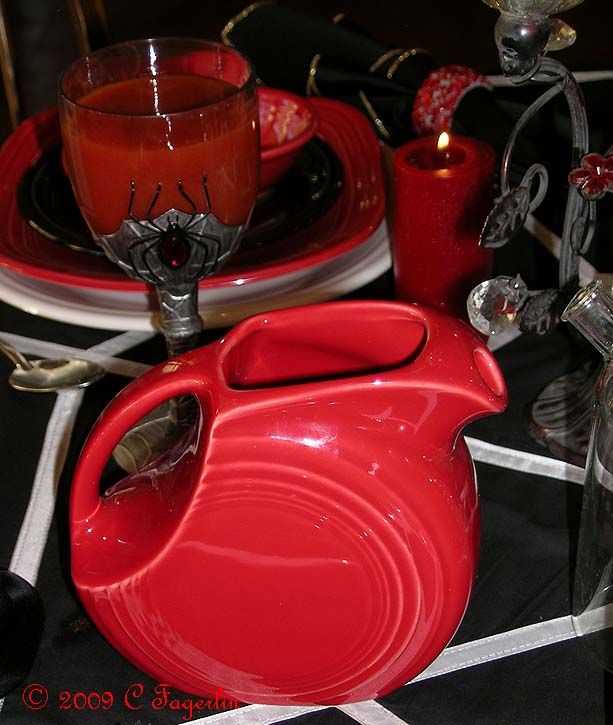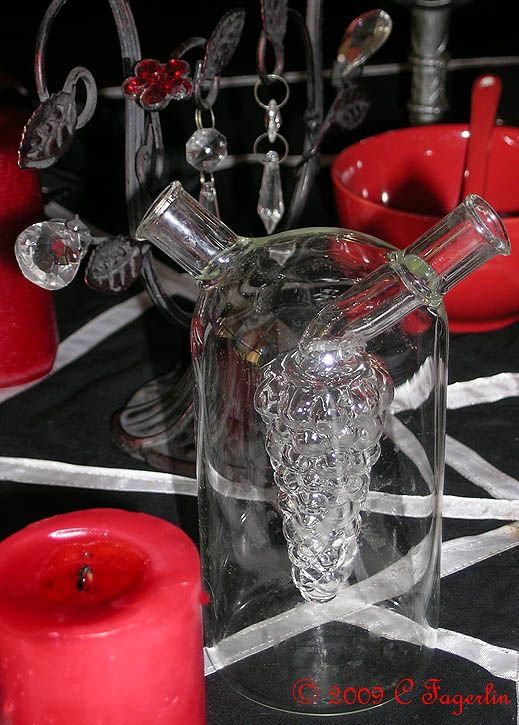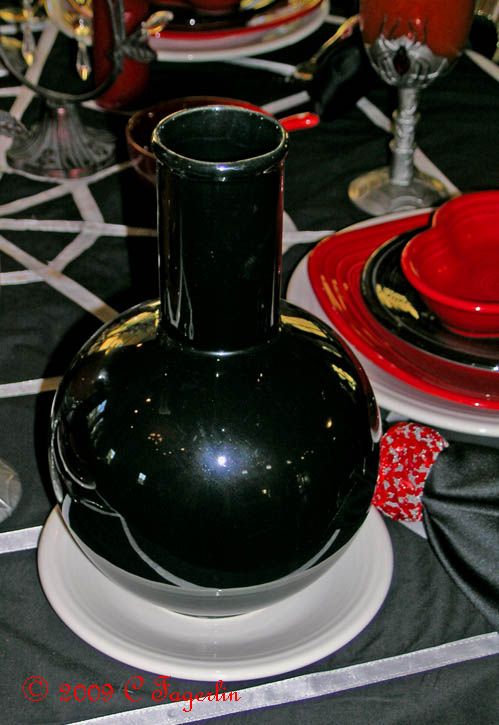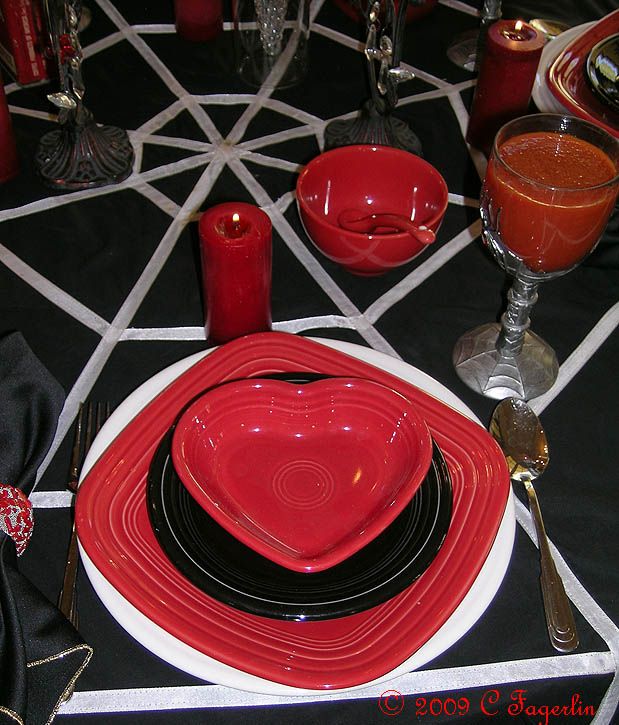 Posted by

Candy @ The Little Round Table
at 5:46 PM


Wednesday, October 28, 2009
On this Tablescape Thursday, with just two days until the spookiest night of the year, the guests will shiver as they dine in the company of some pretty scary surroundings across blogland. Join all the diners and uninvited guests over at Between Naps On The Porch for Tablescape Thursday.
It's a spooky Halloween table where the spiders have been busy weaving their webs. Post 86 Fiesta in Black, White and Persimmon. Cityscape flatware, silver chargers are from Tuesday Morning, glassware from Home Goods.
Posted by

Candy @ The Little Round Table
at 5:11 PM


Vintage tablecloth is by Hardy Craft, named "Leaves." It was a large rectangular cloth and had some issues, so I cut it down to fit The Little Round Table and made some napkins from the remainder.(napkins not shown here) Shamrock Post 86 Fiesta is paired with contemporary chargers and salads, vintage Harlequin Ball Pitcher (service water pitcher), American Directoire sterling, vintage Fiesta Antique Gold salad bowl holding the gourds.
The napkin rings are pewter representing four different styles of dining chairs, just too cute!
Posted by

Candy @ The Little Round Table
at 12:05 AM