It's Foodie Friday with lots of good things to eat over at Designs by Gollum , come join the fun!
Butia Palm Jelly for Foodie Friday
I'm down to my last jar of this palm jelly from my last batch made in 2006, when we moved and I had to leave my wonderful Butia capitata behind. Plans are to plant one next Spring here in the new garden. 3 quarts of fruit yield 4 cups of finished jelly and it tastes great, very mild apriocoty/tropical flavor.
It would make an awesome marinade/sweet sour sauce and unlike the written accounts I did not find it difficult to remove the pulp from the large seeds. If it is fully ripe it is not difficult to mash and remove the seeds.
Preparation of Juice:
3 quarts fully ripe fruit
6 cups water
Sort fruit, wash and remove sepals if still attached. Barely cover with water (about 6 cups), bring to a boil, cover and simmer for about 30 minutes. You can try to crush the fruit with a potato masher after it starts to cook; however, the seeds are so large that the masher only partially crushes.
Drain juice through colander, then strain two or three times through several thicknesses of damp cheescloth or some other thin clean cloth. Let set in refrigerator overnight because it will still contain lots of solids. Pour off juice leaving residue in bottom of container, and strain again. The juice may never be perfectly clear. The natural color is a yellowish amber. The jelly is much prettier if tinted with red food coloring.
Making the Jelly:
5½ cups strained juice
1 box powdered pectin
Few drops red food color
7½ cups sugar
Measure juice into a 6- or 8-quart saucepan. Mix pectin with juice until dissolved, add food coloring, and bring quickly to a hard boil, stirring occasionally. Add sugar all at once. Stir until sugar dissolves. Bring to full rolling boil (a boil that cannot be stirred down); boil hard for 1 minute and 15 seconds, stirring constantly. Remove from heat; skim off foam with metal spoon. Pour into sterilized jelly jars, leaving 1/8-inch headspace. Wipe sealing edge clean and seal with new lids. Invert jars until all are sealed; stand upright to cool. Yield: about 8 half-pints.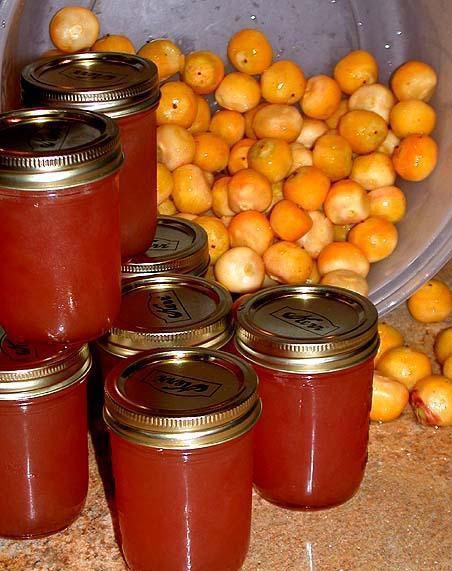 And breakfast is the perfect time for this yummy jelly!
Leacock Quality Hand Prints "Mandalay" vintage tablecloth has appeared before here on this space. Here's a breakfast setting with Juniper Fiestaware 2000, Deauville flatware, vintage glassware, vintage Fiesta Light Green Marmalade in a Royal Chrome rack, a vintage Light Green Syrup pitcher, vintage Oven Serve Bean Pot and a couple pieces of Pomona.