Traditionally we always have some sort of buffet table set up with leftovers, extra salads and cold-cuts for most of the meals served on this day after Thanksgiving. It gives friends and family the chance to come and go as they shop, pick up a tree, hang the Christmas lights or whatever they might be trying to accomplish as we move forward in this busiest of seasons. Here's an alternative to that table full of leftovers or maybe just present those leftovers in a different way to make it feel like a whole new experience!
1950s Food Ideas -
Anything wrapped in bacon!
Tuna Noodle Casserole
Frosted Meatloaf (that would be with mashed potatoes as the frosting!)
Three Bean Salad
Chex Mix
Stuffed Pecans or Walnuts
Filled Celery Sticks
Broiled Mushroom Caps
Jello Salad with canned fruit
Jello Salad with chopped celery and walnuts
Jello Salad with .... just about anything! Do you remember Raspberry Ring, Grapefruit Intrigue, Sea Siren Salad
Swedish Meatballs
Angel Food Cake (NOT from a box!)
Baked Grapefruit
OK, I admit it, some of these things still appear on my table!
Some of the things that came to our tables in the 1950s:

Sugar Pops, Minute Rice, Lawry's Seasoned Salt, Dunkin' Doughnuts, Ore-Ida Potato products, Duncan Hines Cake Mix, Tropicana orange juice, Jack-In-the-Box, Taco Bell , Sugar Frosted Flakes, Pream non-dairy creamer, Dehydrated onion soup mix, Mrs. Paul's Fish Sticks, Sugar Smacks, Cheeze Whiz, TV Dinners, "Irish Coffee" (San Francisco's Buena Vista Cafe), Denny's,Star-Kist tuna, Eggo Frozen Waffles, Trix, Butterball Turkeys, Stouffer's frozen meals, Nonfat dry milk, Burger King, Shakey's Pizza, Peanut M&Ms, Marshmallow Peeps, Special K,Pepperidge Farm cookies, McDonalds (Kroc style), Kentucky Fried Chicken, Imperial margarine, Certs, Pam (nonstick cooking spray), Refrigerated cookie dough (Pillsbury),Tang, [Ruffles, Rice-A-Roni, Sweet 'n Low, Cocoa Puffs, Jif , Chicken Ramen, Instant Tea, Pizza Hut, International House of Pancakes, Royal Crown Cola, Frosty O's, Ocean Spray brand products and drum roll please ...... Haagen-Dazs Ice Cream
Toss on your sweater set and those cute little pearls and pumps for this 1950s Boo-Fay (A friend of my mother's in the 1950s Chicago burbs used the word "buffet" in every possible situation she could. I think it made her feel cultured in some way a la Hyacinth Bucket (Bouquet in her mind) of Keeping Up Appearances fame.
Kenilworth was a buffet-luncheon-snack set designed in 1955 by Don Schreckengost, Homer Laughlin's Art Director. It is a very limited shape in terms of items offered. Seems perfect for our 1950's Boo-Fay!
The recipe from the 1950's that I still prepare many times each year:
Chili Shrimp
Shrimp - fresh or frozen, gently boiled for 2-4 min depending on size
Bacon slices - thin sliced, cut in half lengthwise, fried on one side only
Bottled Chili Sauce or any cocktail sauce you prefer
Finely diced garlic to taste (add this to the sauce several hours ahead of preparation)
Wooden toothpicks
Dip pre-cleaned and cooked shrimp in sauce, wrap each shrimp with a strip of bacon with cooked side in, secure with wooden toothpick, broil for about 5 minutes or use outdoor grill, serve hot with extra dipping sauce. These can be prepared a day or so ahead, refrigerated and prepared in batches throughout your gathering.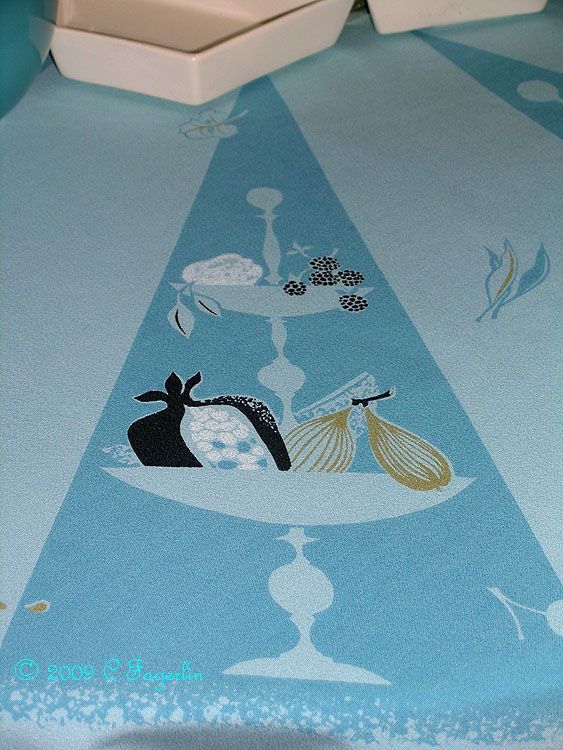 Everytime I use this vintage tablecloth I think it has spots on it ...... it is actually the very realistic fruit seeds printed on the cloth.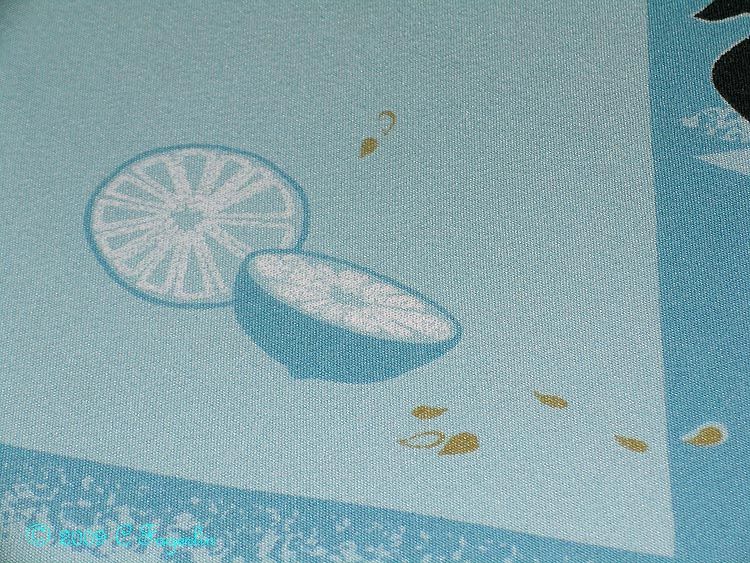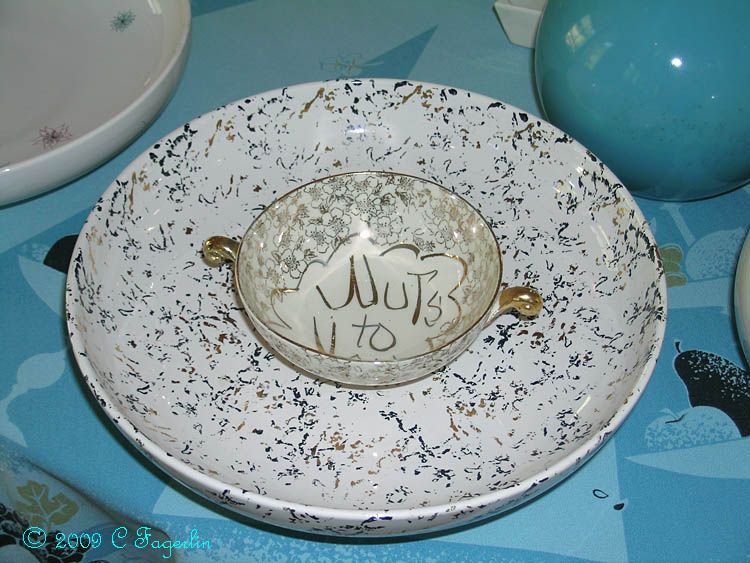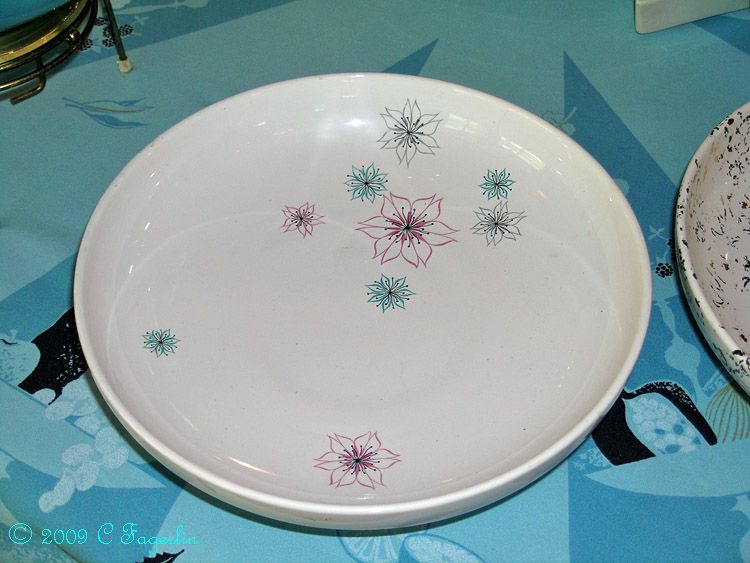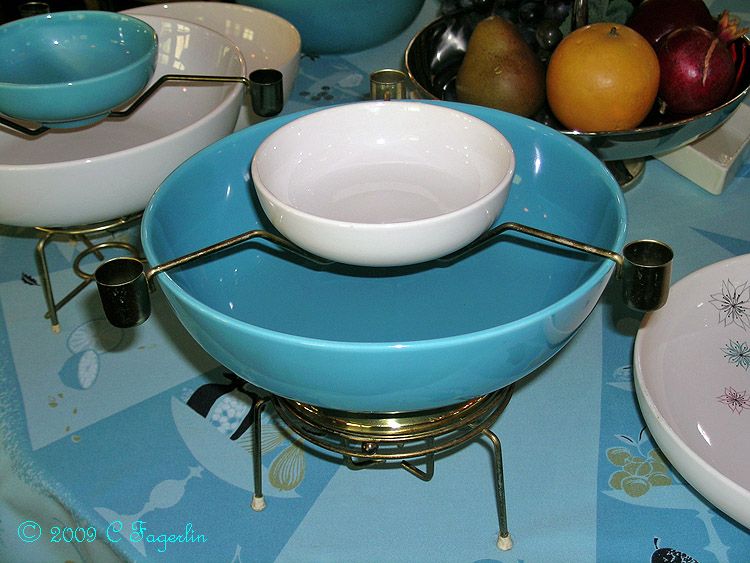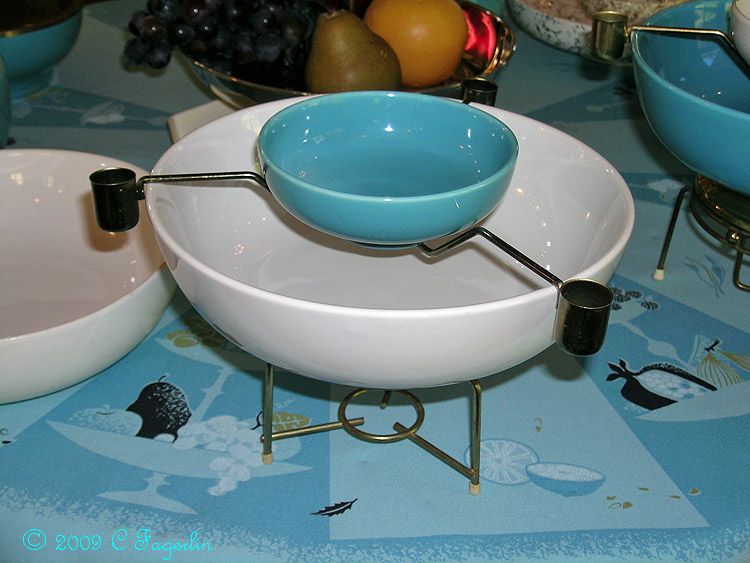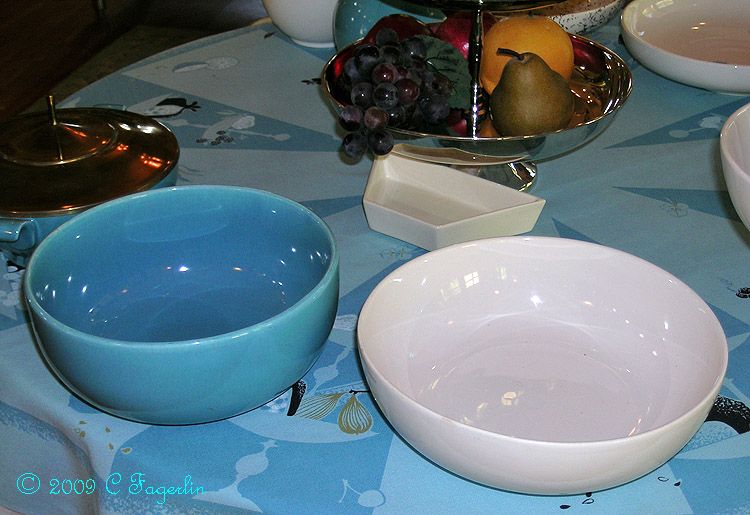 Once the food is cleared away you can bring out the coffee service and other beverage containers with their matching ice bucket.