It's Show and Tell Friday over at My Romantic Home, bring out your treasures and memories to join in on the fun!
A couple of weeks ago I shared some images of my
Pitchers and Steins
and one of them depicted Heidelberg Castle. I spent many afternoons exploring the castle grounds as a kid and other places in "old" Heidelberg.
One of my favorite routes

to get there from my house above was through a huge old cemetary with wonderful well maintained gravesites and flowers everywhere. But the quickest route, was to head up hill just one block and cut through the woods. The forests were cleared of underbrush and had many hiking trails that were well travelled and it was just a mile and a half to the castle grounds. This image of the castle was taken from across the Neckar River. I would enter the castle grounds from the rear at the right of the image.
More often than not

I would meet the local Jägermeister on the route to the castle. Dressed in loden green and carrying a large gnarled walking stick he was the protector of the forest and like a "beat cop" to help hikers in need.The German equivalent of a game warden is called a "Jägermeister" (YAY-ger MY-ster), they are similar to English game wardens in preserving the lands from poaching, but also keep up the trails and pathways through the woods as well as other forestry programs. I didn't happen to be around the day my brother met our Jägermeister on the trail in the midst of fighting a small fire that was getting out of hand. My brother must have been about 12 and helped put out the fire and was recognized by the city and the wardens as having been instrumental in saving the forest from the fire.
This is a view of the river below taken from the castle grounds. You can see one of the set of locks that I mentioned in my post about the pitchers and steins.
One of my favorite places to go in the castle was to the huge wine barrel associated with Perkeo. There is a small statue of Perkeo near this massive wine barrel.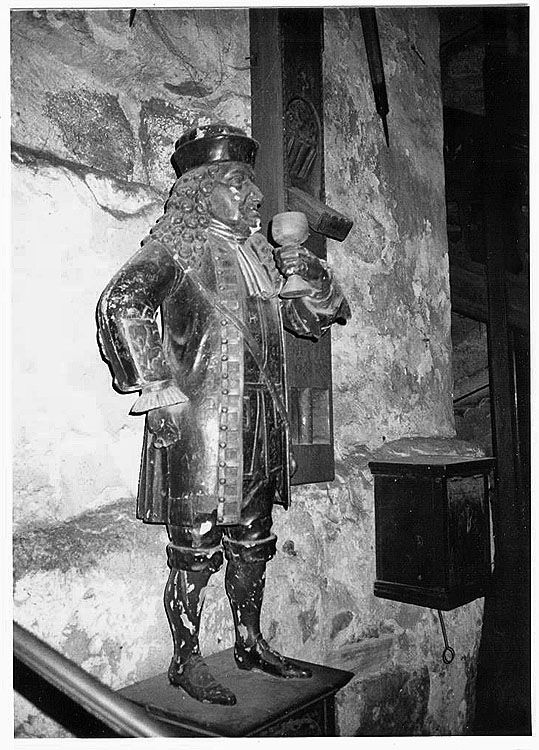 The Heidelberg Tun

or the "World's Largest Wine Barrel" was built in 1751 by Prince Elector Karl Theodor to house the wine paid as taxes by the wine growers of the Palatine. It stands approximately 22' high, is about 25' wide. It will hold 58,124 gallons of wine and has a dance floor built on top of it. The court jester who guarded the cask during the reign of Prince Elector Carl Philip, a Tyrolean dwarf nick-named Perkeo, was supposedly known for his ability to drink large quantities of wine. Legend has it that he died when he mistakenly drank a glass of water.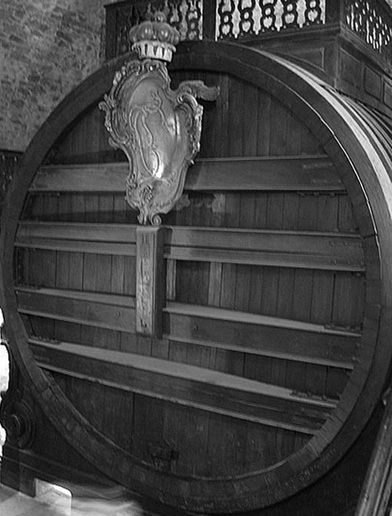 I loved the legend of Perkeo
and really believed all the stories that had evolved and been embellished about this real life character over the intervening centuries. The castle served as my real life playground of kings and princesses and fairy stories.
So it was with big shiny tears and much pleading that I convinced my parents on one of their many antiquing outings that they just had to purchase this wine goblet. I knew it was meant to be mine and would become a part of my own fairy tale. It was bigger than life just like Perkeo's wine vat and was meant to be used as a "toasting" glass at a wedding. I "The Princess" would use it at my wedding in the future and the whole fairy tale in my mind's eye would come true. Do kids today still believe in fairy tales?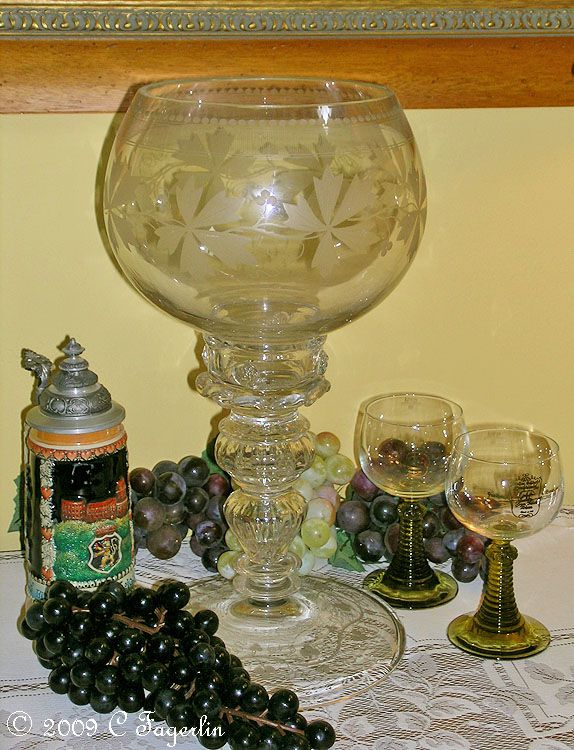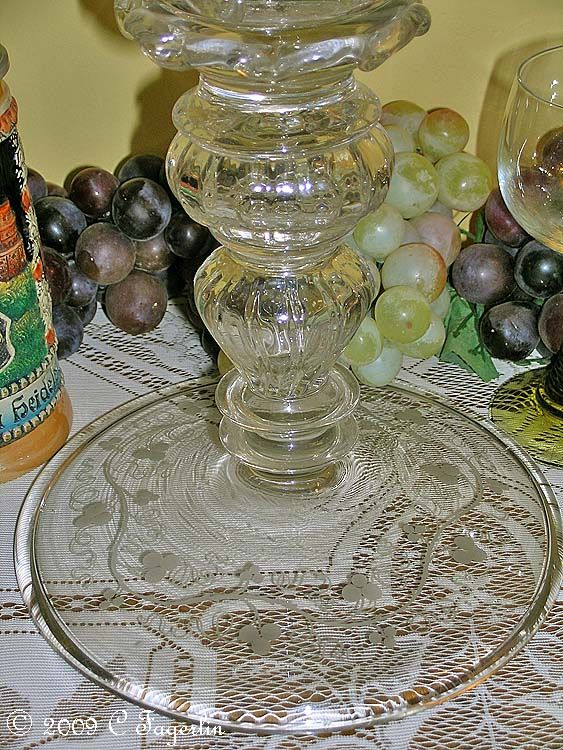 I did grow up and I did get married,
but I didn't get to be a real life Princess, although I did marry a Prince of a guy. As it turned out my family had moved to Texas by the time DH and I chose to get married over Christmas break while we were sophomores in college, it was one of the coldest most bitter winters in Chicago history ...... too cold to transport "the wine goblet" from Texas for fear it would break from the sub-zero temperatures.

Well and also the fact that the reception was held in the church because it was dangerous to be outside moving to another location and we were afterall underage, which mattered back then.

Perkeo is still my hero because he inspired me to dream. The fairy tale did come true, just not quite in the way an 8 year old imagined it would.

Over the years I have used this goblet to serve punch from and filled it with glass ornaments at Christmastime, but I've never drunk wine from it.