It's sunny and bright blue sky

again today and 70F, just right for a break from all the Fall tables and back at summer here in California! Join the fun over at Designs By Gollum for Foodie Friday.
Vintage tablecloth with Post 86 Fiesta in Chartreuse, Shamrock and Sunflower. Vintage pieces include the green and yellow butter dish (fill with ice water to keep your butter fresh!), the green milk pitcher, and the green glassware. There are also a few pieces of vintage Homer Laughlin, the individual light green casserole, small green bowl and a specialty salad bowl with shamrocks and roses.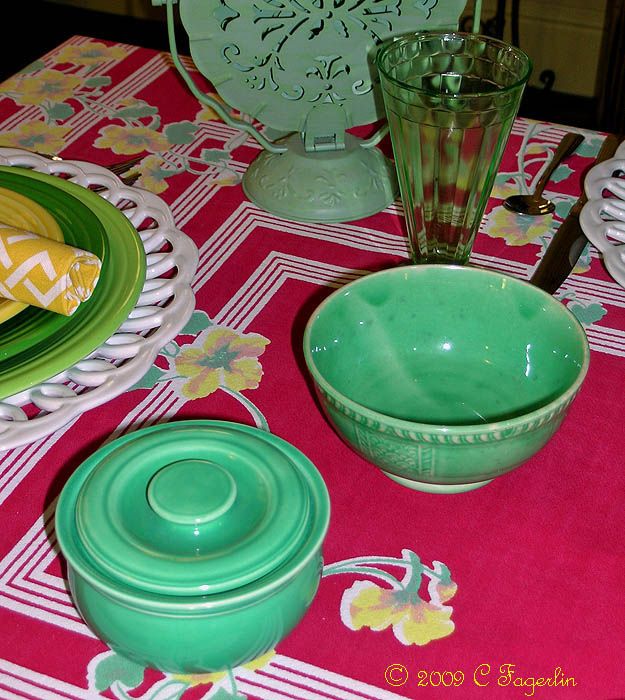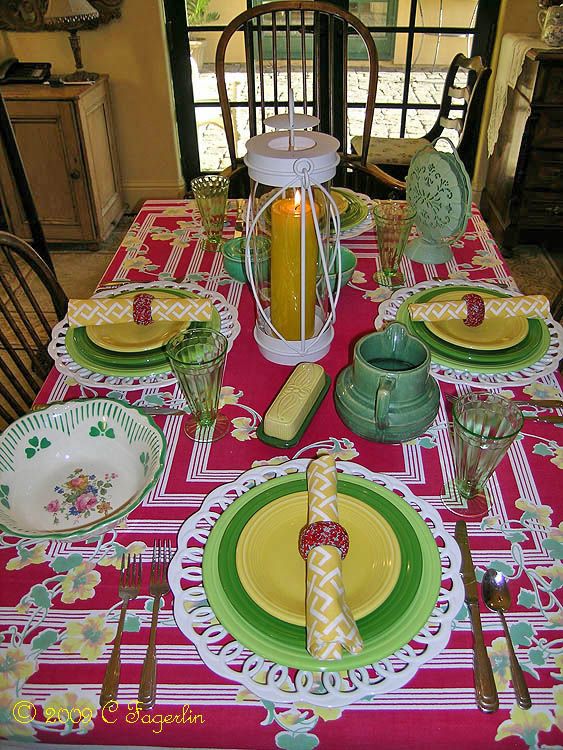 The original plan

was to fill that pretty salad bowl with a salad of fresh butter lettuce, nasturtiums, and some Mandarin orange wedges. My nasturtiums were pretty much wiped out by a monsoon a month ago and they have given up the ghost for the season. These are the pitiful hangers on, certainly not enough for a salad.
So the new plan

is fresh butter lettuce with grapefruit and Mandarin wedges from the garden, a sprinkling of garlic chives and my all purpose lemon salad dressing. I don't have a recipe for this dressing, but the general proportions are:
2/3 C FRESH lemon juice (the lemons I have in the new garden are much more tart than the ones I've grown before, so I now add a tablespoon of brown sugar or to taste)
1/3 C very good quality Olive Oil
3 Tablespoons Balsamic Vinegar - buy the good stuff, it goes a long way!
Lotsa freshly ground black pepper to taste
1 clove very finely diced garlic (or mashed)
Taste this and adjust to your own family's preference. It's the fresh lemon juice that really brightens up any salad ingredients you might choose. It's a very tangy and crisp dressing!