When I was five years old

and living in post WWII Germany with my family, I received my first Advent calendar from a family friend. It was about 18" long x 12" deep x 16" tall and had the traditional windows and doors that opened for each day of December leading up to Christmas. This house was very special because each opening was filled with sweet treats of ginger cookies and candies. I have to admit that most of the windows and doors were opened early that year as my sweet tooth and curiosity kicked in! I've had one sort or another of Advent calendar each year since that very first one. My kids were never as enthralled with them as I am.
The origins of the Advent calendar come from German Lutherans who, at least as early as the beginning of the 19th century, would count down the 24 days of Advent physically. Often this meant simply drawing a chalk line on the door each day, beginning on December 1. Some families had more elaborate means of marking the days, such as lighting a new candle, which may be tied into today's Advent wreath, or hanging a little religious picture on the wall each day. Most Advent calendars today are usually geared for children and are usually secular in nature.
A number of years ago I happened into a Crate and Barrel or Pier 1, can't really remember which of the after holiday sales it was. I picked up this wooden Advent calendar designed to hold small toys or treats and it became a regular part of my holiday decorating. Each year I raid my miniature Fiesta store and pull dishes out to fill up this treasure chest of mini-dishes.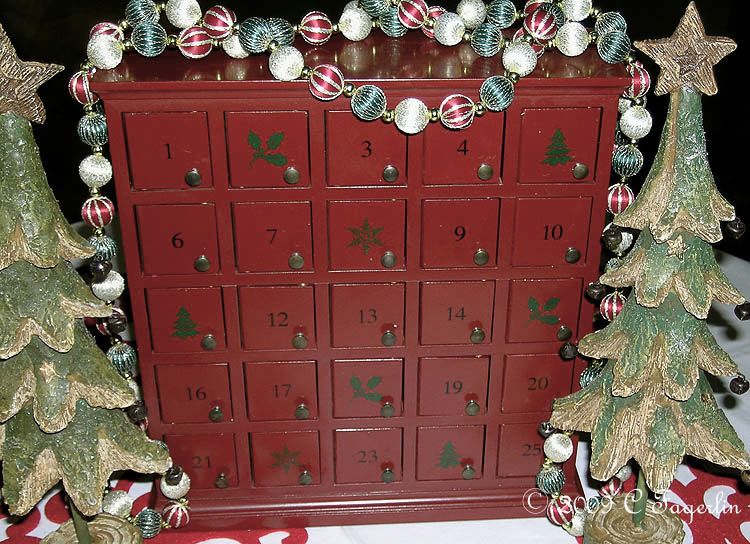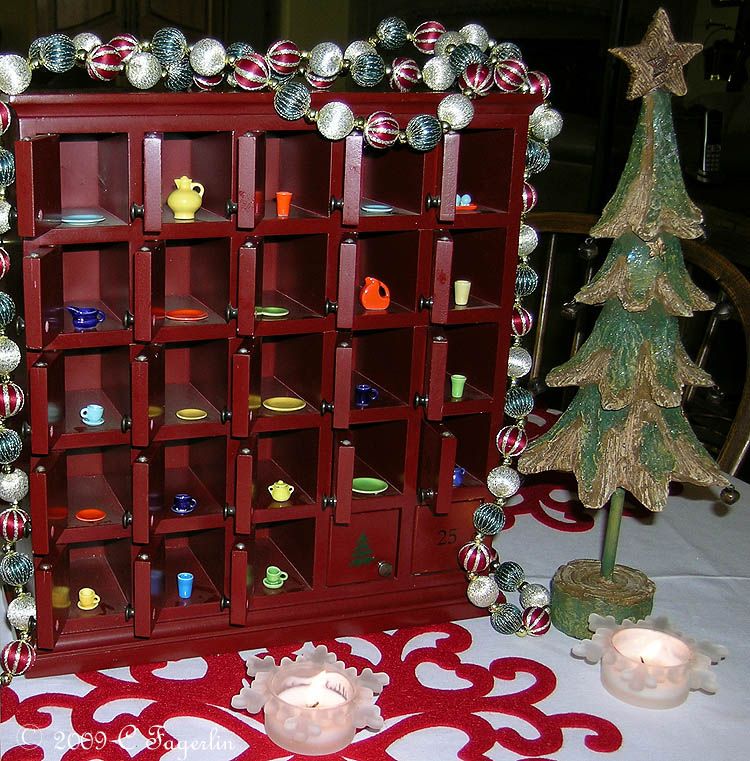 I always place my favorite little mini

in the door for Christmas Eve. It's a to scale miniature Ivory footed salad bowl with the "Tom and Jerry" written in gold just like its vintage big brother.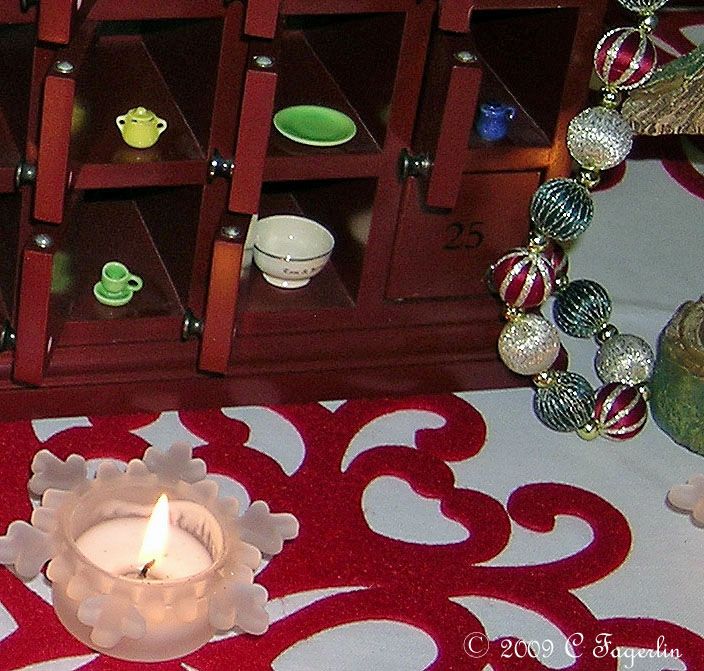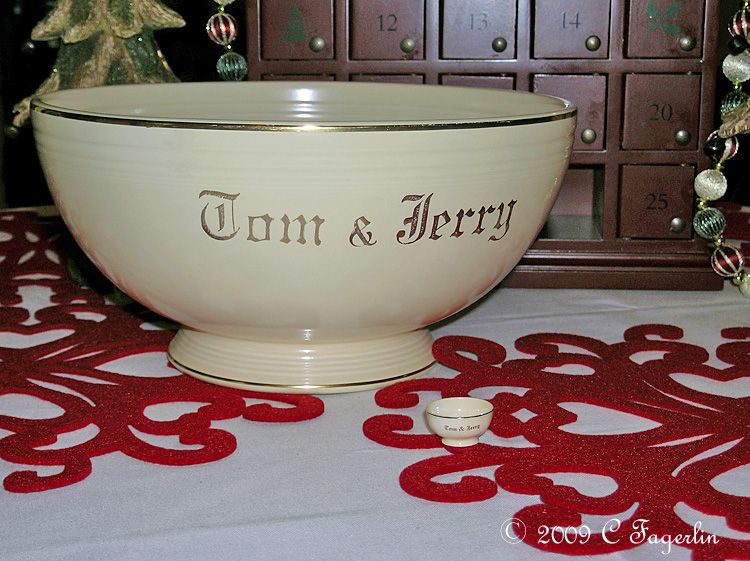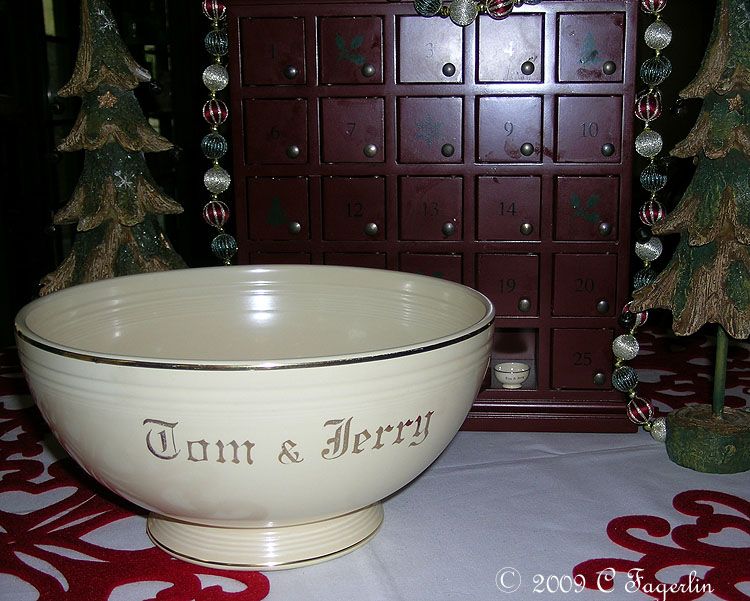 The miniatures normally are hanging out in the "La Fiesta" store just being their normal miniature selves.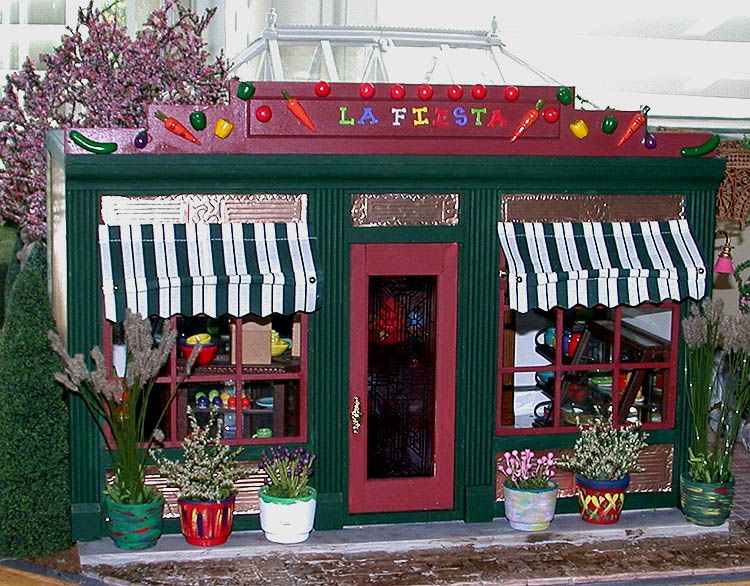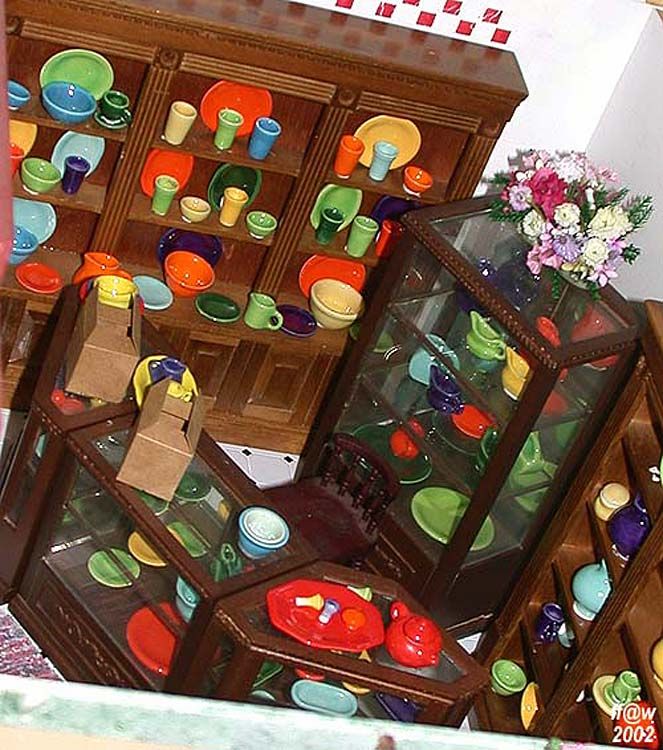 A "Tom and Jerry"

is a holiday drink similar to eggnog. It was very popular back in the day and many potters created sets of mugs with a matching punch bowl for holiday gatherings.
I seem to have strayed

a ways from the Advent calendar theme, but like many other holiday traditions I usually manage to work Fiesta into it somehow! How about a "Tom and Jerry" to sip on as you work your way through that "TO DO" list?