AND
(visit Mary, even though she's taking a little break from Mosaic Monday)
AND
since there surely must be enough blue dishes here to qualify.
That would make it a triple play
ready made to reveal The "Naked" Little Round Table.
In its unadorned state The Little Round Table is a vintage iron garden table base
with its original green chippy paint topped with a glass round. Mister TLRT actually
prefers it naked, but since I'm in charge of the kitchen.....well you've seen what
The Little Round Table looks like all dressed up for meals. It's a true metamorphosis.
The kitchen is recovering from the chaos of a Christmas meal for 16
and way too much champagne and merry making!
There are still remnants of Christmas dishes and decor, but it will soon be back to normal.
After a full month of the Merry Merry Miscellany of the season, I'm ready for the
minimalist look or as close to it as I ever get!
The other two dining tables that sometimes appear in place of The Little Round Table
aren't avaialbe for photos today ...... one is covered with bins of the "de-cluttering" process
and clearing the Christmas decor, while the other is covered with holiday tablecloths
being washed, pressed and folded to be stored away for next year.
The vintage Fiesta lives in the kitchen now that their original home in the pantry hall has
been given over to the tablescape "stuff." More about that later in January.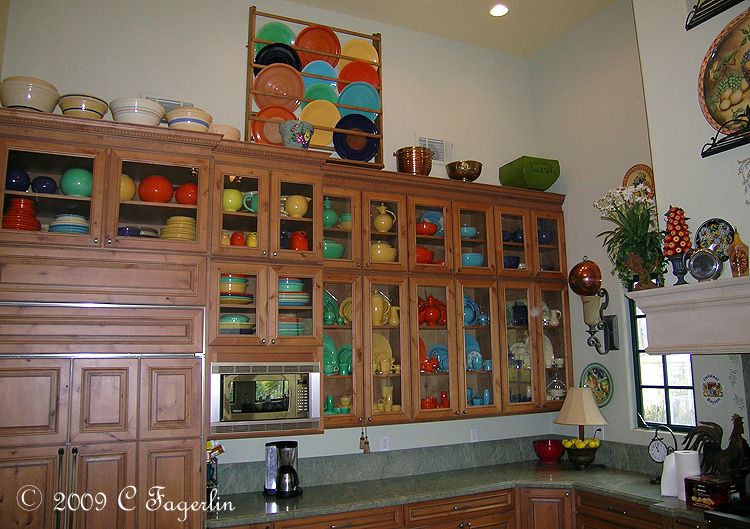 I've often been asked how I get to the dishes in the upper cabinets. I use a plain old step ladder, after considering a library rail and ladder system for months when designing this kitchen. The floor space the systems require and the wear and tear on the pine flooring were the main reasons I chose to not include a ladder system. The everyday dinnerware is kept in cabinets on the sink/dishwasher side of the kitchen, as well as the pantry hall which backs up to the wall of cabinets which hold the vintage Fiesta.
This is the second of five posts

looking back at my four months of
blogging about my tablescapes. Here's a look at what was going on in September of 2009.