This Hanukkah series was originally posted for Hanukkah 2009
by my friend and fellow Fiesta collector Saarin.
*******************
Please welcome our guest blogger Saarin, my friend and fellow dish collector to The Little Round Table for a celebration of the "Festival of Lights" Dec 11-18. Leave comments for Saarin here on The Little Round Table, she'll be checking in as the posts come online each day through next Friday.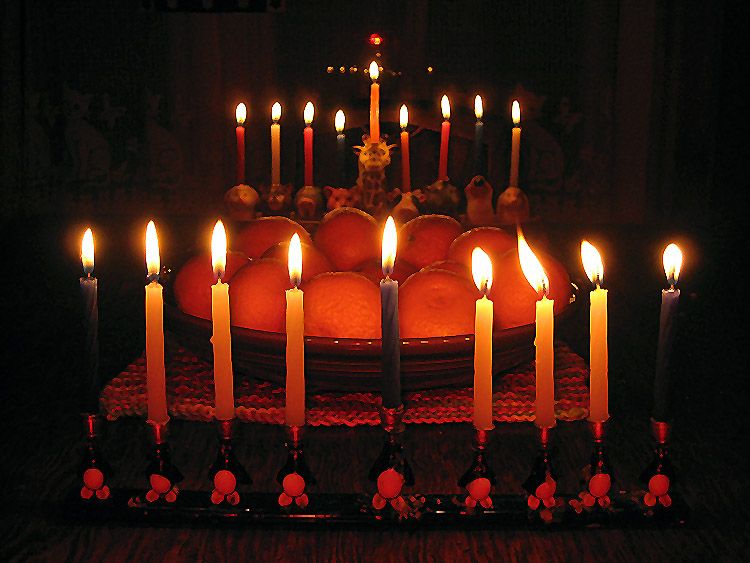 On the eighth and last night of Hanukkah

, all the candles in the menorah are glowing, shedding a warm and wonderful light. In this pair of photos, a Fiesta heather 70th anniversary commemorative presentation bowl (filled with California "cuties") is flanked by the Noah's Ark menorah and another made from glass penguins
.
This 1994 photo of our son shows him lighting the menorah he described in his introduction…it was made by his father out of an old showerhead and a stick, covered with Fimo clay!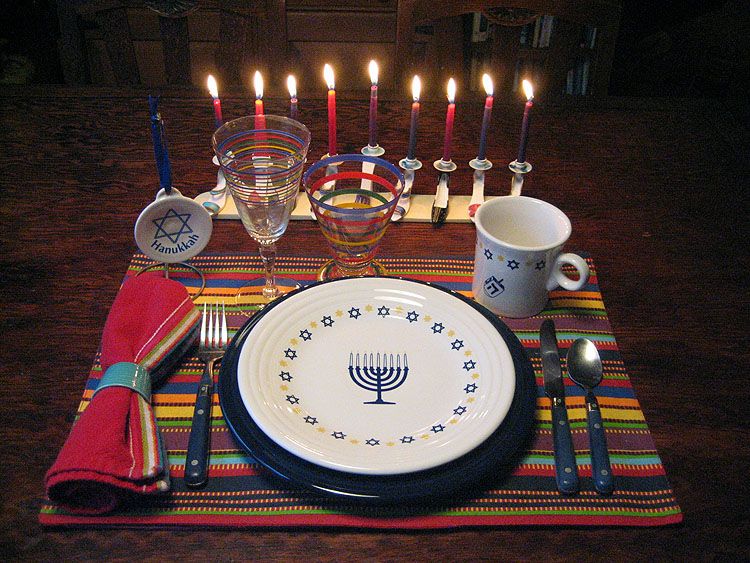 It's a Fiesta Hanukkah!

For my eighth night table I've chosen a mostly contemporary setting. The decalled white Fiesta luncheon plate and mug ( exclusive to dinnerwarepresale.com ) join a post-86 cobalt Fiesta dinner plate, and the striped placemat is a Fiesta licensed accessory from JC Penney. The napkin (Target) and flatware are also modern. Only the glassware is vintage in this table setting, but unfortunately I don't know the manufacturers. The banded, pilsner-shaped glass probably dates from the 1930s. The wine glass is vintage also, but I haven't been able to find any photographic references (even in Candy's impressive collection of vintage glassware advertisements!) A contemporary shoe menorah adds a whimsical touch. The Hanukkah ornament on a white Fiesta blank was specially made for me by one of my dear Fiesta friends.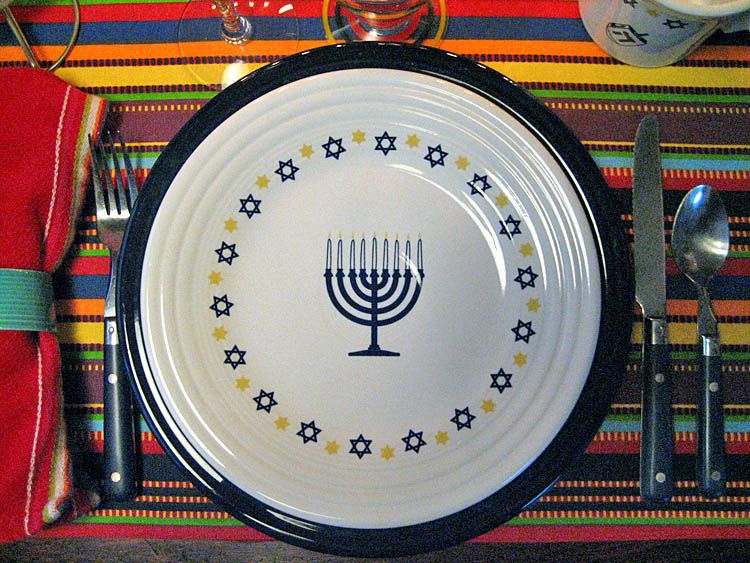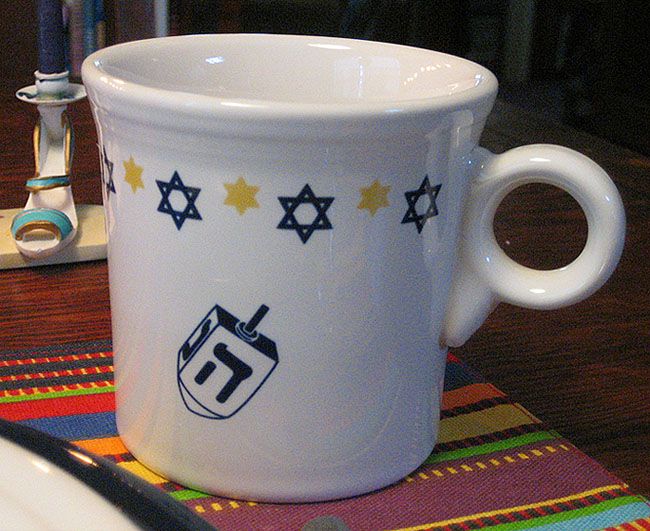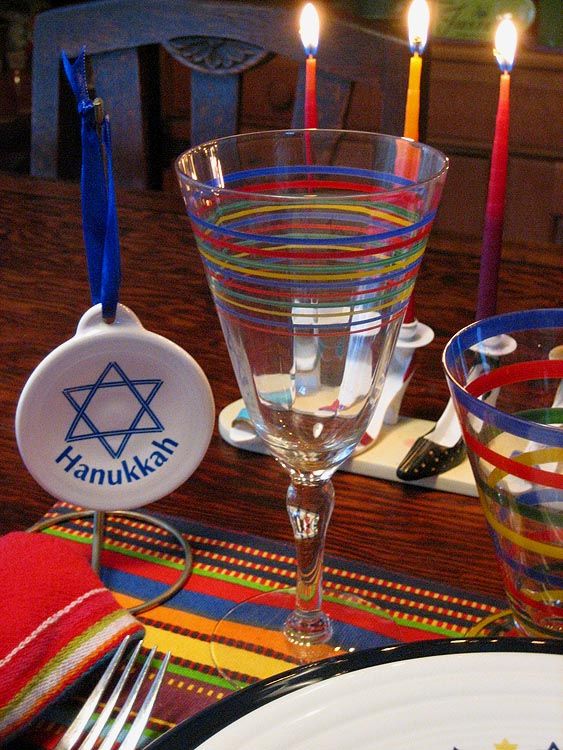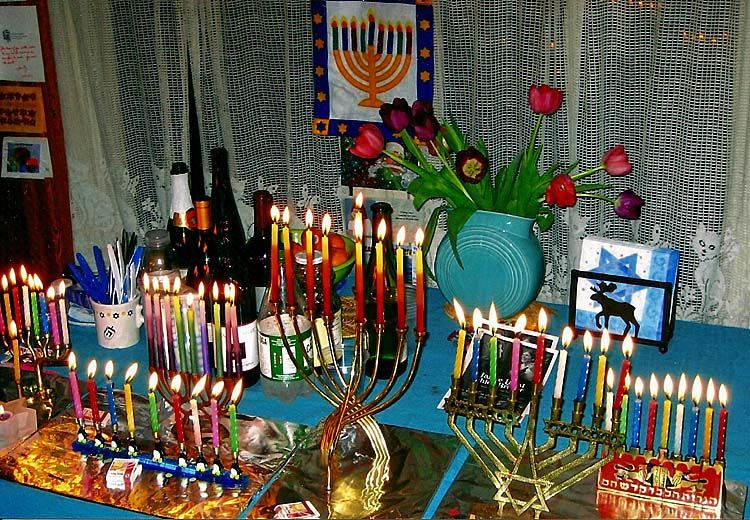 When neighbors gather for our annual Hanukkah party

, some guests bring their own menorahs and we light them all together. As you can see, menorahs come in all shapes and sizes, and a tableful of them with all their candles lit makes quite a spectacle! Of course in my house there's always at least one piece of Fiesta on the table…a turquoise Fiesta Millennium II vase makes an appearance in more than one of these party photos!
Finally, I would like to extend my sincerest thanks to Candy for giving me the opportunity to share my home with you and bring a few of my family's Hanukkah traditions into your homes. Happy holidays to everyone!
Saarin