This birdcage has been a garden yardifact in two gardens for about the last 10 years. It originally came from one of the Home Depot Expo Design stores on sale because of some defect that I could never find. :-)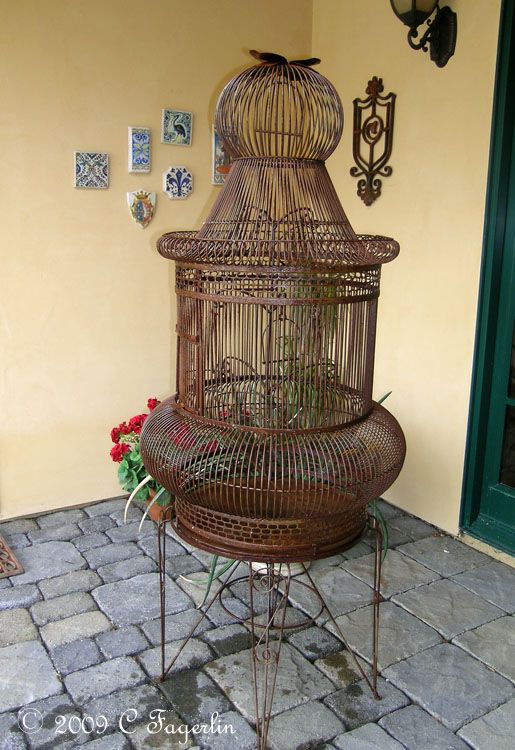 In need of a quickie winter project, I decided to give it a shot of spray paint and bring the outdoors inside. Hoping some color would bring me a bit of Spring inspiration in the gray days of January here in Northern California. Right on schedule the sun came out today. 3 cans of spray paint later I have a green birdcage looking for some bling!
And what could its purpose possibly be???
I have not a clue, but it sure was a fun, quick and impossible to
mess up project that took about 2 hours to complete.
I'm guessing its purpose is just to BE and it makes me smile.
Added benefits:
My very curious cat Homer can't get into trouble with the candles.
He has a tendency to want to knock candles over to make me crazier than I am!
Benefit #2 is that it was a chance to test the paint color in the kitchen.
I intend to refinish the butcher block island in this color and I'm
pleased to say I think it will be the perfect color.
Mr. TLRT thought this was truly "for the birds."
Which got me to thinking about all the expressions associated with birds:
A bird in the hand is worth two in the bush
Isn't that just ducky?
Nice weather for ducks
Sing like a canary
Duck
Swan song
Sing like a bird
Pecking order
Hen parties
Ugly duckling
As the crow flies
Eyes like a hawk
Loony
A bird's eye view
Night owl
Robin's egg blue
Nest egg
To quit cold turkey
She took him under her wing
Birds of a feather flock together
Don't ruffle her feathers
Free as a bird
A little bird told me
The birds and the bees
(Strictly) for the birds
A lame duck
Crestfallen