Pull up a chair, pour yourself a margarita and let's pretend it isn't gray and gloomy here in California. Let the food and the table lift your spirits and think of warm breezes and sandy beaches!! I think it's time for another trip to Mexico.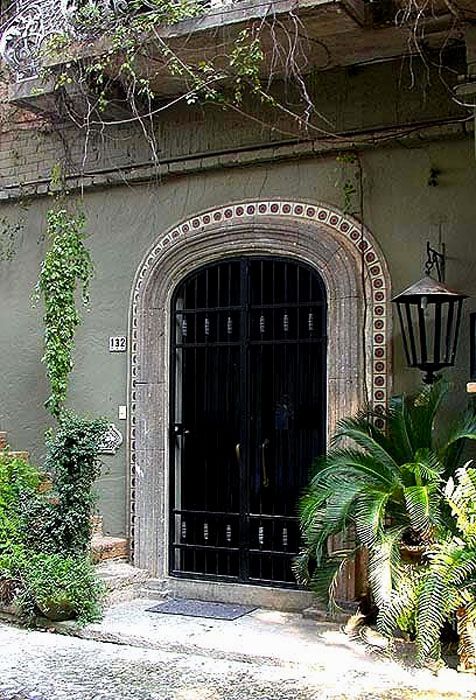 The plan was for a flowery vintage yellow/green tablecloth, but it just wasn't bright
enough to chase away the perpetual gloom we've had for the last few days. So instead
here is a Vera ..... yes it is a labelled Vera cloth in a plain bright chartreuse. Came
in its original package with patterned napkins that will appear sometime later.
The "Cabaña" napkins are from Pier 1 last week.
The dinnerware is Post 86 Fiesta (produced from 1986 - Present) in Turquoise, Chartreuse,
and Persimmon. The flatware is a licensed Fiesta accessory called "Masquerade."
Glassware was on sale at the end of last summer at Pier 1. The vintage Senor wall
pockets have been turned into little cabañas by inserting the napkins where
flowers would normally reside. Vintage banded pitcher can be filled with your choice
of sangria or margaritas or I can grab another pitcher and we can have both.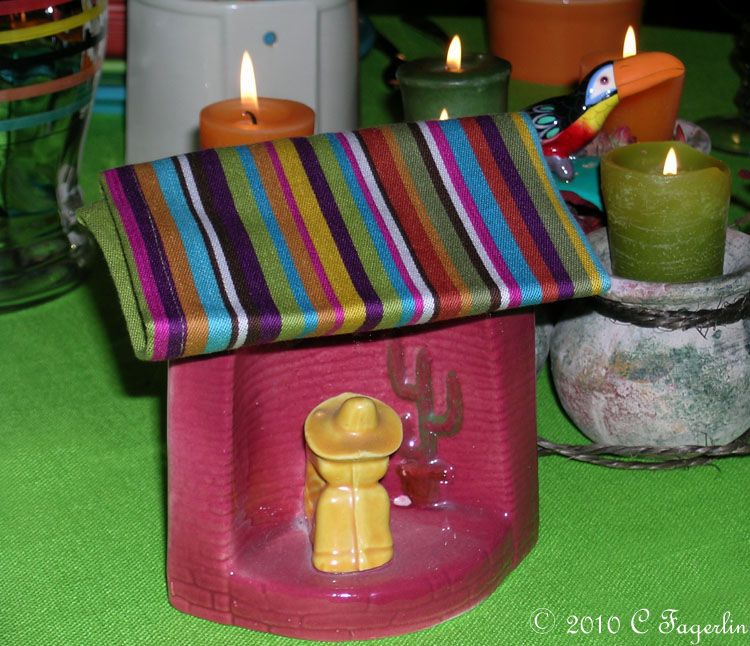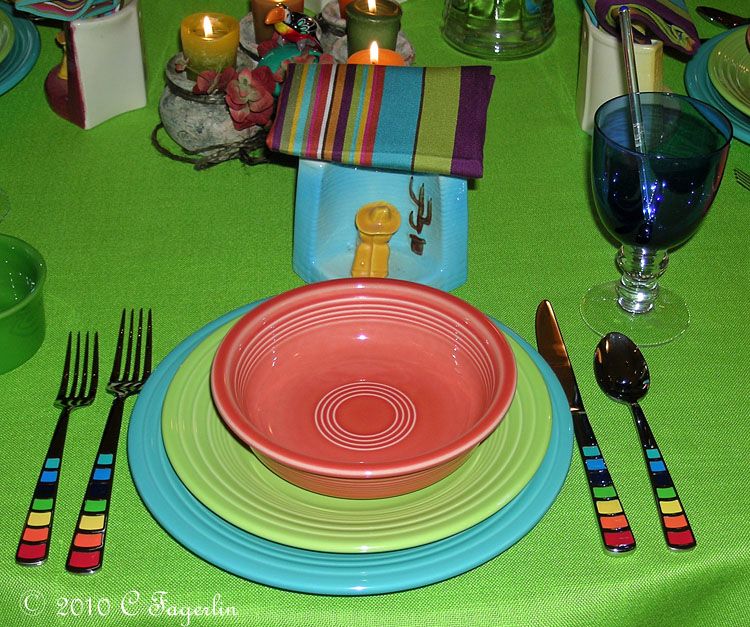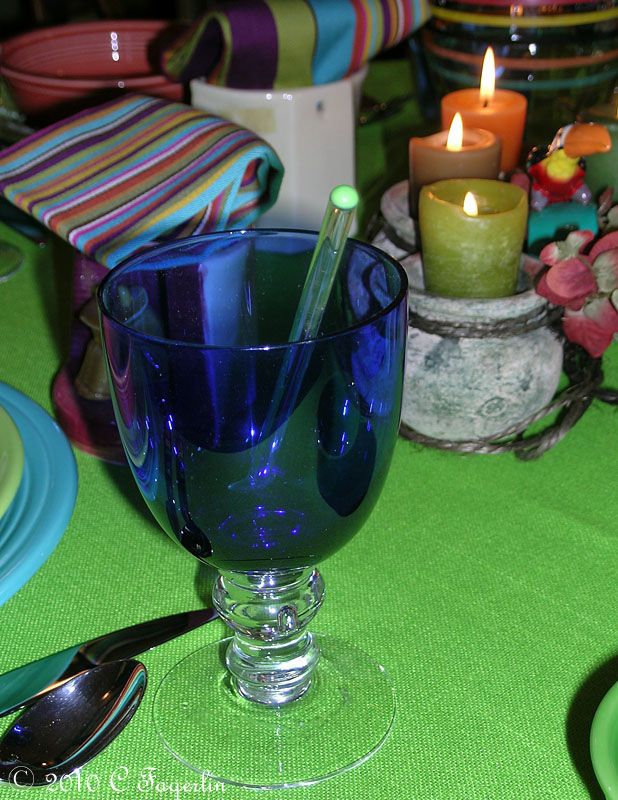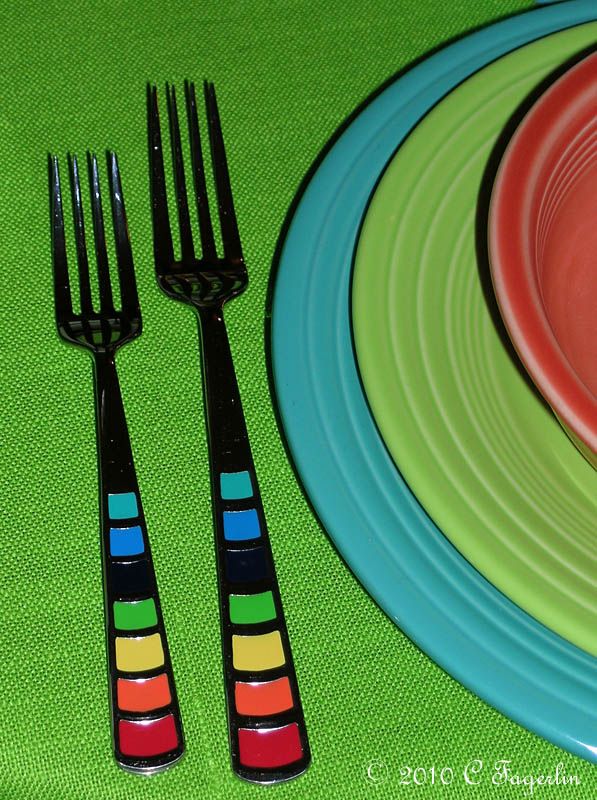 My original plan also included baked chicken, rice and a salad. Boring and gloomy. So I went to my go-to recipe man for something that would spice up the menu too! Rick Bayless to the rescue as usual. This is his recipe for "Capered Chicken."
Pollo Alcaparrado
6 chicken breast halves, with bone and skin
3 tablespoons olive or vegetable oil
2 medium onions, thinly sliced
1 28-ounce can diced tomatoes (preferably fire roasted)
10 yellow chiles such as Hungarian wax or banana (hot or mild),
roasted, peeled, seeded and sliced into 1/4-inch strips
1/8 teaspoon cloves, preferably freshly ground
1/2 teaspoon black pepper, preferably freshly ground
1/2 cup coarsely chopped pitted green olives, preferably manzanillos
1/3 cup drained coarsely chopped large capers, plus 1 tablespoon of their brine
1/4 cup raisins
Salt, about 1/2 teaspoon
Dry the chicken with paper towels. In a large (8- to 9-quart) Dutch oven, heat the oil
over medium-high. Lay in the chicken in a single layer and brown on all sides; remove.
Reduce the heat to medium, scoop in the onions and cook, stirring regularly, until nicely
golden, about 7 minutes. Add the tomatoes and chiles, cover and cook 5 minutes. Uncover and
cook until thick. It'll be as thick as tomato paste. Add the spices, olives, capers, brine, raisins
and 3 cups water. When the mixture returns to the boil, nestle in the breasts, partially cover
and cook 20 minutes, until the meat is cooked clear to the bone.
Taste and season with salt, spoon everything into a warm, deep serving platter,
sprinkle with a few extra olives and capers, then carry to the table.
NOTE: Mr. TLRT doesn't think he likes olives. So I mince them beyond
recognition and skip the extra olive garnish at the end. :-)
Add a simple salad of very thinly sliced Jicama, avacado and tomatoes with a citrusy
dressing and some plain or fancy rice ....... and it's a meal to brighten any gloomy
day with its complex flavors.