The TOP TEN and The BOTTOM TEN for 2009

What will be the trend in 2010?
Wishing you all the Happiest of New Years!!
Have a glass of champagne with me and check out the most popular and the least discovered tablescapes on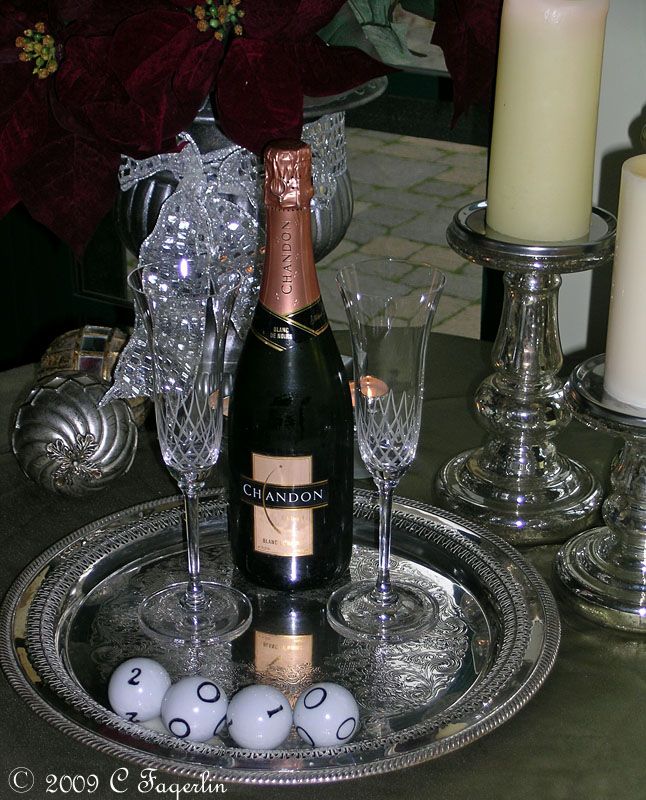 Check out the most visited Tablescapes and the least visited tablescapes as The Little Round Table celebrates 4 months of blogging ! There were other popular posts, but I'm just listing those in the tablescape category.
This is the 207th post since August 23rd when I got this crazy notion that I wanted to keep track of my tablecloths and how I have used them over time.
TOP TEN

- Most Visited Tablescapes
1. Toyland - Just barely edged out the Halloween Spider Tablescape
2. Today's Headline: Spider Webs Overtake Diners !!
3. Thanksgiving - Vera's Falling Leaves Linens
4. Starlight Christmas Supper
5. "Fall Fantasy" Fiesta
6. Concentric Circles
7. It's A Fiesta Masquerade
8. The North Woods
9. Breakfast At Grandma's House
10. Tropical Yucca For Squares
BOTTOM TEN

- Least Visited Tablescapes, hidden away? never discovered? just ugly???
1. More Concentric Circles
2. Olde World Gold and Holiday Nouveau
3. Nasturtium Trellis
4. Citrus and Snowflakes
5. Portmeirion Pomona Fruit Harvest
6. South of the Border Part 1
7. South of the Border Part 2
8. Square Fiesta On A Round Table
9. Let the Sun Shine In
And in the cellar was the least visited post of all. Poor parrots.
10. Multi Colored Parrots
Were any of these among the ones you missed seeing or were they some of your favorites? Let me know by posting a comment on this thread.