This is really a work in progress, with ideas still in transition. Here's a very old image (excuse the poor quality, my scanner has died and this is a picture of a picture!) of a little antique pine desk, whose original purpose was as a beauty salon station in one of the Eastern Block countries.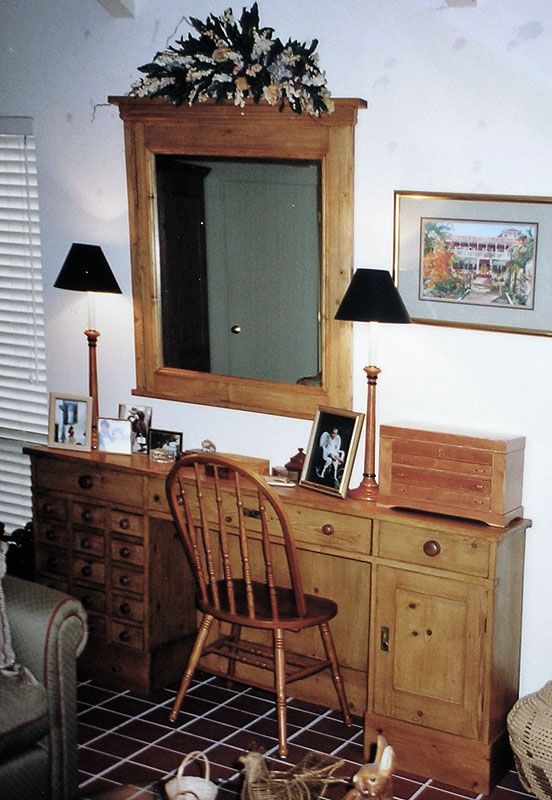 It has served in its new capacity over the years as a dressing table, a desk in various rooms of three different houses and now that we live in a smaller house, it had no real purpose in life. How sad. Let me say first of all to all antique buffs, do not lament what a woman with a saw can do......this was a primitive piece at best and of no intrinsic value as an antique.

Before I show you the "after-math", let me ask for some help. I really would like to find some vintage enamel numerals or plates to dress up the little drawers. Or even some little signs with the names of herbs or ????? I pulled out some stickers just to get some ideas, but nothing has settled firmly in my mind yet. I thought about printing some clear labels on my P-Touch, but with the wax finish I don't think any stickers will adhere on a permanent basis. Your ideas would be most welcome. I've seperated the two pieces to different rooms, so that I can continue to think creatively and not associate the different parts as a whole. There is enough nice old pine left that I'm thinking of making a blackboard for the kitchen out of it, but right now, I need some ideas for the little drawer fronts please!

I added some trim pieces to the sides and gave it a new coat of wax.

Now I'm waiting for inspiration to strike.