This hardly qualifies as a METAMORPHOSIS, so I'm gonna call

it a

MINI-Metamorphosis

.....quick and easy project that takes about 30 minutes total and could
be applied to anything that can take a coat of quick spray paint.
This is an old iron harvest basket that I've used in my garden for years. Chippy paint, rusty, a little lot out of round and it has been standing in a corner behind my garden shed all winter.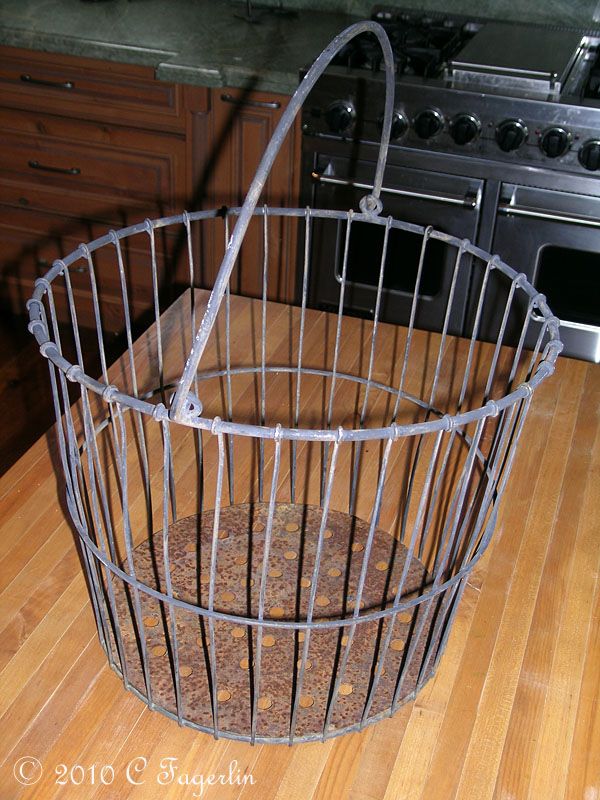 Ten minutes to scrub it with soapy hot water, 10 minutes to spray paint it with

probably way toooo much stuff in one corner of the kitchen counter........to me "less is more"

is an unknown concept.....I'm more of a "more is better" kinda gal. After Christmas I usually

just clear everything off the kitchen counters and then by this time in January I start adding

stuff back! By Easter it will be time to clear the decks again, but for right now here's my

Mini-Metamorphosis painted green harvest basket

.

Level of Difficulty - Your kids could do it!

Time Invested - 30 minutes

Cost - $1.50 for 1/4 Can of Spray Paint

Level of Satisfaction - Priceless on another DRAB RAINY GRAY day