vintage Fiesta is now displayed. It was in a glass front display closet in the pantry

hall, but that's all changed and other things are now on the move too.

The most often asked question on The Little Round Table is, "Where and how do you store

all the dishes and accessories??" Which got me to thinking about what I actually

do and is there a logical plan involved.
Main Entry: store
Part of Speech: verb
Definition: collect and put aside

Synonyms: accumulate, amass, bank, cache, clear away, clear up, cumulate, keep, keep in reserve, lay away, lay up, lock away, lock up, mothball, pack away, put away, put by, put in order, reserve, salt away, save, save for rainy day, sock away, squirrel, stack away, stash, stash away, stockpile, store away, stow, stow away, tidy, tidy away, tidy up, warehouse

Some of the synonyms for "to store" sound a bit "obsessive" ...... well yeah, I'm guilty! There was a plan when we designed our retirement home out in the boonies of the San Francisco Bay Area. We bought the land in 2004, spent a year permitting the land and construction details, built in 2006 and moved in the last week of October 2006.

I had a plan for where everything would go and implemented said plan as we moved over several months time from our prior home about 40 miles away. Then about six months ago I started reconfiguring where things "lived" in the new house. It's a classic pattern for me. The actual living in a house for a couple of years, generally dictates where things should really be.

This is an antique corner cabinet that is functioning as a kind of transition cabinet for dishes on the move. The holiday season finds all kinds of dishes displaced for seasonal decor and it usually takes me several weeks or longer to get everything tidied up again. I'll be redoing the large pine hutch soon and some of these dishes are destined to end up on display there soon. This cabinet used to have solid wood doors, but a couple of years ago Mr. TLRT put glass in them for me.

Such a DH.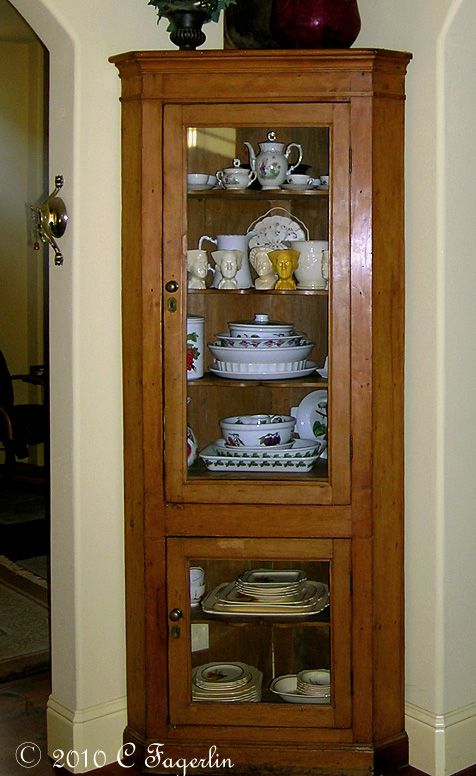 On top right now is an old French hammered pitcher and a vintage

Hungarian bread dough bowl which was used for the bread while it was rising.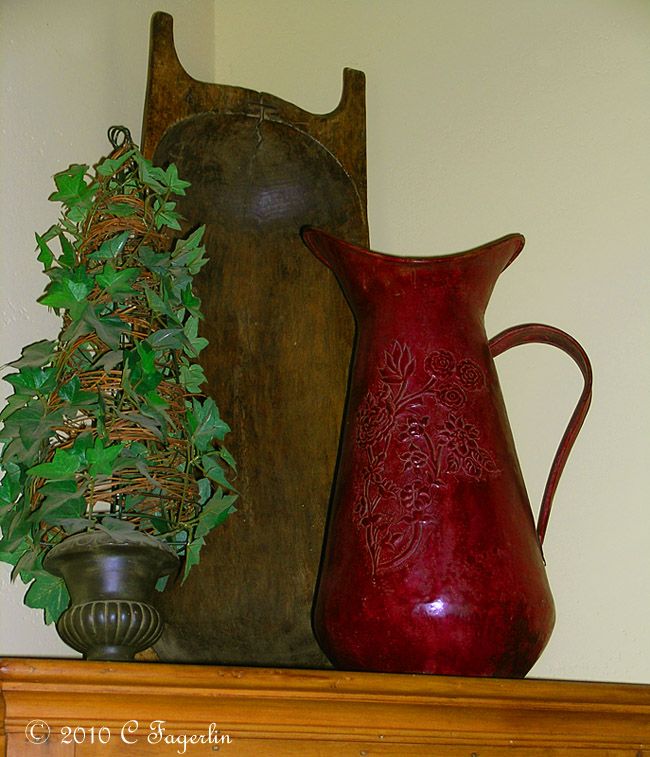 On the top inside shelf is my childhood tea set ...... sans the creamer. Long story short,

I broke the creamer in the midst of a temper tantrum. I kept the pieces for years and years,

but sometime in the last decade or so the pieces have gone missing. :(

The next shelf is holding a variety of things that need to be reunited with their like items.

An OvenServe Pitcher by Homer Laughlin, a few of my 1939 World's Fair toby style mugs,

and a Homer Laughlin milk pitcher.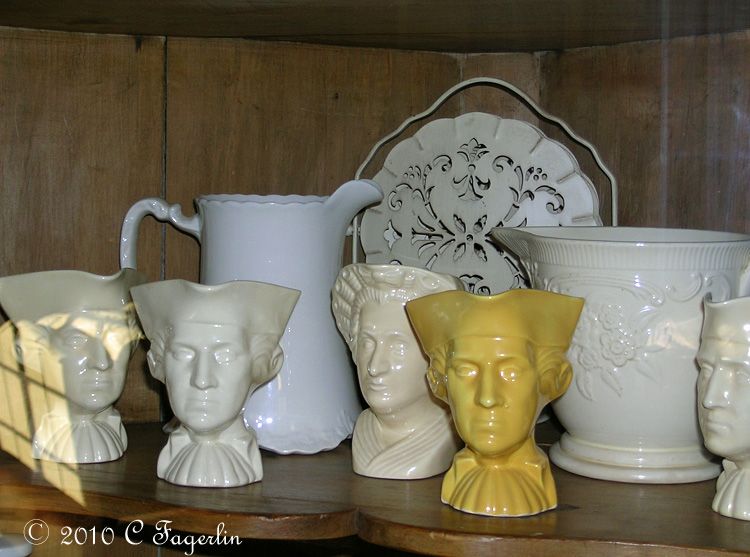 These are some of the Portmeirion Pomona pieces that are difficult to store

because of their size.....soon to end up back on the pine hutch.

And lastly some of the pieces to my large set of Mexicana by Homer Laughlin. I sold off a

good portion of this set a few years ago and will probably eventually sell the remaining pieces.

It is a lovely vintage pattern, but pretty susceptible to chipping and the decals don't like

knives. For now it will continue to live with me ...... or maybe it will always live with me.


That's this week's chapter of "Where Do You Store All Those Dishes?" ,

more next week about a large pine cabinet in the pantry hall. I hope to see you then.