It started with a post about my kitchen three weeks ago on Show and Tell Friday showing where my vintage Fiesta is now displayed. The vintage Fiesta was in a glass front display closet in the pantry hall, but that's all changed and other things are now on the move too.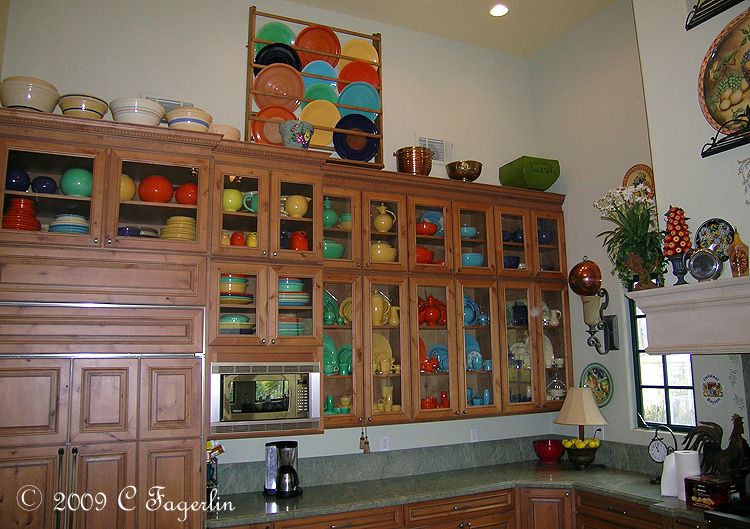 Then I showed you where my "good dishes" now hang out.
Part 1 Post
And a corner cabinet that functions as a kind of transition solution,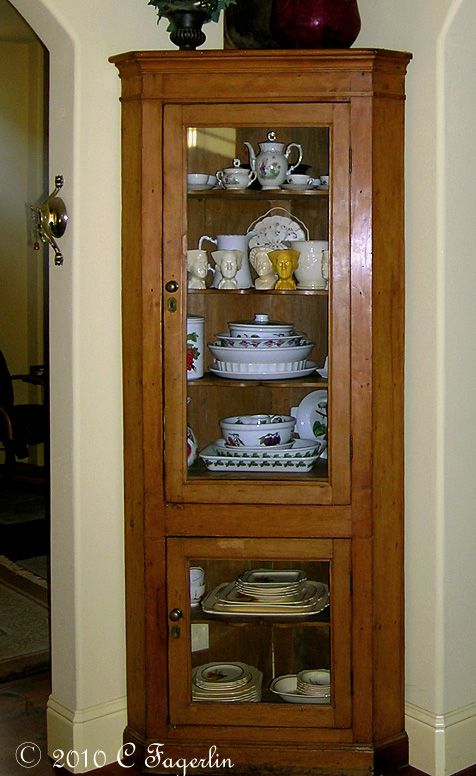 So here is Part 3 in the series "Where Do You Store All Those Dishes", which is the most often asked question on The Little Round Table. The question got me to thinking about what I actually do to store everything and is there a logical plan involved?

Main Entry: store
Part of Speech: verb
Definition: collect and put aside
Synonyms: accumulate, amass, bank, cache, clear away, clear up, cumulate, keep, keep in reserve, lay away, lay up, lock away, lock up, mothball, pack away, put away, put by, put in order, reserve, salt away, save, save for rainy day, sock away, squirrel, stack away, stash, stash away, stockpile, store away, stow, stow away, tidy, tidy away, tidy up, warehouse
Some of the synonyms for "to store" sound a bit "obsessive" ...... well yeah, I'm guilty! There was a plan when we designed our retirement home out in the boonies of the San Francisco Bay Area. We bought the land in 2004, spent a year permitting the land and construction details, built in 2006 and moved in the last week of October 2006.
I had a plan for where everything would go and implemented said plan as we moved over several months time from our prior home about 40 miles away. Then about six months ago I started reconfiguring where things "lived" in the new house. It's a classic pattern for me. The actual living in a house for a couple of years, generally dictates where things should really be.
This is an antique pine store fixture that I've had for years and years. Originally it held my collection of American made mixing bowls from the 30s and 40s, then it held my collection of non-Fiesta dinnerware from Homer Laughlin. Sometimes baskets, bowls.....but now it holds some of the dinnerware and accessories that I use to decorate our daily lunch and dinner tables.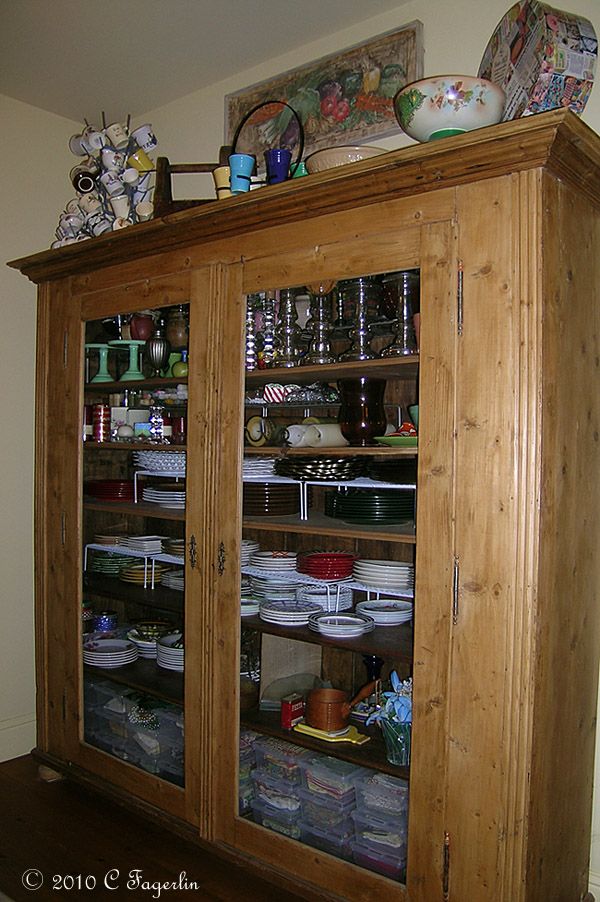 It is located in the "pantry hall" which is adjacent to my laundry room. There's a funny story about the most recent adventure in moving this cabinet to this house. The piece is a full 8 feet wide by about 7 1/2 feet tall. With the full glass doors it is large and unwieldy. When it was moved into our former residence, the 5 big gorilla moving guys said NOT to call them when it needed to be moved again. They lost money on that $25 delivery fee. :-)
Because we were moving over a period of months, Mr. TLRT and I did the move ourselves, loading the cars with the important stuff like dishes for all the trips back and forth. We rented a series of trucks and trailers during the months of transition and did it at a fairly slow pace. (Eventually near the end of the transition period, we moved all our Koi and goldfish on a long harrowing trip in the car .... they all survived! Try to picture a Cherokee filled with plastic tubs and WATER with pumps running on a generator.)
When we had tip-toed around this cabinet as long as we could, it was time to move it.
Long story short it was an impossible task for the two of us. We couldn't even maneuver it out the doorway. So I removed the top and bottom moulding and said, "Cut it in half!" After much heated discussion, it was cut in half from top to bottom, the doors were removed, and it was a piece of cake to move. The reassembly was painless, with some extra bracing under the base of the cabinet which makes it more stable than it ever was before. Whew!!
The shelf dividers/risers make for a lot more efficient use of the space.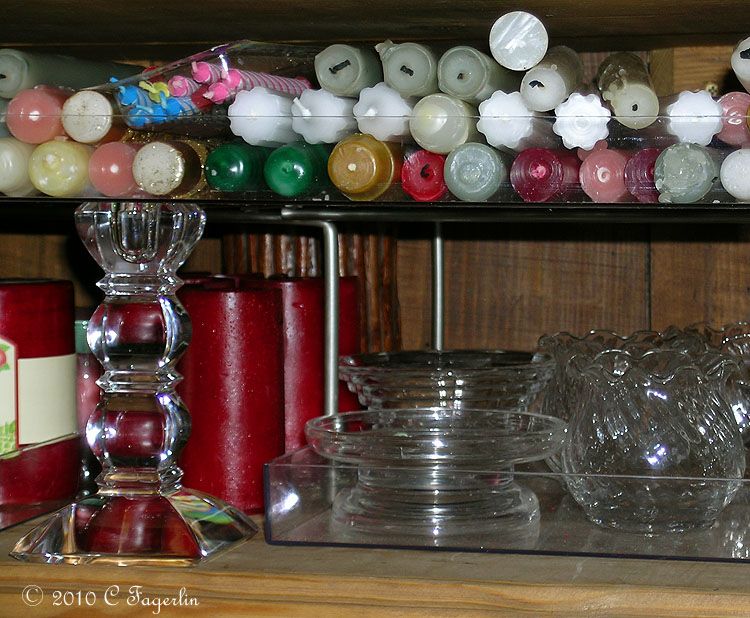 Do you recognize what those plastic thingies are that are holding

some of the candles and votive holders?

A couple of years ago I found a bunch of those plastic box picture frames on the

Michael's sale tables for $1 each. I knew I wasn't going to be using them as picture frames,

but surely they would be useful for something. They are amazingly strong and

are excellent "trays" that slide out easily and can be carried around from place

to place with all the bits and pieces to put a table together.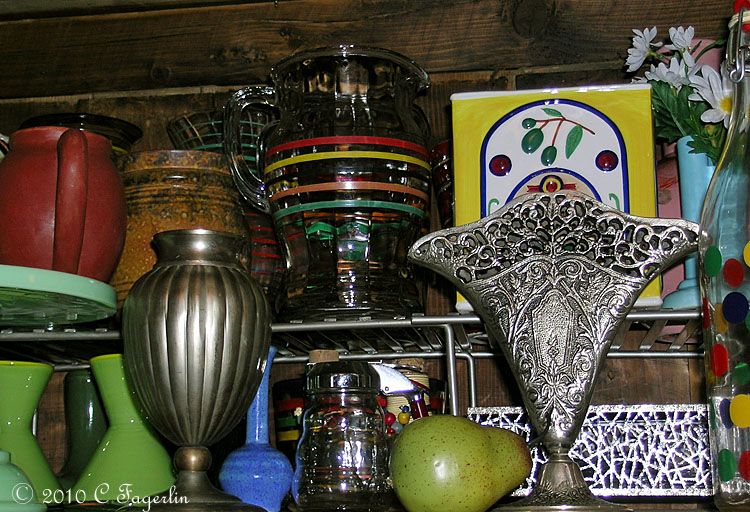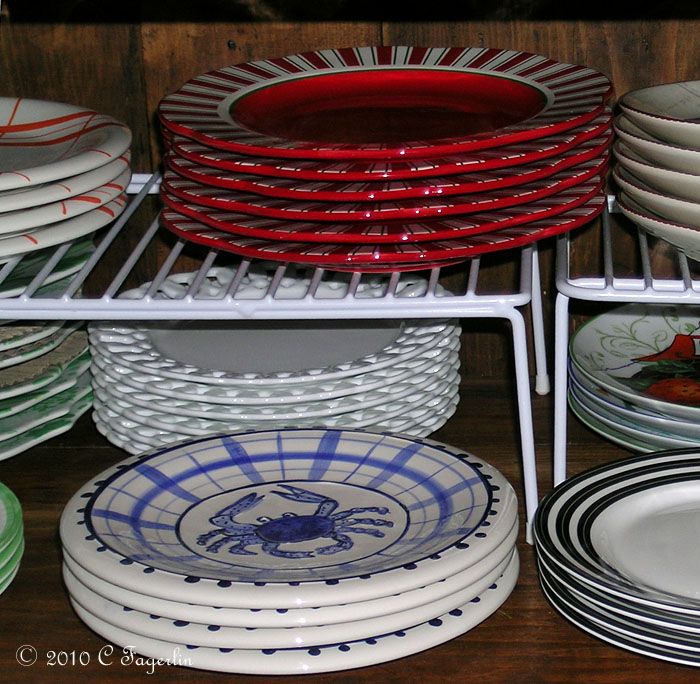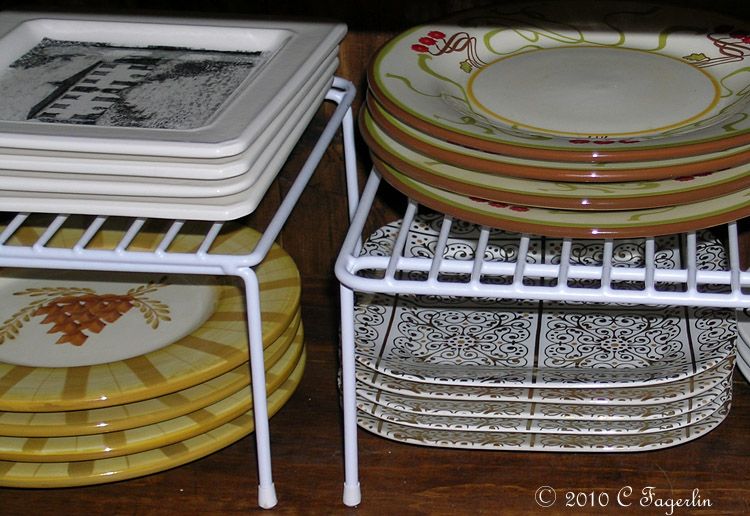 I originally kept all my napkins in the drawers of an old printer's cabinet,

but found that if I couldn't see them, I would forget about them. Then I kept them with the tablecloths in another cabinet, but they were hard to find and continually wrinkly.

This is my latest solution.

Plastic shoe bins are working really well and the napkins are easy to spot and pull out.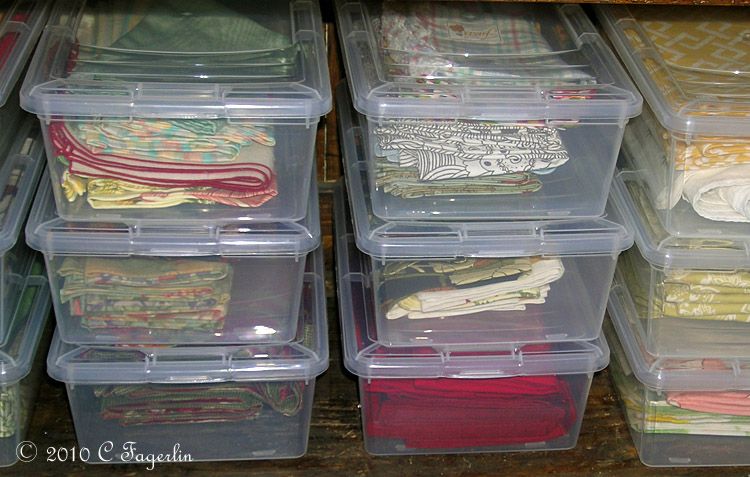 I hope you've enjoyed another look at where all these dishes and accessories live and that you
will tune in next week for Part 4 of "Where DoYou Store All Those Dishes?"