This is my first time joining a Cloche Party over at A Stroll Through Life.
I'm new to the "cloche" idea, other than in the garden, so this is a whole new adventure
for me. Join all the other "clochers" along with our hostess Marty to see their fabulous creations.
I'm deviating from the "Winter" theme, because it is really SPRING here in Northern
California! There are baby calves all over the grazing lands that surround our property,
the birds are singing their pretty heads off, and my garden is coming back to life after
a wet, cold and frosty winter monsoon season.

I had a hard time coming up with ideas of how to decorate my cloche(s) for the
party ....... it is harder than it looks or is it just me? But, finally this morning
I was inspired to go with a sure sign of Spring ..... EGGS. And thanks to a
timely delivery by the cute guy in the brown suit driving his big brown truck,
I was able to put it together by the skin of my teeth!
Birds aren't the smartest cookies on the block, but they do provide hours
of free entertainment. If you've been reading my blog lately, you may have seen some of
the images I've been able to capture of the quail convention being held on our patio.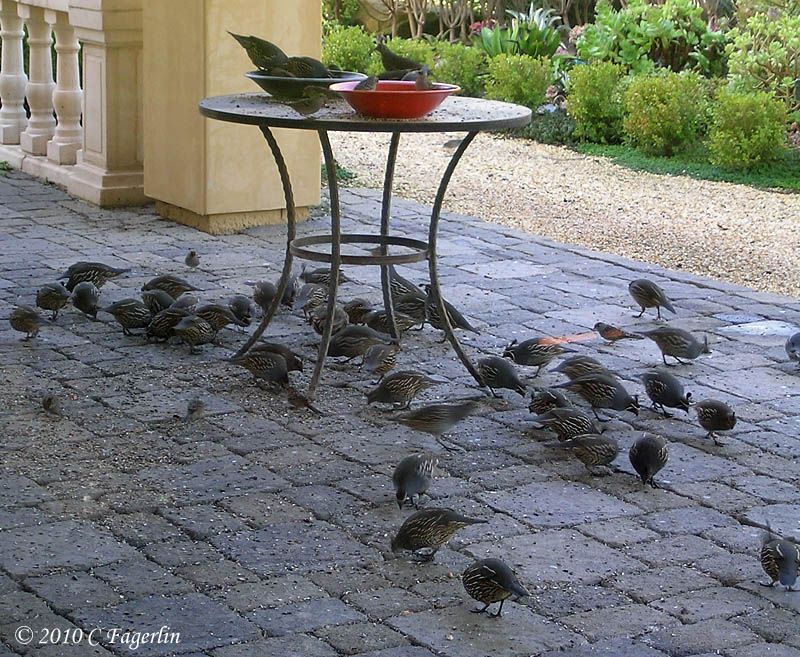 Over the years we've had quail lay eggs in the oddest places ...... right by the front door,
in pots on the patio, usually at the busiest most accessible locations to be found. They are then prey to all the fretting of dealing with cats, dogs, kids, and the big scary UPS truck.
The nesting urge hits them and they plop right down and get to work creating a nest,
without any thought to the consequences. I've learned to shoo them away and
tear down those nests in vulnerable locations, since the results are usually tragic.
We have had some successful birds nest in these odd places over the years, but not many.
Right by the front door, this was a successful endeavor, but only because I roped
off the front
porch for a few weeks until Mama could get her brood hatched
and out of that prickly asparagus
fern to safety.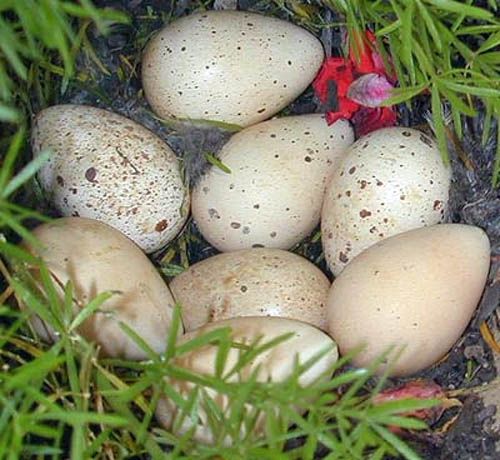 The clutch of egg below was at the sidewalk level under the mailbox and
was most likely destroyed by racoons.
Mourning Doves aren't any smarter ...... but this ever vigilant pair did
manage to raise their two babies and get them safely down from a nest right
above the patio slider.
About now you must be asking yourself what this has to do with a Cloche Party ......
yes you are, I see you hitting that scroll wheel trying to find the connection!
It is Spring and birds will do their thing, silly birds!
My faux nests and eggs will be safe from their larger feathered friends, racoons, the
UPS truck and the coyotes, since they will remain all nestled in their cloche havens.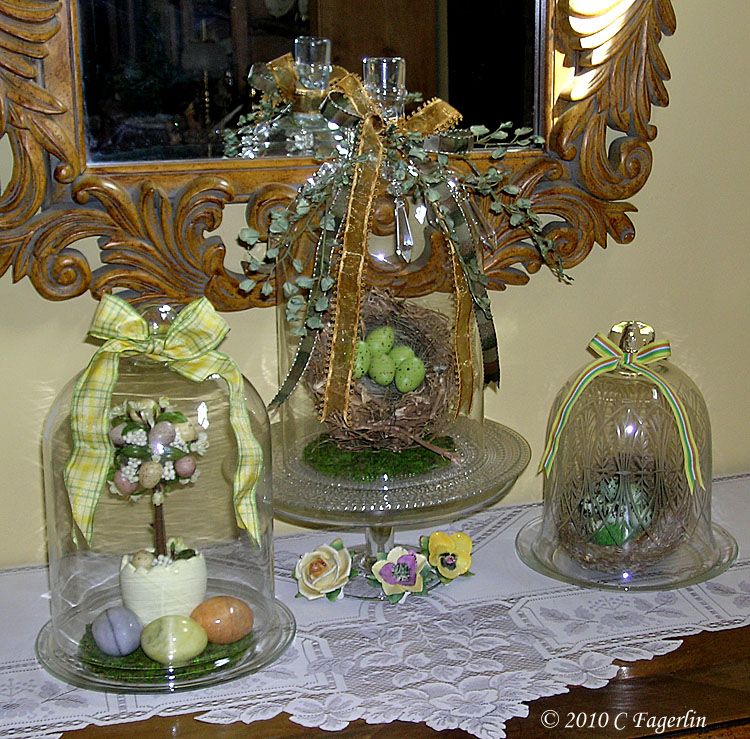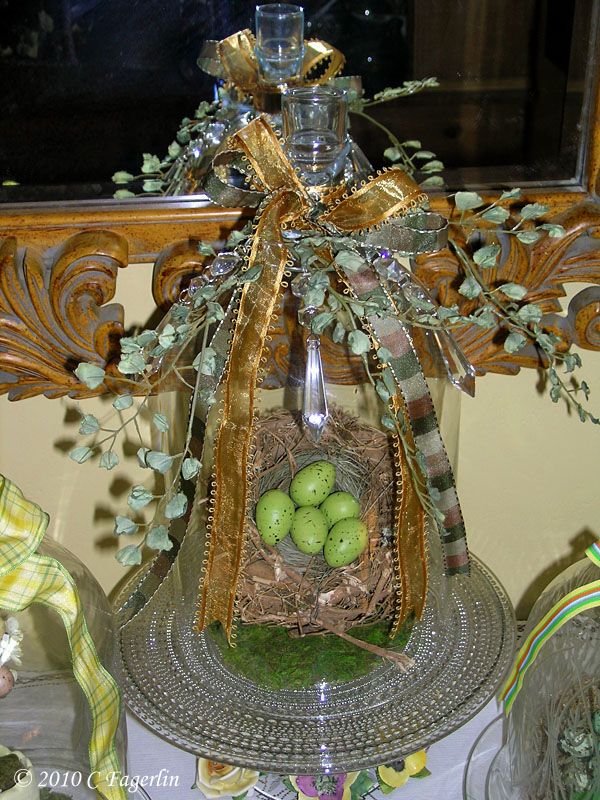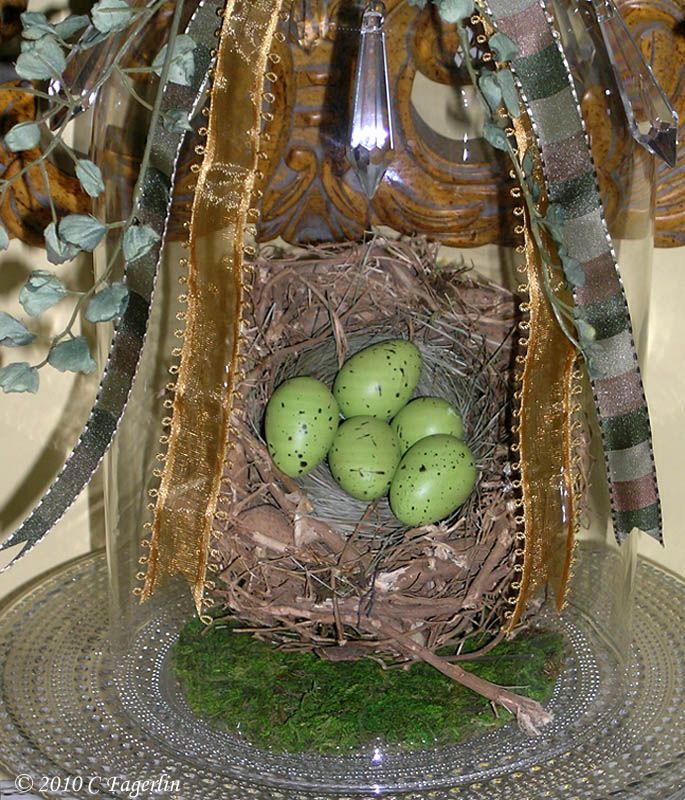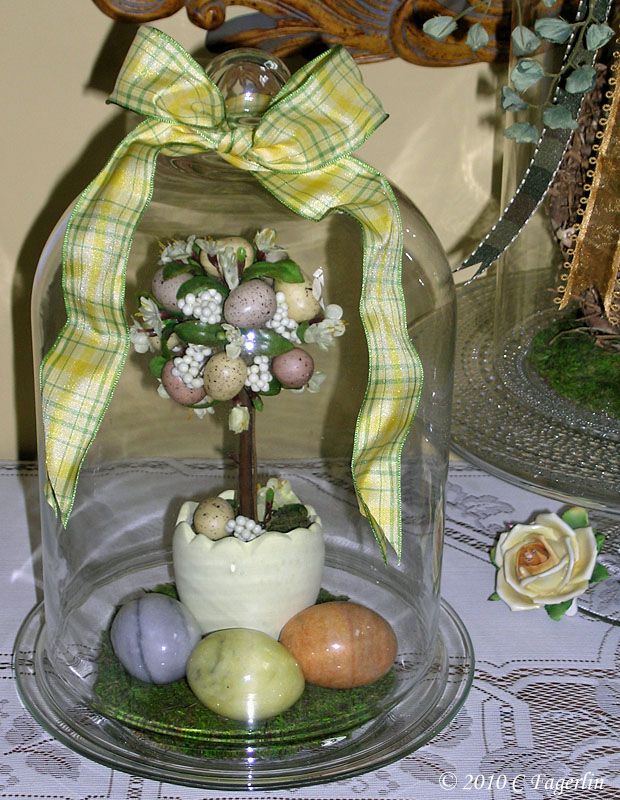 Thanks for stopping by to check out my first attempt at the "cloche" encounter!
EDIT:
I received a lot of emails asking where I purchased the cloche in the center, so I've
And one that didn't make the cut ...... early this morning ..... trying to become inspired
and it wasn't working.
Garden Gate