Since I spent most of my childhood in Germany after WWII, I really had no experience
with "Mardi Gras" until I returned to the states as a teenager. We celebrated "Fasching".
Every year we went to the big parade in Cologne and usually to a local ball held
by the military. Of all the costumes I wore over the years at these balls,
my favorite was a bright red poofy big skirted red dress with pantaloons and
black patent slippers and a matching bonnet. I think it might be around here
somewhere packed away. I was Little Miss Muffet and carried a small
black spider with wire legs in my matching satchel.
Here in California Mardi Gras isn't an expecially big deal, but I love the colors and spirit
And a little history of Fasching as I knew it, more pictures of my Mardi Gras table follow.
"Fasching", "Fasnacht" or "Karneval" are all terms used to describe carnival,
an ancient tradition which is celebrated all over Germany but particularly in the
Rhineland and in the strongly Catholic regions of Germany. In southern Germany
the traditional Alemannic Fasnet is celebrated. The "fifth season" begins on
November 11th and ends on Ash Wednesday. Carnival season reaches its climax
in the week from "schmutziger Donnerstag"(dirty Thursday) until Ash Wednesday.
There are major street processions on the Monday of that week, known as Rosenmontag or Carnival Monday. A great portion of the population dresses up in elaborate costumes or in traditional dress and masks. They join in processions, parades and street festivals. The tradition stems back to the ancient custom of driving out winter. Besides the many Carnival gatherings with their speeches, the highlights are the women's Carnival on the Thursday before Ash Wednesday, the Rose Monday procession (the highlight of the street carnival) and the burning of the Carnival spirit on Shrove Tuesday, when life-size straw effigies are burned.
In the Rhineland festivities developed especially strongly, as it was a way to express subversive anti-Prussian and anti-French thoughts in times of occupation, through parody and mockery. Modern carnival there began in 1823 with the founding of a Carnival Club in Cologne. Most cities and villages of the Rhineland have their own individual Carnival traditions. Nationally famous are the Carnival in Cologne (Köln), Düsseldorf and Mainz. The big Fasching parades are on Rose Monday in Cologne, Mainz, Duesseldorf and other towns along the Rhine River.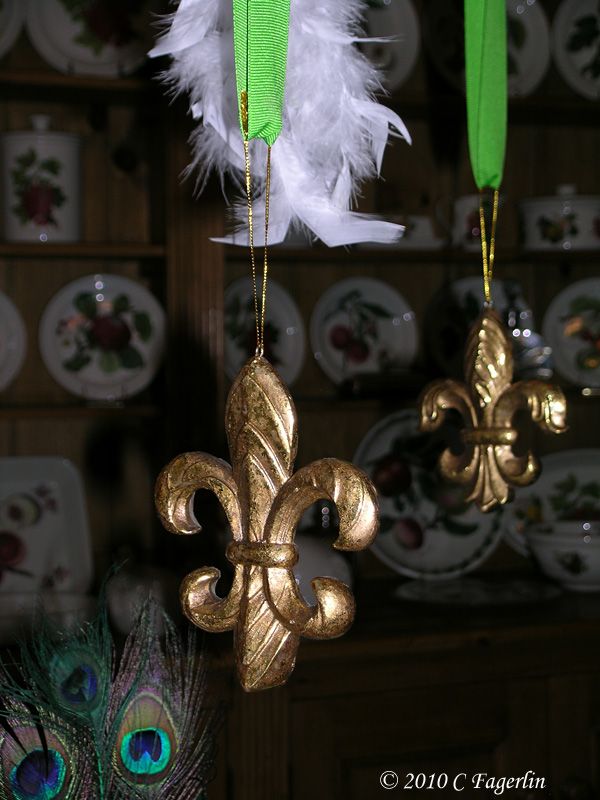 This jester from my doll collection is from Portugal and was the inspiration for a
costume I wore when I was about 11 years old.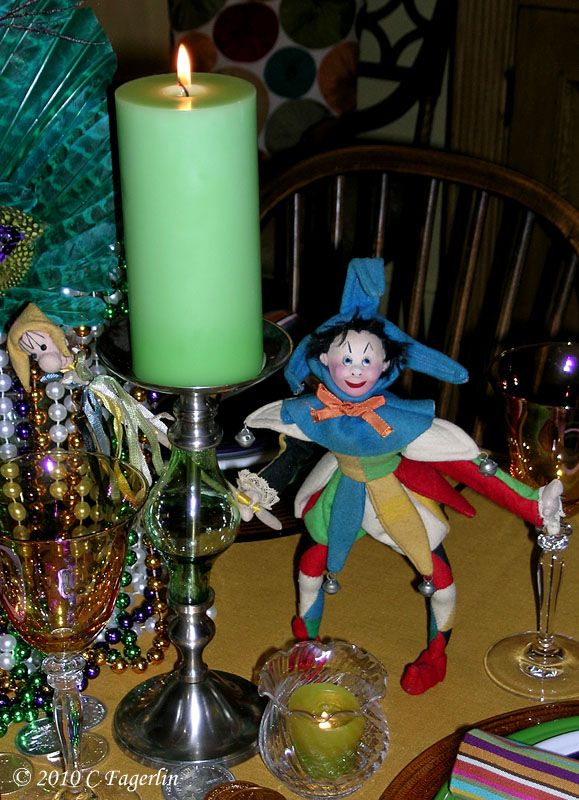 The glass chargers I found at Tuesday Morning, Post 86 Fiesta in Shamrock
(you'll be seeing Shamrock again for St. Pat's Day!), White and Plum.
Stemware, napkin rings and napkins from Pier 1.
The Lilac Post 86 Fiesta Juice Pitcher fits right in with this color scheme.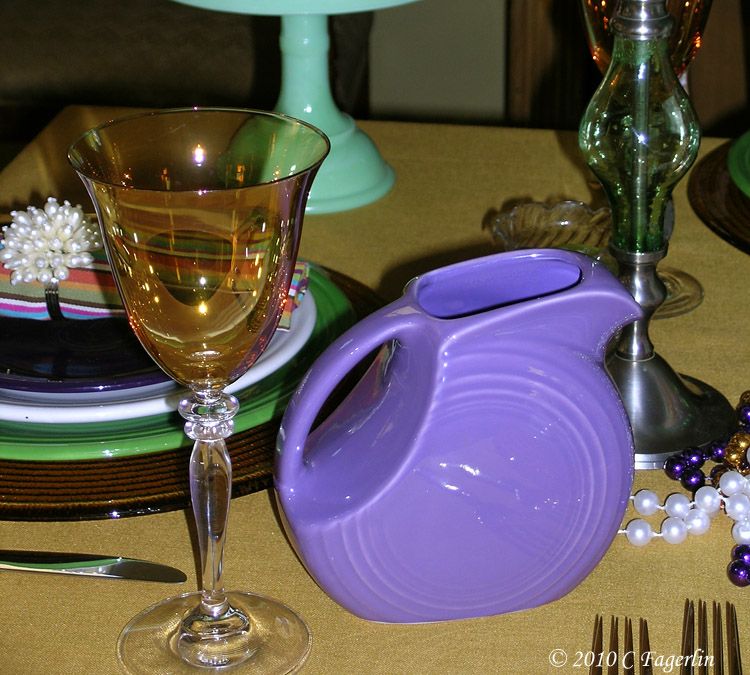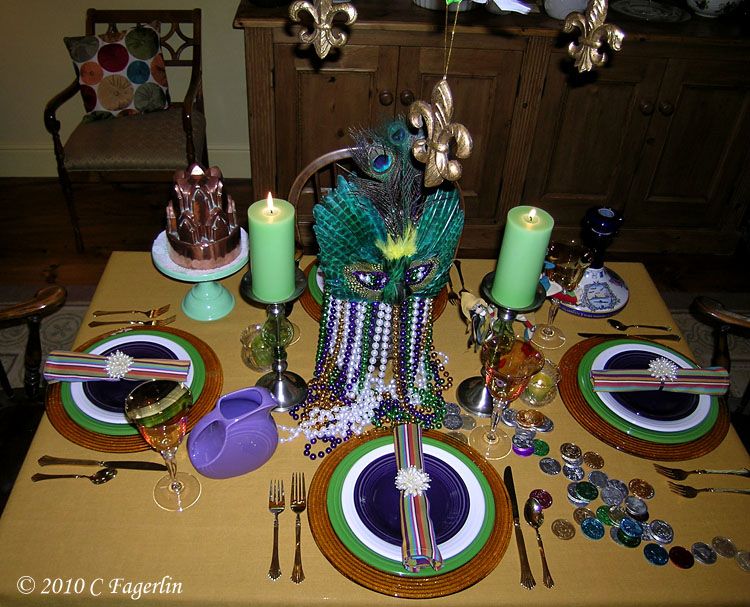 There will be a King Cake, although I make it in an antique mold from another recipe.
rather than the traditional using the traditional filling. And there is a Baby, but he
usually sits on top of the cake ...... knowing from past experience that someone would
most likely choke on my Baby! My little Baby is from my dollhouse when I was a kid.
That's a Martha cake stand from a set of three faux
Jadite offered years ago
in her now defunct catalog.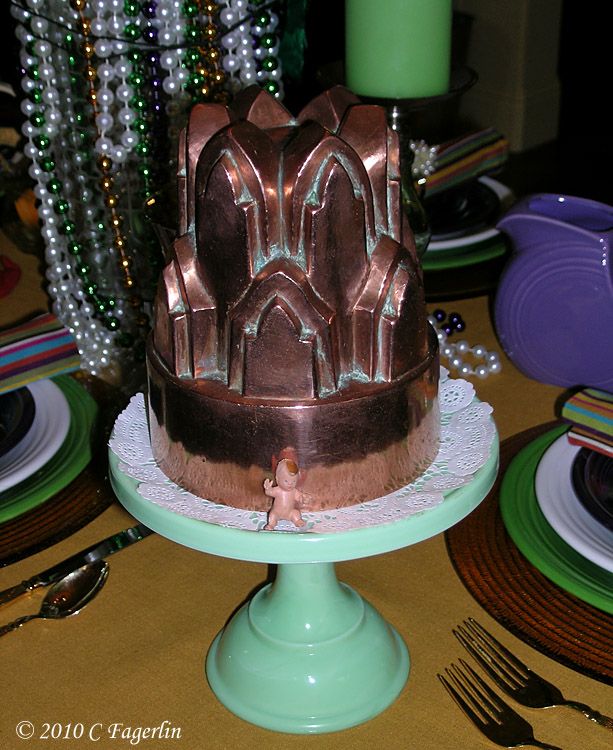 Have a happy day, whether it's Mardi Gras, Fasching, Carnival or just plain old Tuesday!