It's Thursday again, which means it is time to pull out your wonderful
Vintage Thingies for another party over at
Coloradolady
These are some of my favorite pieces from my collection of vintage copper. I know
it is rushing the season a bit, but I'm seeing eggs popping up all over my house!
This vintage mold has an Edelweiss on it and makes for a beautiful presentation on a
Spring table or buffet spread. An aspic vegetable salad or traditional jello salad becomes
something special when you use a decorative mold like this one.
Edelweiss flowers are a perennial alpine plant native to the Alps of Germany,
Switzerland, Austria, Italy, and France. Edelweiss flowers are quite rare in the
wild and in many areas are considered endangered. These famous flowers grow in rocky
crags in the Alps and are best cultivated in a rock garden that mimics their natural habitat.
Grown in partial shade, these plants will develop beautiful woolly flowers with a ring of silvery white leaves surrounding them, which makes then look like large snowflakes. Edelweiss flowers are reasonably easy to propagate from seed and quite hardy if grown in conditions that suit them.
This little copper basket is Greek, I love the "art deco" design on it.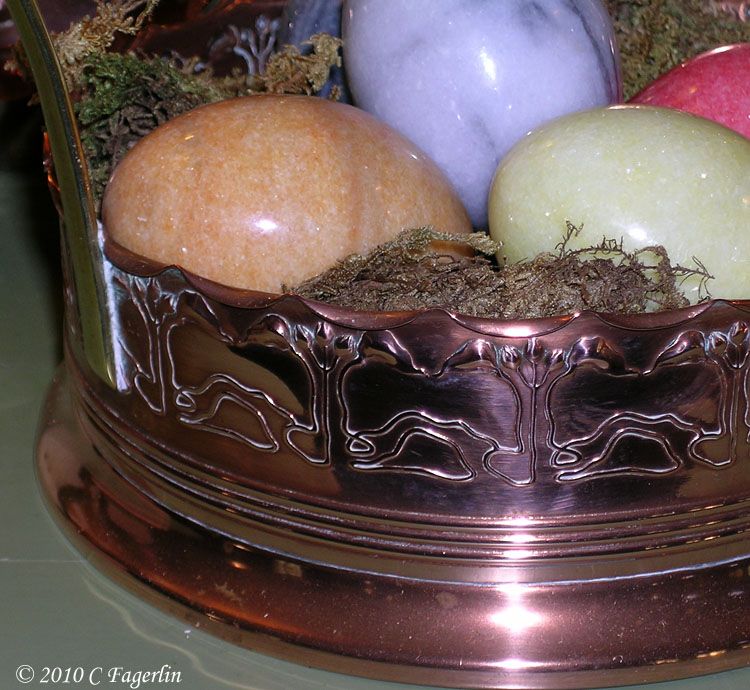 I have lots of these little molds, they look great done in aspic or jello for a buffet table.