It's time for

Show and Tell Friday

hosted by Cindy over at My Romantic Home.
Join all the participants as they show and tell about their lives.
It started with a post about my kitchen five weeks ago on Show and Tell Friday showing where my vintage Fiesta is now displayed. The vintage Fiesta was in a glass front display closet in the pantry hall, but that's all changed and other things are now on the move too.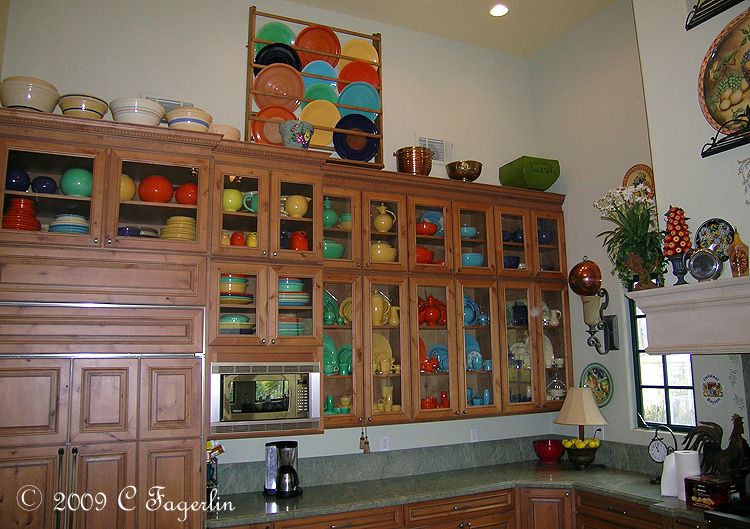 Then I showed you where my "good dishes" now hang out.
Part 1 Post
And a corner cabinet that functions as a kind of transition solution,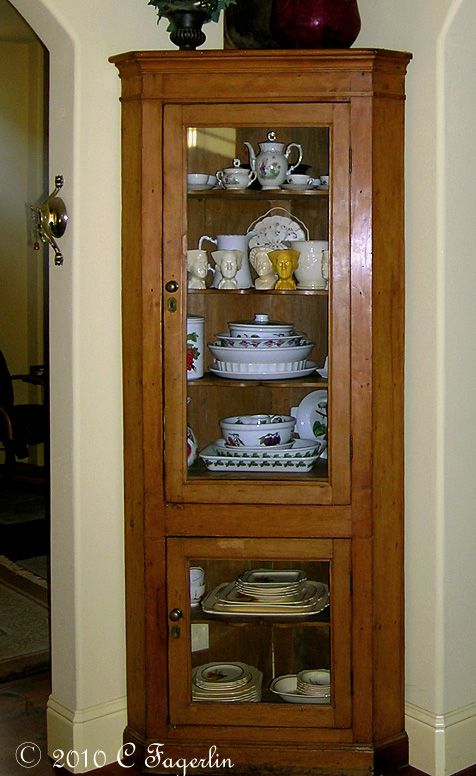 Then came the antique pine store fixture that holds a lot of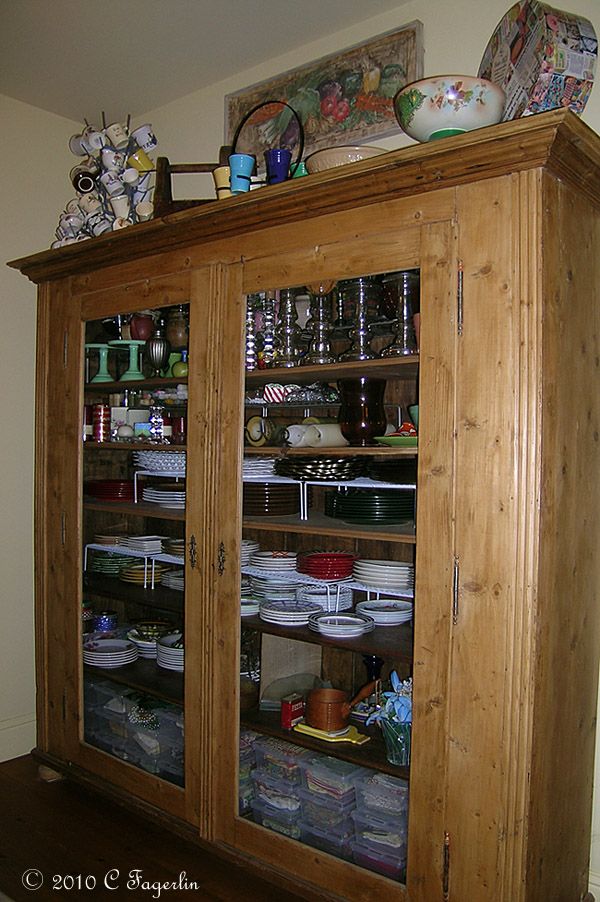 And last week I showed you the first of a pair of glass fronted closets that
are in the pantry hall that leads to the laundry room Part 4 Post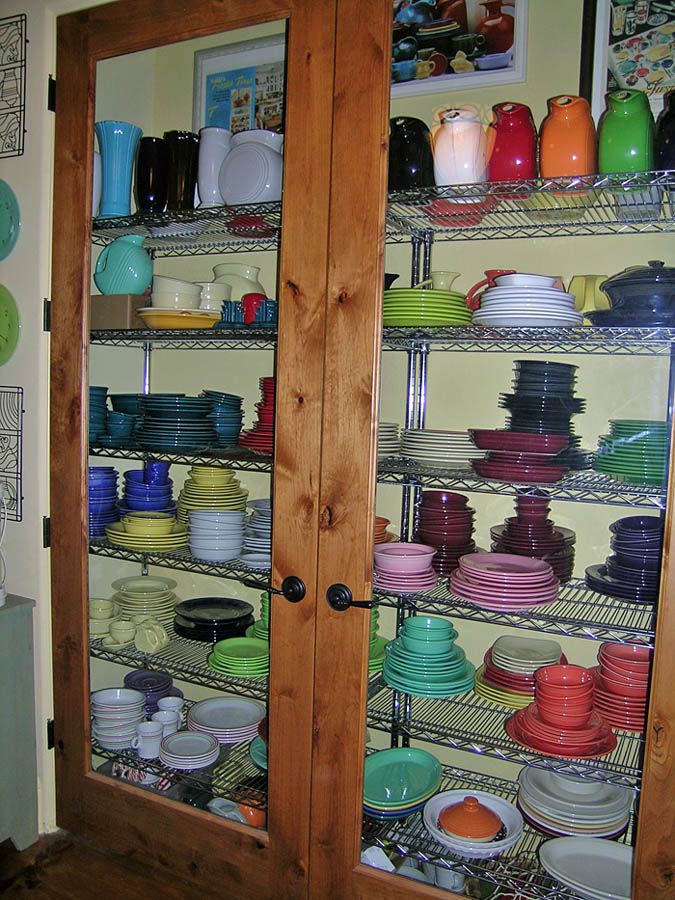 Main Entry: store
Part of Speech: verb
Definition: collect and put aside
Synonyms: accumulate, amass, bank, cache, clear away, clear up, cumulate, keep, keep in reserve, lay away, lay up, lock away, lock up, mothball, pack away, put away, put by, put in order, reserve, salt away, save, save for rainy day, sock away, squirrel, stack away, stash, stash away, stockpile, store away, stow, stow away, tidy, tidy away, tidy up, warehouse
Some of the synonyms for "to store" sound a bit "obsessive" ...... well yeah, I'm guilty! There was a plan when we designed our retirement home out in the boonies of the San Francisco Bay Area. We bought the land in 2004, spent a year permitting the land and construction details, built in 2006 and moved in the last week of October 2006.
I had a plan for where everything would go and implemented said plan as we moved over several months time from our prior home about 40 miles away. Then about six months ago I started reconfiguring where things "lived" in the new house. It's a classic pattern for me. The actual living in a house for a couple of years, generally dictates where things should really be.
This is the second of two closets

that sit across from the large store fixture. I had
the builder leave the two closets finished, but empty of shelves and added Metropolitan wire racks. One of the advantages to these racks is that the shelves can be reconfigured as needs change and additional shelves can also be purchased seperately if you want to add them.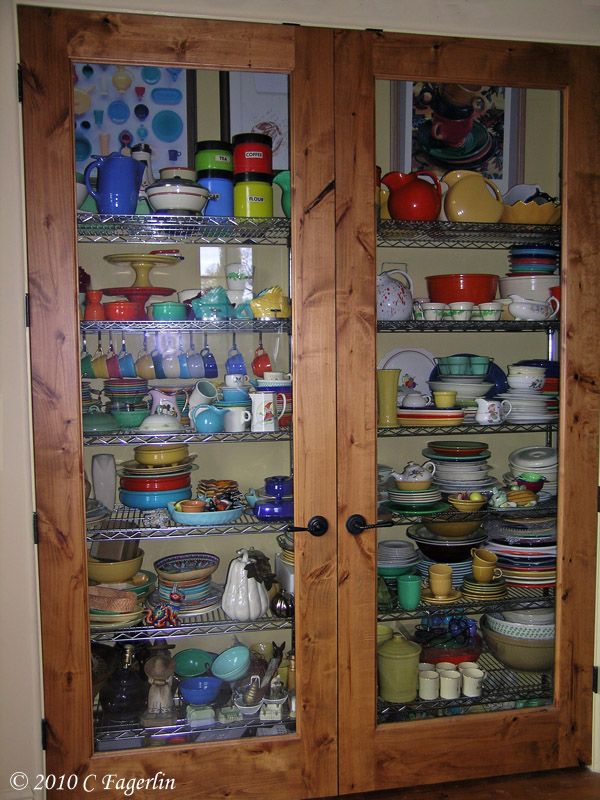 This is not as organized as it could be, but it is a working storage solution for dishes that I use all the time. It isn't meant to be a perfectly balanced and staged display, but instead is constantly changing as things are used and never quite put back in the same exact location. :-)
There are lots of things represented in this closet, some Bauer, vintage Fiesta and
Harlequin, Pacific Pottery, Jadite, other Homer Laughlin vintage lines,
and various accessories that I use on our lunch and dinner tables each day.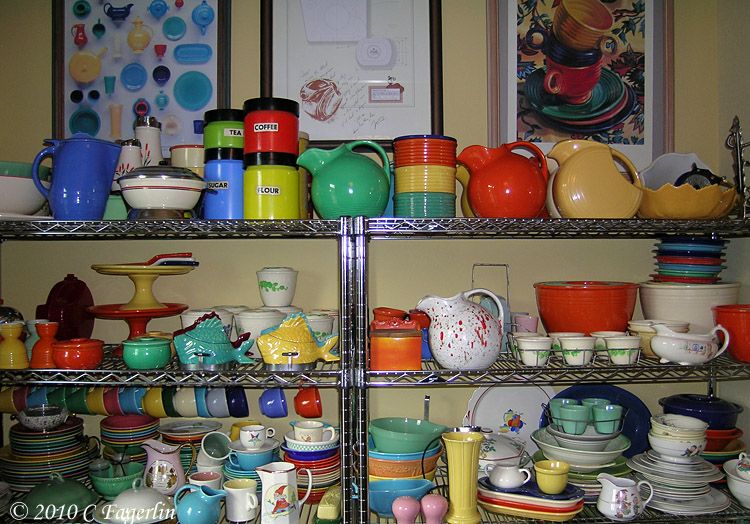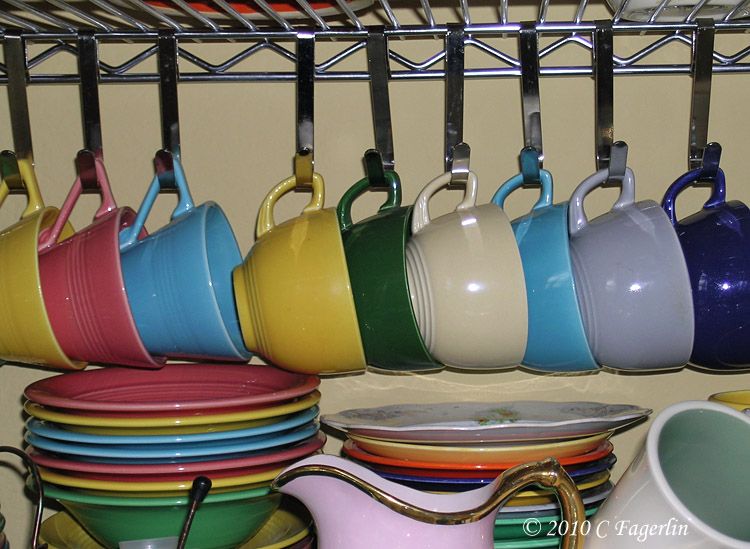 These cup hooks available as an add-on from the shelf maker save a lot of room.
More of the box frames mentioned before that I use as trays for accessories.
Thanks for stopping by! Next week I'll show you where I keep all the glassware,
which must mean the linens would be next and then the back up storage in the
laundry and the garage.....oh and yes in my closet! :-)