originally posted March of 2010
****************
Did you know that a hard boiled egg left unrefrigerated
for more than two hours should be discarded?
Egg safety is important because eggs provide the perfect medium
for bacterial growth. Any cracked or damaged egg should be discarded.
Did you indadvertantly leave the carton of eggs on the counter over night? Toss them.
Raw eggs kept refrigerated will remain fresh for 4-5 weeks.
A hard boiled egg may safely be refrigerated for up to one week.
When we were kids, we would color the eggs, place them all in a big basket and they sat out as decoration for......who knows maybe a week!! Then on Easter Sunday we'd have an egg hunt, find the eggs and then they'd sit in our baskets, until someone got hungry.
I don't really collect egg cups, but generally a collection
is defined as three or more of any related object.
So I guess I have a collection of egg cups.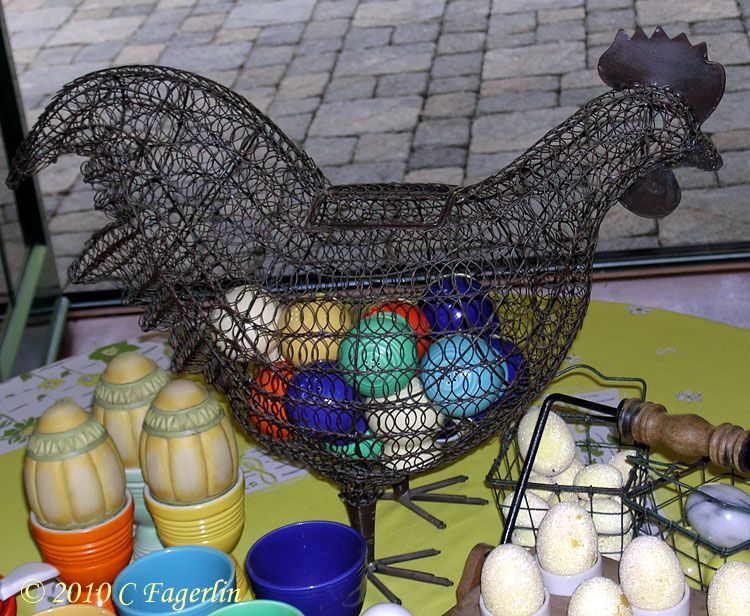 Which came first the chicken or her eggs?
In this case I first collected the vintage Fiesta salt and peppers.
The hen came later in the game.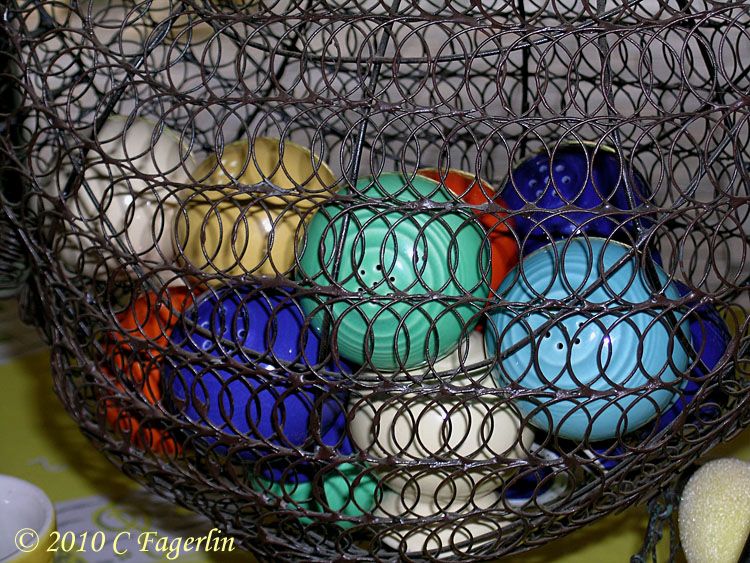 The basic shapes of egg cups can be generalized as single, double, bucket and figural.
If you collect egg cups, you are a "pocillovist" (pronounced PO-SIL-O-VIST).
Pocillovy is the name given to the hobby, which comes from the Latin,
pocillum ovi, meaning a small cup for an egg.


No eggs or humans or chickens were harmed in shooting these
images. All eggs, both raw and hard boiled were returned to
the refrigerator within the two hour recommended time frame.
With Easter coming up fast on the holiday calendar, I gathered all my
egg cups together for a group shot. You can see that they vary widely in
shape and size. The use of egg cups is still pretty common in Europe,
but less and less so here in the states. In the early decades of the 20th
century there was a great interest in egg cups, sets of egg cups and the
implements like special "beheading" scissors and oddly shaped spoons
The larger "bucket" shaped egg cups are vintage Fiesta in the original six colors.
The foot is not usual for the bucket shape, but the size of the bowl is fairly standard.
This shape isn't really suited to a single egg and it is thought that it was meant
for toast "soldiers' (a piece of toast cut into strips lengthwise) and an egg
The tiny vintage Harlequin individual egg cups are more delicate than
The egg cups in this contemporary caddy are fairly typical of a standard
egg cup used on a daily basis since the beginning of their popularity.
There were porcelain egg cups made by many of the major china
manufacturers and they were added to china services by many Victorian households.
This little egg holder is purely decorative and was mine as a child.
We had a whole set of them, but sadly this is the only one which has survived.
The Hankscraft "Fiesta" Egg Cooker in vintage Red is shown with 3 of its
matching egg cups. These are "double" egg cups with one end being larger
for larger eggs, like duck or turkey eggs you might have had access to if you
lived on a farm or raised poultry. You can read more about my Hankscraft
Egg Cooker on a post from last fall called Breakfast At Grandma's House.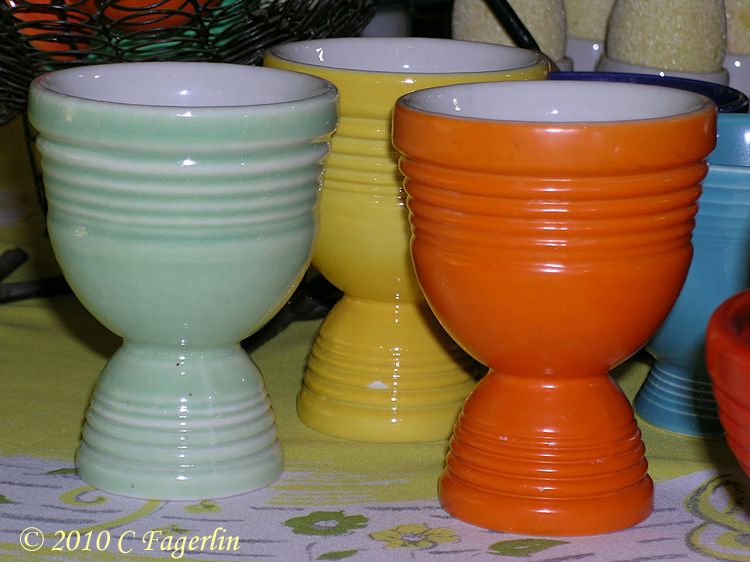 Have a Happy Easter and please practice SAFE EGGS!
You can read about some of my vintage dinnerware that was posted
yesterday: Stratoware by Eva Zeisel
for another edition of Foodie Friday.
Come join the fun for another calorie free food extravaganza!