Come join the fun and show us your Vintage Thingies.
I call her Rosemary and she is making bread.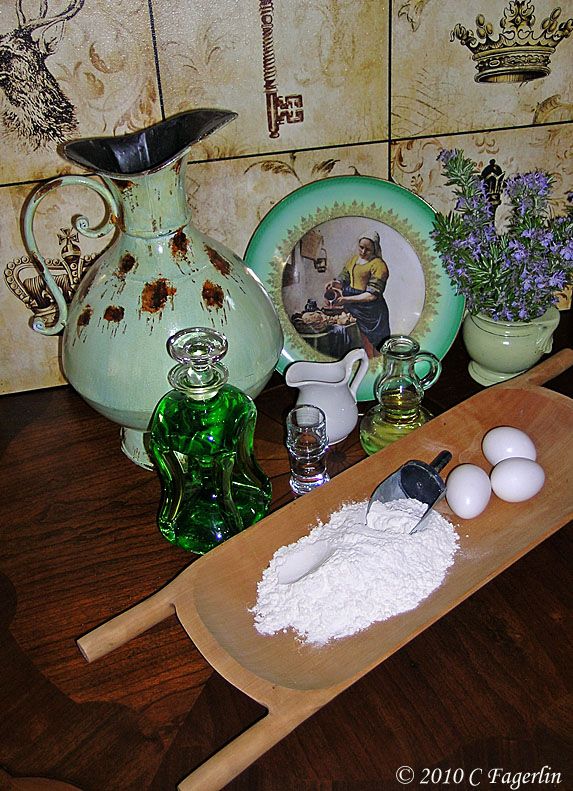 The plate is vintage Winterling porcelain made in Germany by
Porzellanfabrik Oscar Schaller and Co., with a mark dated from 1940-1950.
The appetizer board is a reproduction purchased in the 80s on a trip to Denmark.
The little flour scoop was made by Mr. TLRT in junior high school for his mom.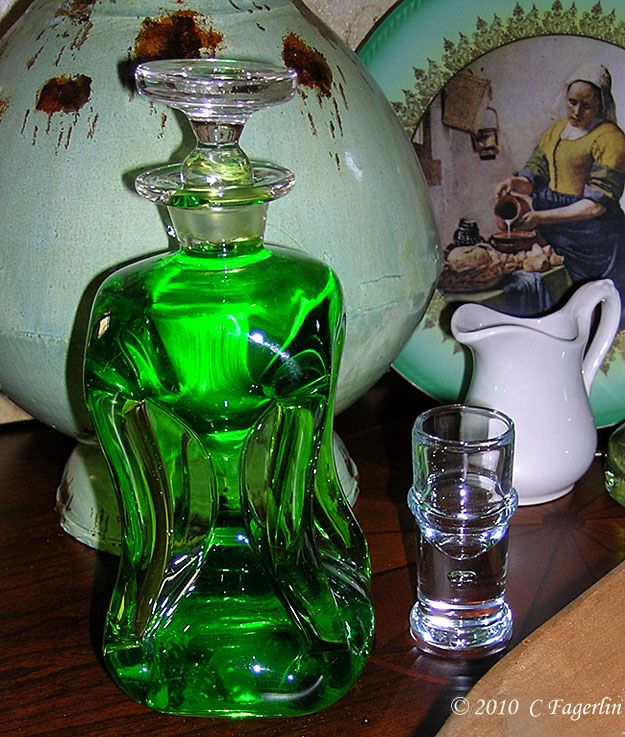 The crystal

liqueur decanter is vintage and normally is filled with

Crème de menthe, but
Rosemary prefers Midori Melon Liqueur , so that's what it is filled with today. The shot glass
is contemporary
Kosta Boda and was a gift from a friend.
Rosemary looks more Dutch than German, but I haven't been able to ID her specifically.
Edit: Thanks to Postcardy for the ID ..... something I should have known!
She is Dutch and is "The Milkmaid" by Vermeer
Read about her on Wikipedia at:
The fresh rosemary is from my garden and is perfuming the entire house.
This is where Rosemary normally hangs out.
If you love Rosemary Bread, give this recipe a try. Instead of cooking spray I use
olive oil to grease the pans. I also brush with egg whites a couple of times. You can
also add sea salt to the top for added flavor. Makes two loaves.
Ingredients
1 tablespoon yeast
1 tablespoon sugar
1 cup warm water
2 1/2 cups flour
1 teaspoon salt
2 tablespoons rosemary(I use closer to 3 T)
2 tablespoons butter
Place yeast, sugar and water in large bowl or food processor and allow mixture to become bubbly.
Mix in 1 T butter, salt, and 2 cups of flour.
Add one tablespoon of the fresh chopped rosemary.
Knead for about 10 minutes by hand or in food processor about 5 minutes until smooth and elastic.
Add more flour if necessary.
Oil a bowl, put dough in it and cover with a towel.
Let dough rise in a warm place for one hour until doubled.
Punch down dough and divide in half.
Let dough rest about 5 minutes.
Spray baking pan or cookie sheet with cooking spray.(I use olive oil)
Shape the dough into 2 small rounded oval loaves.
Sprinkle remaining 1 Tablespoon of rosemary over the loaves and press lightly into the surface.
Let loaves rise again until doubled, about 45 minutes.
Preheat oven to 375°F.
Bake for 15 to 20 minutes, until lightly browned.
Carefully remove from oven, brush with remaining butter .
Edit 4:30PM
Because of some questions by interested readers, I'm adding some information about the rosemary.
It is a fast growing, evergreen, almost ever-blooming lovely plant. The plants on our front hill have been in the ground since 9/2007 and were grown from 4" cuttings I took at our old garden in
the Spring of 2007.
Here's a shot looking from the garden/house level down to the street level. Not the greatest time of the day to take pictures, but I think you can get the idea.
And a closeup. All you have to do is just barely brush up against this stuff and you have the instant aroma surrounding you.
Here's the botanical stuff on this particular cultivar:
Family:
Lamiaceae
Genus:
Rosmarinus
Species:
officinalis
Cultivar: Pyramidalis

Common name is Upright Rosemary, general hardiness info says it is good to
Zone 7A down to 0 degrees F