Coffee table or cocktail table?
However you refer to it, this piece of furniture usually sits in front of your couch, sofa or devan .....which is a whole other what do you call it conversation.
If "antique" is defined as being 100+ years old, then most likely you don't own an
antique coffee table. Most so called antique coffee tables are really just lovely vintage
pieces done in a style from a prior era.
The coffee table as we know it was adapted from the much earlier "tea table" in use throughout Europe in the 17th century. These tea tables were usually tall and round, set beside a chair or in front of a seating arrangement. Later they also came with a tilt top, so that the table could be put against a wall until the next tea time.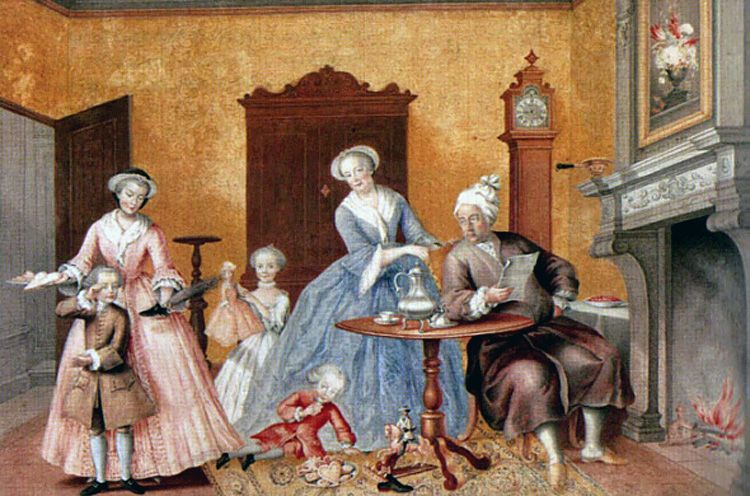 Archduchess Marie-Christine, Archduke Ferdinand, Archduchess Marie-Antoinette,
Archduke Maximilian, Empress Maria Theresa of Austria and Francis I, Holy Roman Emperor, are shown in this old painting with a "tea table."
This table recently appeared in a post titled It's So Ruffly
By the early 19th century the tea table had evolved into a rolling cart or trolley brought out specifically for serving tea. Other forms of tables in use at this time which could be placed
next to a sofa were called occasional tables, end tables, and center tables.
The first wooden tables in Britain specifically called coffee tables were made
during the late Victorian era.
In the United States during the early 20th century the development of the coffee table grew quickly. It was usually low and rectangular and credit is generally given to J. Stuart Foote of the Imperial Furniture Company, who claimed to have cut down the legs of a dining table and used the resulting low table as a "coffee table." Coffee was gaining in popularity at this time and was preferred over tea. It's likely this had some influence over the table's name.
The repeal of Prohibition in the 1930s brought about another name, the "cocktail table."
The coffee table functioned as a centerpiece for casual enntertainment. Magazines were becoming increasingly popular and the coffee table provided a place to display the colorful covers. It wasn't long before the coffee table was accessorized with ceramics, vases of flowers and coffee table books.
When I lived in post WWII Germany with my family, this coffee table was created by an early recycler. He was repurposing the many very large dining tables coming out of older homes and estates into "coffee tables." Many of the dining tables were much too large to be used in the
down-sized living spaces created following the war, so he began cutting the legs or bases to a shorter length and then cutting out sections of the massive wooden tops to serve as the top
of the coffee tables.


I was along the day my mother went to choose her coffee table. In the back workroom were dozens of huge dining tables to choose from and patterns for the shape of the new coffee tables. This is the shape my mother chose to have cut from a large maple topped table.
A few weeks later we returned to pick up the coffee table, with its glass top to protect the very old wood. Here it is about 60 years later, having crossed the Atlantic by ship when we returned to the states. It lived in Chicago for a few years and then in Texas for a long time before it came to live at my house about 10 years ago.
What's on your coffee table?
Thanks so much for stopping by to visit, I do appreciate it!