Come on over with all your favorite makeovers, DIY projects, show us what you've been up to.
I picked a spot right off of the kitchen patio for a vegetable garden three seasons ago, but with our
really bad clay soil it needed a major makeover. The amount of amendments required each year to make the soil workable and a bout of vintage tomato blight last year made this the year to make
the move to raised beds.
There are only two of us here on a regular basis, so it isn't truck farm size, but at 20' x 20' has proved just about the right size for daily picking and putting up things for use through the winter months.
We've had a very rainy April and May, so the project stretched over several weeks until I could
finally actually plant something. Materials we used to build the 3 raised beds:
44 Landscape timbers from Lowe's
12" spikes and strapping leftover from our paver patios
4' lengths of rebar
Native boulders from our property
14 yds of composted organic topsoil
3 hose bibs and pvc pipe
3 soaker hoses
And the main ingredient to the success of this project was our little orange tractor.
Most of the projects we've done in the last three years would have been impossible without it.
Since I didn't want to have the raised beds sticking up so high in the air and because
I wanted to get rid of the soil where the prior planting had been done, we removed
about 16" over the entire 20' x 20' space. It was too muddy to move it to the back of our
property, so it lived on the side patio for awhile ..... way too long for my taste, but it was
soon gone.
Once we had the original soil removed, this is what we started with.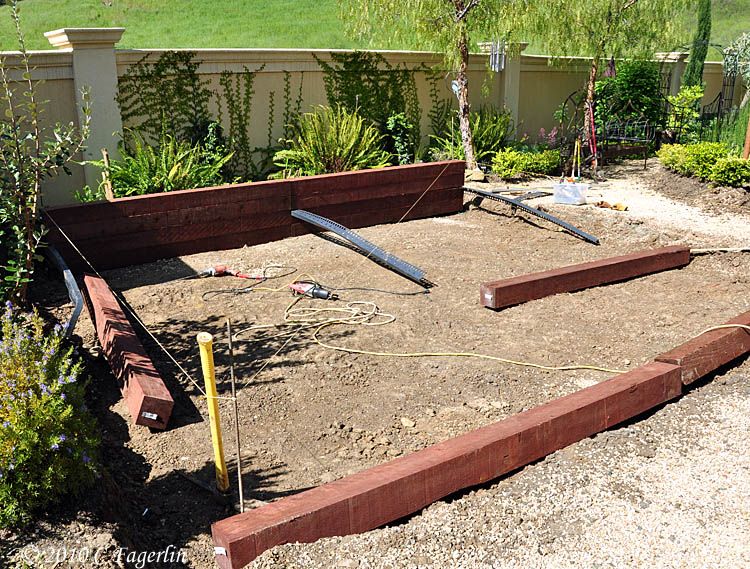 The 12" spikes, the rebar and the black strapping was used to stabilize each of the three raised beds, so they won't shift over time.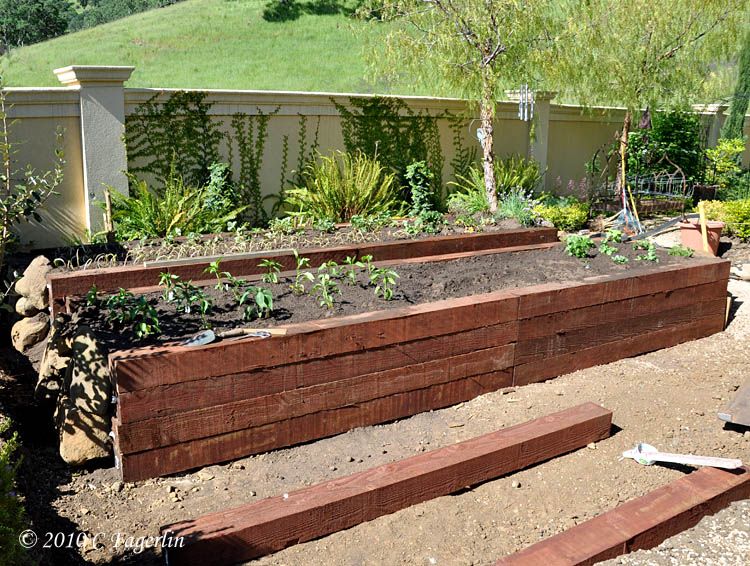 We filled each of the beds with the tractor, before moving on to the next one because
of easy access. Worked like a dream and I couldn't get them planted fast enough!
Two down and just one more to go.
And the third one is in.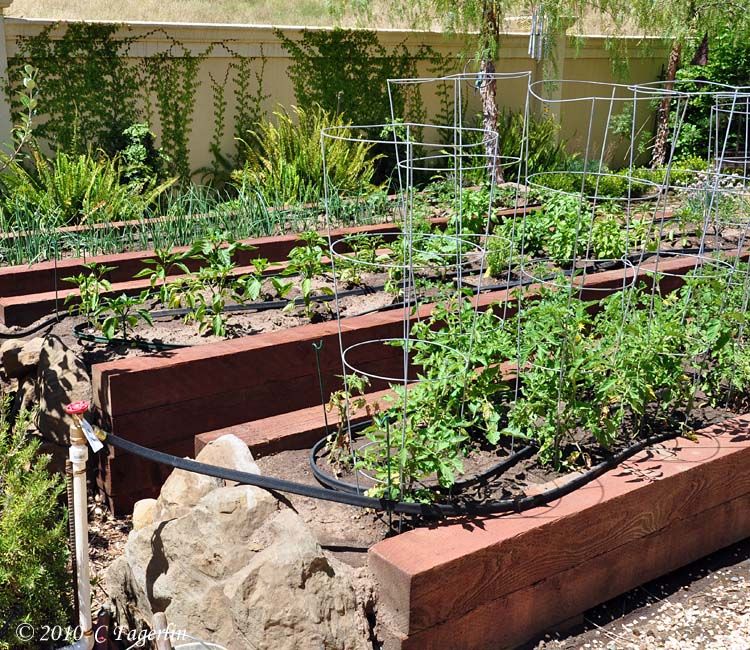 We used wire mesh, cardboard and boulders at each end of the beds. I still have to plant
herbs and other creeping things in all the cracks between the rocks/boulders and along the
front edge along side the gravel path. It is on my to do list!
I'm pleased with the low-profile and minimal visual impact of the raised beds we accomplished
by lowering the pad on which the beds are built. There is a path between the existing bed along the back wall and the first raised bed, in addition to paths between each of the two other beds which
are approximately 16' x 3' of actual planting space. Even with unseasonable monsoon rains, wind and hail, the garden is beginning to become established.
I am so loving the working at waist level, it just is a world of difference and of
course working with great soil is making life wonderful too!
I chose to cut the existing automatic sprinkler connections to this area and
had Mr. TLRT install 3 hose bibs for me (still need to paint up those icky white pvc pipes),
to which I attached your basic soaker hoses. It gives me a lot more control on the amount
of water applied to the veggies and when it is applied than being committed to the
schedule decreed by the automatic sprinklers. Sometimes simpler is better.
Just breathe in deeply ...... can you stand it? ..... it's better than perfume!
There are half a dozen types of peppers almost ready for picking!
Itty bitty tomatillas!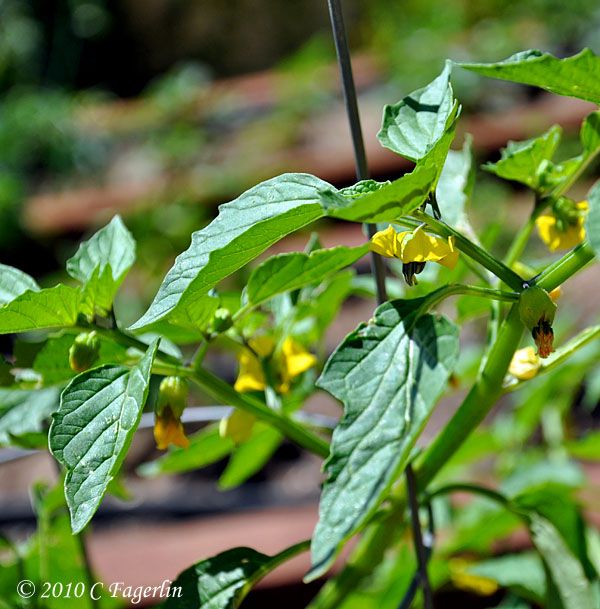 Mostly just strawberries, herbs, tomatoes, onions and peppers in this garden.
Daily use and packing things away for winter use ...... if I don't stop pulling the
onions as scallions there won't be enough for any of this.
Salsa ........... absolutely a main food group at our house.
This was from a couple of seasons ago and is the bounty I'm trying to replicate.
What are your veggie garden favorites? What are you growing this year?
Thanks for coming by to visit my new veggie garden ....... can I say again,
raised beds are the best thing I've done in years and years!