Homer Laughlin China Company has been in continuous business since the late 1800's, first in East Liverpool, Ohio and then right across the river in Newell, West Virginia. The company is probably best known for its Fiesta line of dinnerware, but over its many years of production it has produced thousands of different shapes and tens of thousands of decorations/designs on those shapes.
A few years ago I was very lucky to find a service for six in the "Early America"
decoration on the Nautilus shape. It's a style and decoration that is not that
easy to find and is coveted by collectors of Homer Laughlin dinnerware.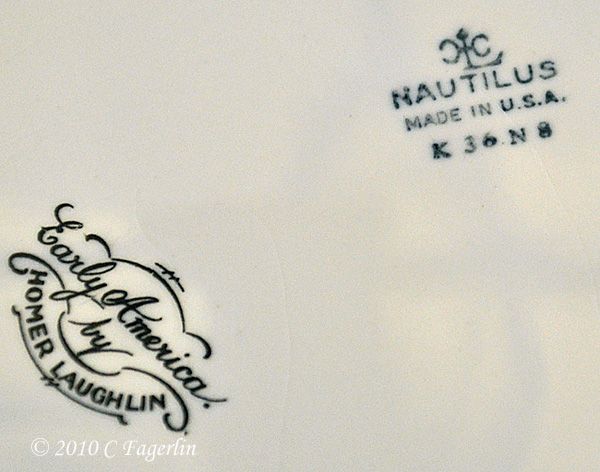 The decoration includes red striping and different modes of transportation in the early days of the United States. The set I found included a platter, serving bowl, berry bowls, bread and butter plates, dinner plates and cups with saucers.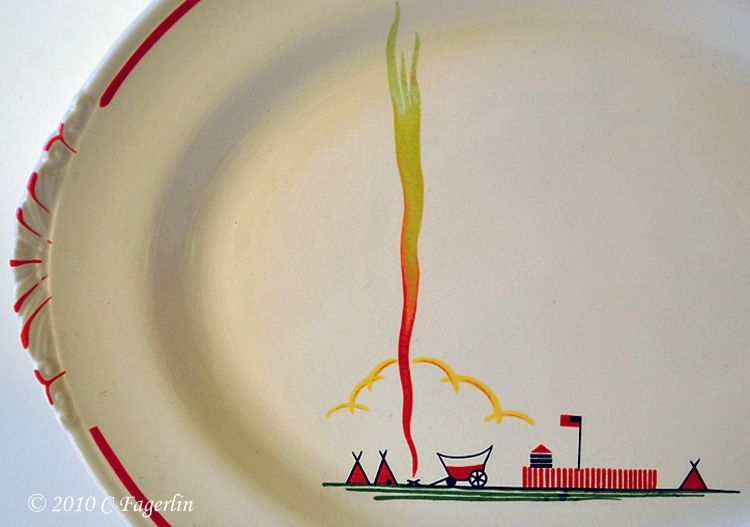 A few months after I found the set some dish friends found the matching creamer and sugar for me.
And during the intervening years I have picked up a couple of extra serving bowls and platters in the Nautilus shape, as well as some additional plates, cups and saucers in another Homer Laughlin shape with the same decoration.
Eggshell Nautilus
Note that the red stripe is different on this shape.
This set of china has appeared on TLRT in a tablescape.
Click the image below to see more of the tablescape.
It has also appeared in a tablescape entitled Variations On Red Stripes
Thanks so much for stopping by to visit and see some more of my vintage dinnerware collection.