I've been making these cookies since I was a little girl.
The cutters were originally made by a small company in Oklahoma in the early 1950s,
but are now available on the web from Gramma's Cutters . The website has all kinds
of fun information on the history of these cutters and tips on recipes and icings.
Sugar Cookie Recipe
(this is just one suggestion, use your own favorite sugar cookie recipe if you like)
IN A MIXING BOWL COMBINE:
1 Cup Shortening -- cut-in until fine
COMBINE IN SEPARATE BOWL:
IN SEPARATE CUP COMBINE:
1/4 Cup Milk for Crunchy Cookies (or for soft cookies - 2/3 Cup Milk)
1/2 Teaspoon Almond Flavoring (optional)
Make a well in the flour mixture and slowly add everything to it, mixing thoroughly.
On floured surface with flour coated rolling pin, roll dough out to 1/4 to 3/8 inch thickness.
With floured cutter, place cutter on dough and press down firmly with fingers all around edges to make sure the entire edge is cut. (Helpful hint - very lightly sift flour on top of rolled out dough. This helps reduce the number of times cutter has to be floured).
With spatula, lift cutter and dough. With thumb, rub cutting edge clean of dough and gently press dough into cookie cutter, being careful not to press dough to thin inside the cutter.
Tap cutter down on table, cookie sheet or in your hand and dough will come right out. Flour cutter before cutting next cookie and repeat process.
Bake in a 350º oven for 8-10 minutes. Cool thoroughly before decorating.
***Decorations to be added before baking are Snowman eyes and Santa eyes, see notes below.***
*************
Decorating Sugars in small bowls each with a separate spoon.
Glue - egg white mixed with a tiny bit of water or corn syrup
Red food coloring with a fine tip brush for Santa's mouth
Paint brushes
Frosting
The cookies are decorated after baking, with the exception of the Santa's raisin eyes(cut raisin bits in a triangular shape or just cut a raisin in half and flatten it before applying to the raw dough) and the snowman's whole allspice eyes. A crisp firm sugar cookie is required so the baked cookie is tough enough to stand up to handling and won't absorb so much moisture from the frosting that it softens the cookie. Experiment with the thickness of the rolled dough, too thin and they will break during the multi-stage decorating process. Too thick and they will be like bricks!
The frosting I use is just confectioners' sugar and egg white (or use milk if you prefer).
Thicker consistancy for the eye-brows and mustache than the beard area works best.
Apply fresh coconut to the moist frosting for Santa's beard.
I keep the trays of cookies in an oven with the light on to maintain their crispness and to dry them between coats of decoration. Each sugar color should be done, then dried in the oven prior to applying the next color. I use small paint brushes to apply the "glue" ...... do NOT freak out when I tell you that the glue is egg white with a few drops of water beaten in. We've been eating these and feeding them to people for decades and the egg thing has never been a problem, but you can use corn syrup as "glue" if you prefer. Bowls with sugar and a spoon in each, hold the cookie over the bowl and spoon sugar over the area to be covered. Gently tap the back with the cookie face down to knock off excess sugar. You can also use a DRY paintbrush ( small art brushes that are only used for cookies) to brush off any remaining excess sugar crystals.
Kids love to decorate these cookies! It's a wonderful holiday project that will bring out the artist in even the most jaded of grinches! These make great hostess gifts, wrapped in Saran wrap and tied with a pretty ribbon they can also be used as decorations on the Christmas tree. If I've missed explaining anything, just post your questions in the comment area and I'll give you more information.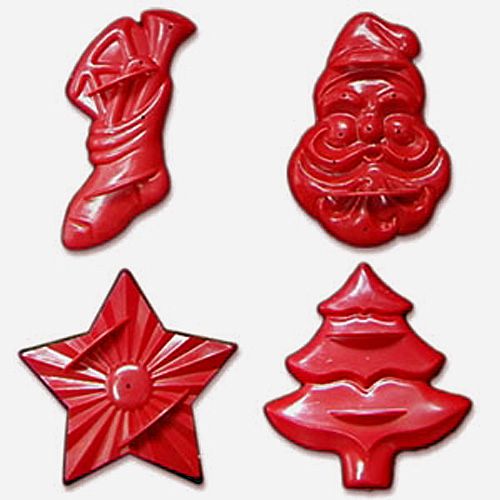 One of the secrets to these cookies is that the cutters are 3 dimensional and because the dough is pressed into the cutter it is a "molded" cookie with depth and dimension. Notice Santa's cheeks
in the image below.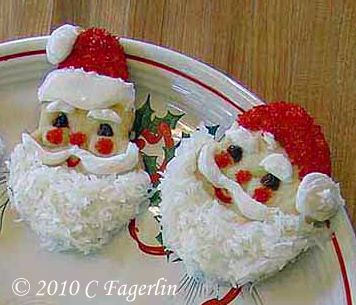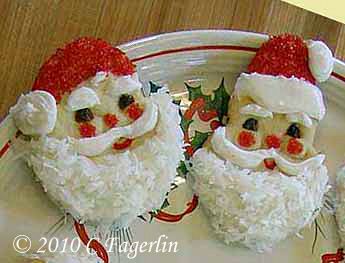 Grab a glass of milk and help yourself to a few of these, they are delicious!