So many of you emailed or commented on some of my miniatures from my
What is there about miniatures that is so intriguing?
First off let me clarify that NONE of the miniatures were made by the Homer Laughlin China Company.
About 15 years ago there was a mom and pop business in Arizona that sold these little "Fiesta-like" miniatures at dollhouse shows, on eBay and through their online shop. Soon enough the
"Fiesta Police" (aka the lawyers for the Homer Laughlin China Company) went after mom and
pop for patent/trademark infringement. If a company doesn't enforce their rights legally,
over time the power over their own products is diluted, so HLC is generally fairly forceful in the enforcement arena. They've gone after little guys (like the website I used to run) and the big
guys like Target for selling made in China Fiesta-look-a-likes.
Anyway, the mom and pop operation reworded their ads to Colorful Dinnerware or some such thing. I don't know the details, but their operation was eventually sold and then the website faded away too.
You can still find some of the pieces I have on the internet, by searching dollhouse websites and on eBay also. The one exception is the "Tom and Jerry" footed salad in miniature. I got it on eBay, but the seller knew nothing about its origin or who made it. It is a true treasure!
In the Winter of 2002 through Spring of 2003 I used a kit to build a little set of "dream"
stores in advance of my home being on a Spring Home Tour. The little shopping center had
a conservatory for all things "garden" that I love, a European antique store, a cookware store mostly filled with "vintage" mixing bowls, and "La Fiesta" with miniature colorware
reminiscent of my Fiesta collection. The scale is 1:12
The shopping center replaced an 1850 pharmacy display case from Pennsylvania that originally housed my miniatures. I apologize for the poor quality of some of these images ..... digital cameras have
come a long way since these were taken.
Construction began in the winter.
By Spring when the cherry trees were in bloom it was coming together.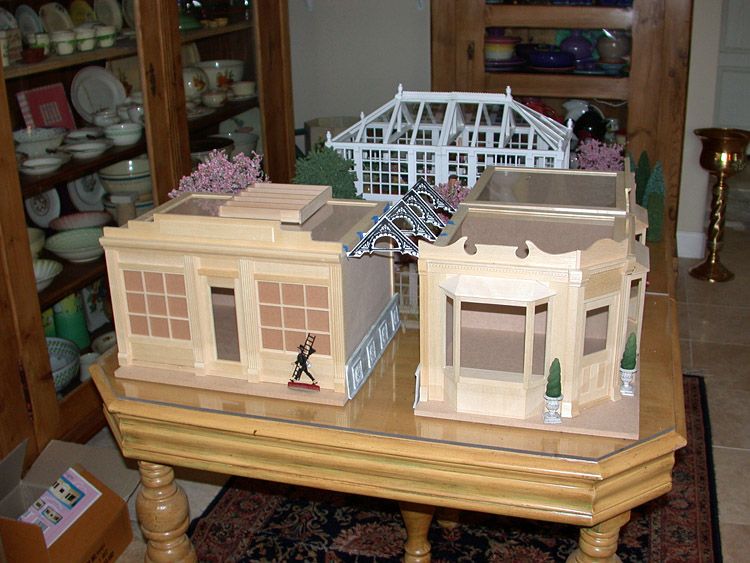 Tile pavers going down, the conservatory was already open for busines!
The shops were already filling up as construcion continued.
More pavers going in to the left, while to the right the pavers have been installed
and waxed to give them a more realistic look.
The interior courtyard in the Spring.
Christmas at the shops.
Pots 'n Pans Shop
Christmas lights installed.
Ivy Pine Antiques
La Fiesta
Since we moved to this house 4 years ago, the display has remained in its shipping crates, except for La Fiesta. Recently I unpacked some of the store inventories and they appeared in a post
for a Cloche Party
Thanks so much for dropping by to read more about some of my miniatures!.