be sure to stop by there to visit more posts from the past.
This post was originally published in December 2009
This was the beginning of another collection of characters at Christmas time 1952. They dwarf the Storybook Dolls and became a favorite gift over the next few years as I received more characters. I began giving puppet shows with these hand puppets when I was about 10 and made good money doing birthday parties for dependent families and their children.
All during the year I would visit the little toy store on a side street in downtown Schwetzingen to dream about which puppet I might receive for the next Christmas. And I always made a stop to visit with the pretzel lady and usually received a free pretzel. She always remarked at how my grasp of the German language improved as the months and years went by.
Christmas 1952 with my baby brother laughing it up with me visible, since the puppets scared him when he couldn't see me.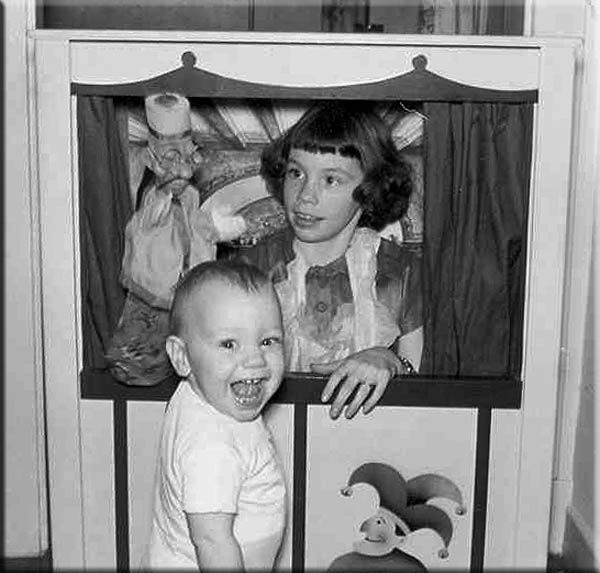 These are hand puppets with carved wooden heads from F. H. Bross in Stuttgart. They all have their original clothes and hang tags.
The cast of characters allows most any story of good and evil to be told. This troop of performers are very used to the floodlights and "treading the boards," as theater folks like to say.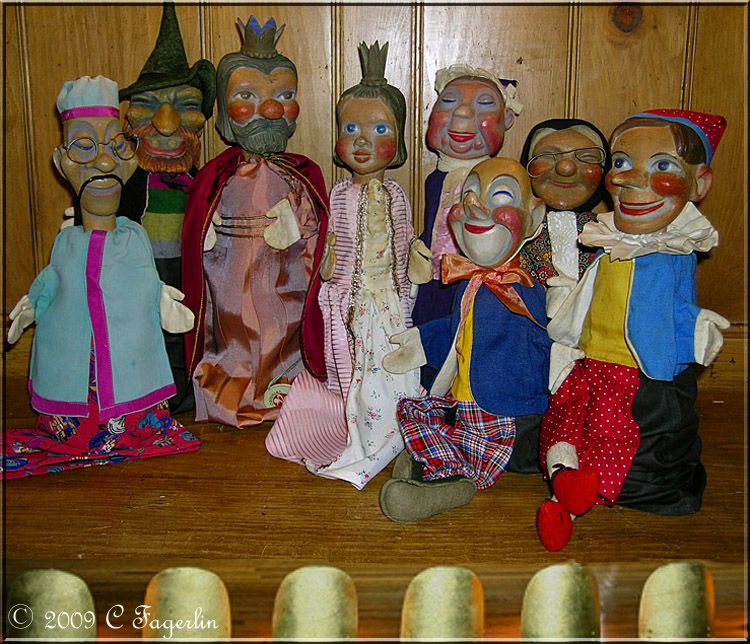 There is the "Punch" type character (whose name has escaped me over the years), with his rather dimwitted side-kick.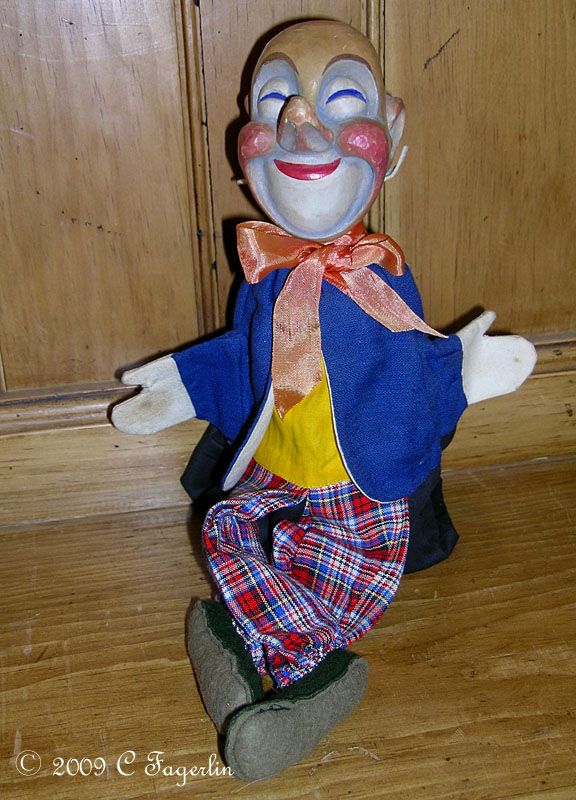 The King and The Princess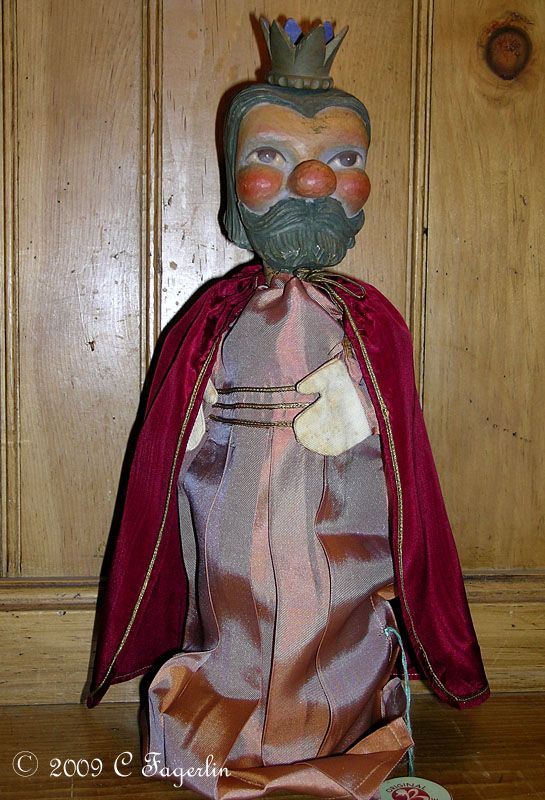 The Princess' Nurse who always accompanies her.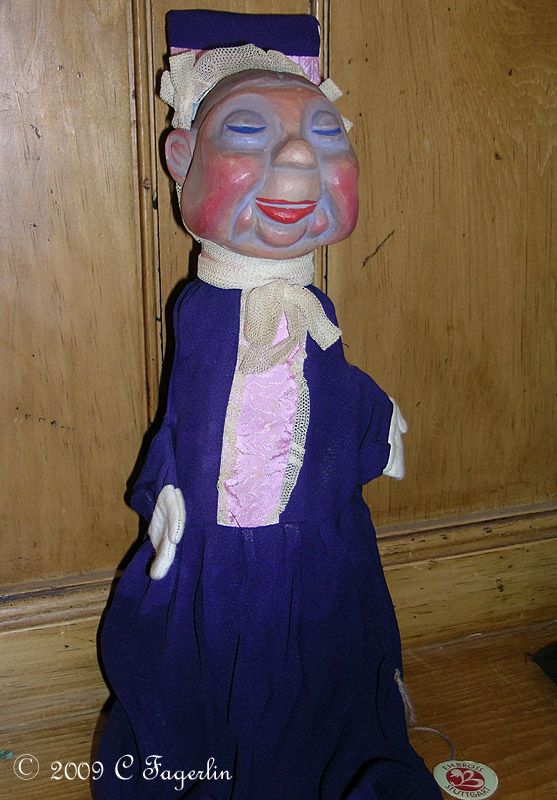 The Granny, who can also portray a witch when one is called for.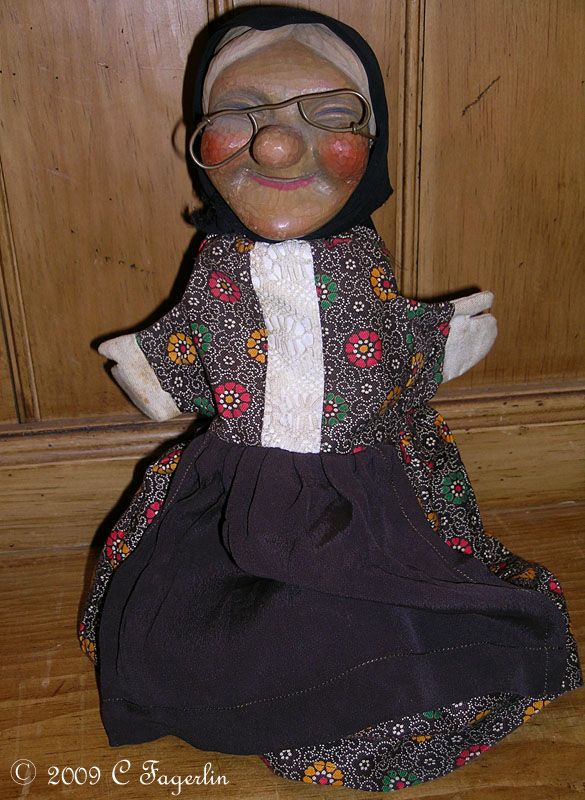 The Woodsman, who can be a dark evil character
or a kindly one who rescues lost children from the deep dark forests.
The Chinaman, who was always the bad guy.
Politically totally incorrect in today's terms by name and characterization,
but it was a different time back then.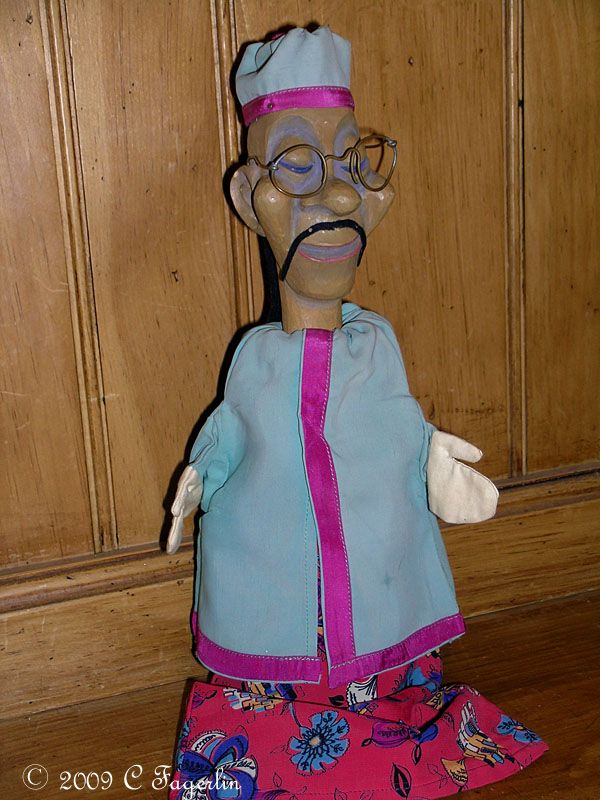 The Wolf and the Alligator who were always bad guys.
The carved wooden alligator came before a newer plastic one,
whose jaws don't snap shut loudly like the wooden one
and isn't nearly as effective at scaring little kids.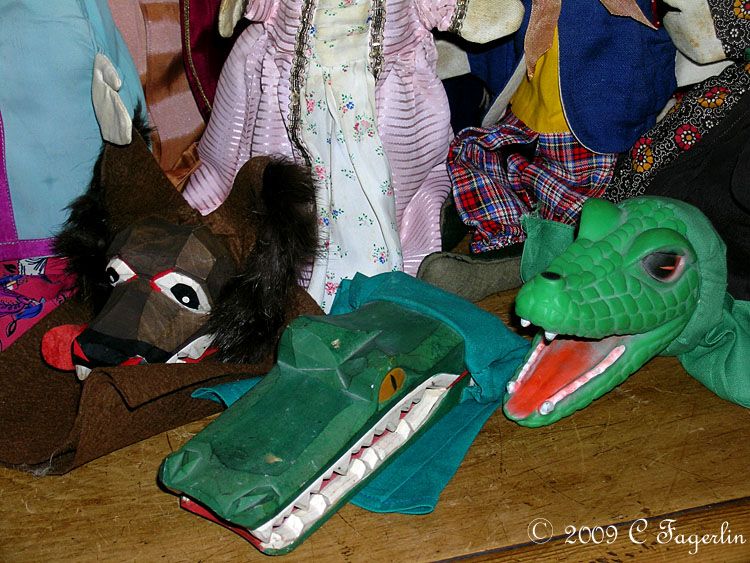 The senior member of the troop takes a final curtain call
and thanks you for stopping by, while the rest of the cast waits in the wings.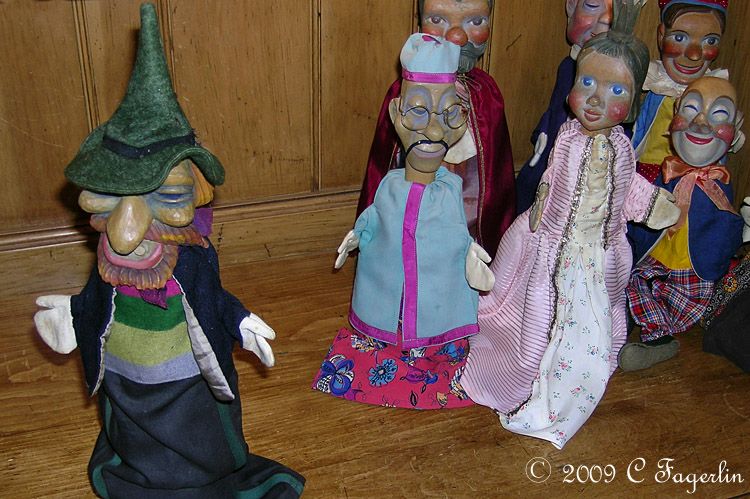 I still have the puppet theater which is yellow and red with painted characters,
green curtains and a double sided backdrop with one exterior and one interior view.
The theater is packed away in the attic, but the puppets are on display in a glass cabinet.
It's been a very long time since I gave a puppet show. :-)
Thanks for dropping by to revisit this Sunday Favorites post,
I hope to see you again this coming week:
Met Monday - 2010 Christmas Tree Reveal
Tabletop Tuesday - Another holiday tablescape
Plus some special parties coming up that I'll be linking up to.