A few weeks ago I made several batches of cheese-less pesto for the freezer.
No Cheese Pesto
4-5 C basil (packed firmly)
4-6 cloves garlic
1/2 C pine nuts
1/2 tsp salt
1 - 1 1/4 C olive oil
Add all ingredients except oil to food processor and pulse a few times to mix it up. Slowly add the oil and process until smooth. Taste for desired saltiness. You can use this right away or freeze it.
Just thaw and it can be used on salads, in dips, or tossed with pasta.
Oh so very yummy!
The salad tomatoes and basil are actually "fresh" from the garden shed.
I washed them when I was doing a final harvest a few weeks ago.
Some became the most beautiful "red sauce" that also went into the freezer
..... check out the lovely color below! The others were put on open racks in the garden shed,
where weeks later they are still firm and tasty for salads. It hasn't dropped below about
38F, so the shed is acting as the perfect cold storage area for the last of this year's veggies.
Even some of the basil hanging in bunches is still fresh enough for garnish on today's salad.
I'll be combining the thawed sauce with a bit of the pesto and tossing it
on some pasta
to go with the salad.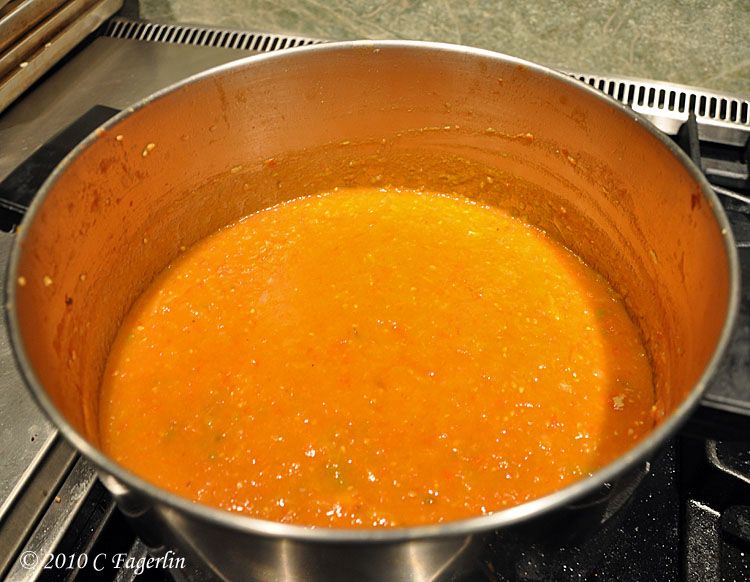 Thanks for stopping by for a bit of "freezer food."