celebrating the wedding of a Dish Diva Daughter today!
The Princess has found her Prince and they are being married at Disney World.
In honor of this memorable day we are all doing wedding
celebrations and are happy to share them with you.
I've included white 'Iceberg' climbers and the floribunda 'Disneyland Rose®'
in this fantasy setting fit for the royal couple.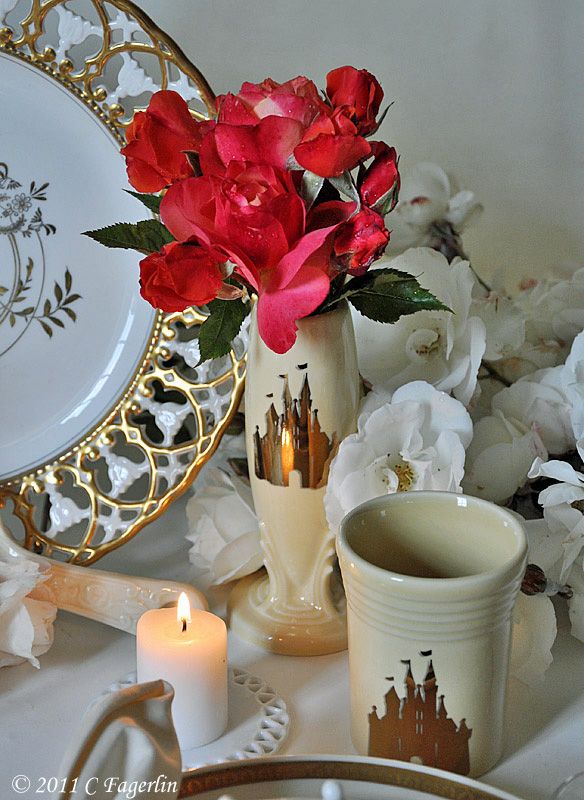 Fiesta bud vases and tumblers by Homer Laughlin will be favors for all the guests
Haviland China Pattern 60424
Vera Wang "Infinity" champagne flutes
Vintage "Deuville" flatware
Crowns and votives from Michael's
Napkin rings from eBay
Napkins - battenburglace.com
Vintage gilded cake plate from my collection
'Iceberg' climber
Floribunda, Cl. White or white blend. None to mild fragrance. Medium to large, semi-double to double, cupped-to-flat bloom form. Blooms in flushes throughout the season. USDA zone 4b through 9b. Height of 8' to 15' (245 to 455 cm). Cants of Colchester (1968).
Bred by John Walden (United States). Bred by Dr. Keith W. Zary(United States, 2003).
Introduced in United States by Jackson & Perkins (Wholesale) in 2004 as 'Disneyland Rose'.
Floribunda. Orange-pink. None to mild fragrance. Average diameter 4.25". Medium, full (26-40 petals), in small clusters bloom form. Blooms in flushes throughout the season.
Tall, upright, well-branched. Medium, glossy, dark green foliage.
Height of up to 4' 11" (150 cm).